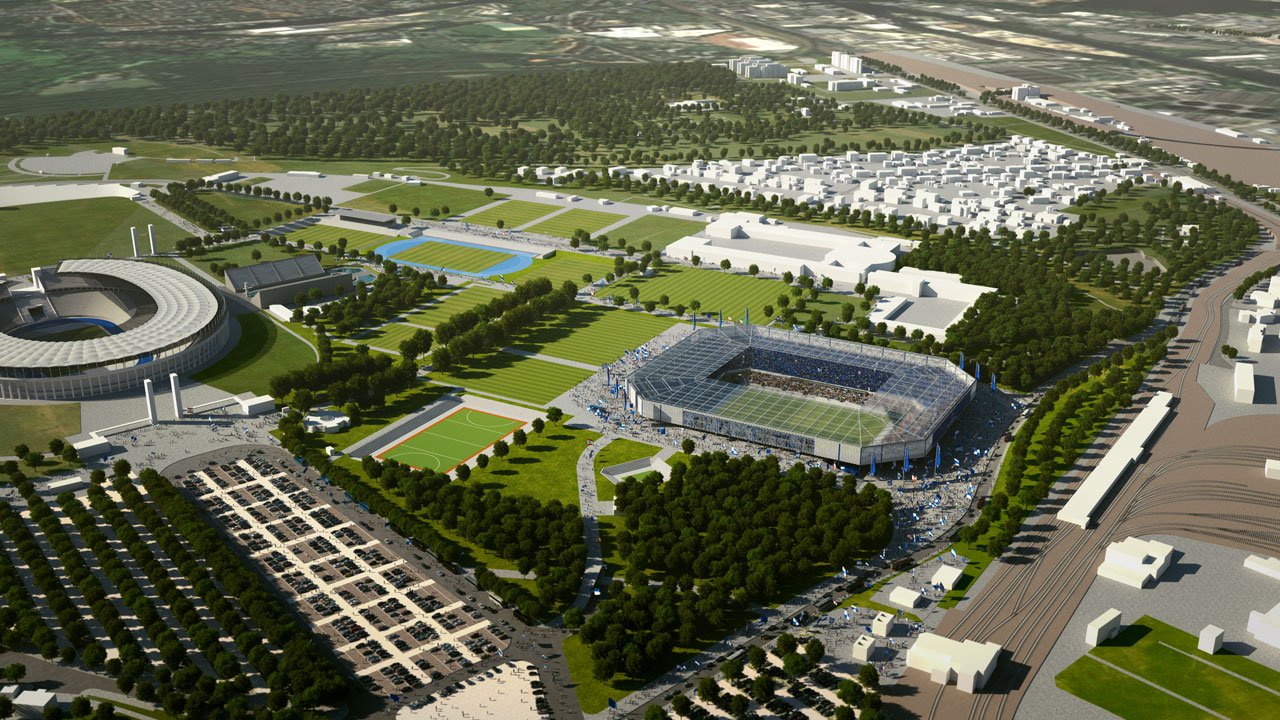 Hertha's Fussballstadion
Hertha Berlin has been searching for a new place to call home as of 2025. A site analysis survey completed in 2018 pointed to a spot directly next to the Olympiastadion as the clear favourite.
In the meantime, talks with the Berlin state government brought another possibility into play: renovating the Olympiastadion. However, Andreas Geisel, senator for home affairs and sport, said during a meeting of the sport committee in September 2018 that the state government had moved away from plans to turn the Olympiastadion solely into a football stadium, due to the costs associated with the project, as well as the experience of hosting the track and field European Championship in summer 2018.
Hertha Berlin would like to build a sustainable football stadium in the Olympiapark, with a capacity of 55,000. The stadium would be entirely privately funded and wouldn't impact any of the historic buildings within the park.

Hertha Berlin are the sole remaining Bundesliga club without their own football stadium. Even though our spectator counts are high, we also have the highest number of empty seats, no matter what place we're at in the table. The capacity utilization of the too-large Olympiastadion is 64 per cent, whereas the rest of the Bundesliga averages 92 per cent.

Hertha Berlin don't deny that the Olympiastadion is suitable for major national and international games. However, as 95 percent of games played there are Bundesliga games, it is not sustainable for the club.

Hertha Berlin want to give the fans and the team to a more intense match experience. They want fans to be closer to the pitch, without a running track between them and pitch, similar to other football stadiums in the Bundesliga. Steep, intimate and loud.

Hertha Berlin also want to build their own stadium for economic purposes - better stadium use, higher attendance, higher profits and more attractive marketing possibilities. Only in this way, can we stay competitive in the sporting side of the game.

Hertha Berlin hope that the Berlin state government recognises the need for a new stadium. Hertha must not be deprived of its future, because so far, there has been no solution to the stadium problem. Hertha have been paying millions in rent for the Olympiastadion since 1963 - a stadium that doesn't even belong to the club.

Hertha Berlin are a registered club and a mid-sized enterprise with both the responsibility and an obligation to lead the club into a new future. If the Berlin state government opposes our wish to build in the Olympiapark, we have already found an alternative location in the Brandenburg Park in Ludwigsfelde - just 18 minutes on the underground from Potsdamer Platz. Hertha Berlin would be very welcome there.