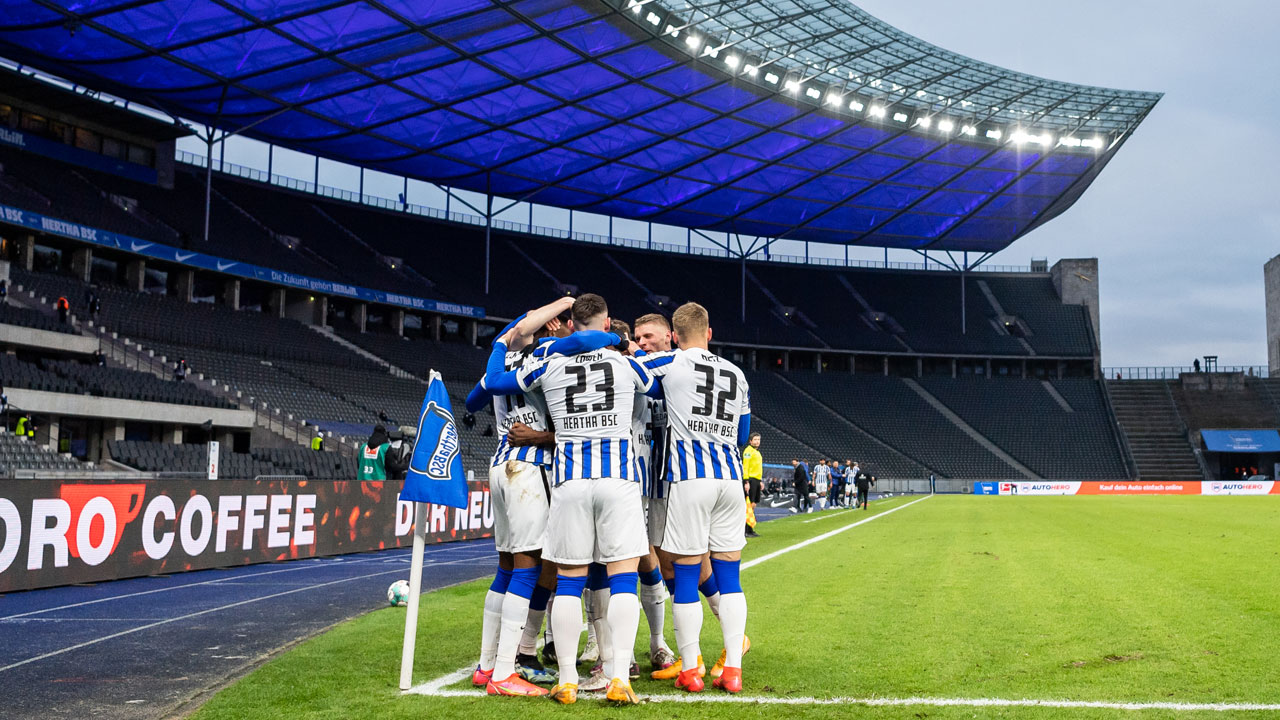 First team
|
March 25, 2021, 02:00 PM
Sunday in Mainz, Bielefeld on Friday night
The 2020/21 Bundesliga season is slowly but surely entering the home stretch. After the current international break, the league returns in rapid succession. Hertha will play 8 games in 39 days, as the team will look to give their all to achieve their objective. The goal took more shape on Thursday (25/03/21) when the German Football League (DFL) gave the specific dates and times of the remaining fixtures up until Matchday 32.
Under the floodlights against Arminia
The 'Old Lady' will travel to FSV Mainz 05 on 18th April (18:00 CEST), before hosting Sport-Club Freiburg just a few days later in the final midweek game of the season. Kick-off against the Breisgauer is Wednesday evening (21/04/21) at 18:30 CEST. At the end of the intense week, the team will head west to Gelsenkirchen to take on FC Schalke 04 on Saturday (24/04/21), with kickoff from 15:30 CEST. After that, the team will hold back-to-back home games at the Olympiastadion. DSC Arminia Bielefeld and Hertha loanee Arne Maier will visit on Friday evening (07/05/21, 20:30 CEST), before 1. FC Köln on 15th May at 15:30 CEST. Exactly seven days later and at the same time, the 'Old Lady' will round of their Bundesliga campaign with a trim to TSG Hoffenheim.
Fixtures overview
| | | | |
| --- | --- | --- | --- |
| Matchday | Date | Kick-off | Fixture |
| 27 | Sun, 04/04/21 | 18:00 CEST | 1. FC Union - Hertha BSC |
| 28 | Sat, 10/04/21 | 15:30 CEST | Hertha BSC - Borussia Mönchengladbach |
| 29 | Sun, 18/04/21 | 18:00 CEST | 1. FSV Mainz 05 - Hertha BSC |
| 30 | Wed, 21/04/21 | 18:30 CEST | Hertha BSC - Sport-Club Freiburg |
| 31 | Sat, 24/04/21 | 15:30 CEST | FC Schalke 04 - Hertha BSC |
| 32 | Fri, 07/05/21 | 20:30 CEST | Hertha BSC - DSC Arminia Bielefeld |
| 33 | Sat, 15/05/21 | 15:30 CEST | Hertha BSC - 1. FC Köln |
| 34 | Sat, 22/05/21 | 15:30 CEST | TSG Hoffenheim - Hertha BSC |