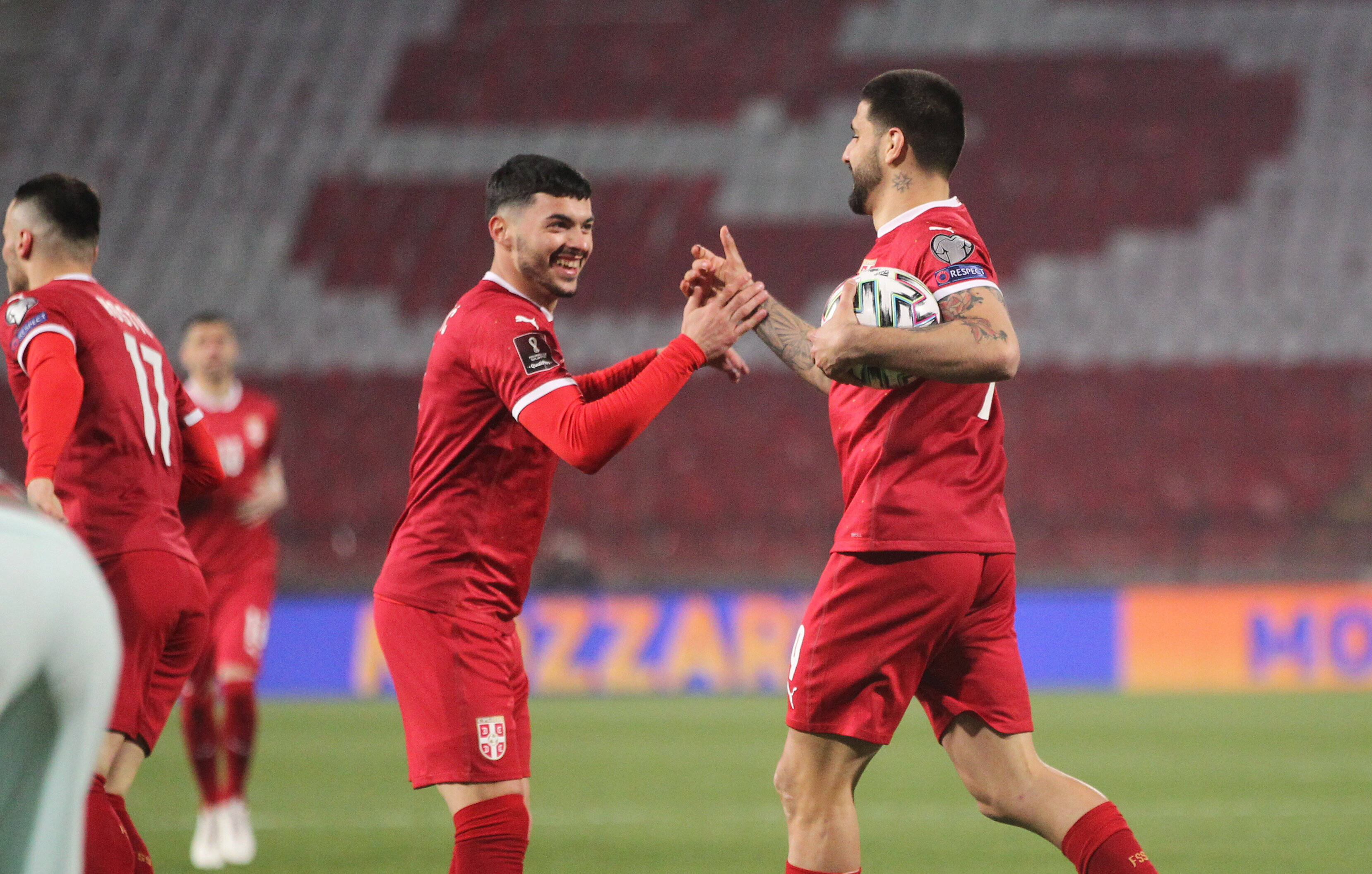 First team
|
March 28, 2021, 11:03 AM
Radonjić frustrates CR7's Portugal
What do you do when you're 2-0 down at half time to the European champions Portugal? Serbia's head coach Dragan Stojković had the answer on Satuday evening (27/03/21): bring on Nemanja Radonjić! And it paid off, with the Hertha man setting up both his side's goals in the second half as Serbia came back to draw 2-2 with Cristiano Ronaldo's Portugal in the second game of their World Cup qualification campaign. Our number 24 provided Aleksandar Mitrović with a great assist, before providing Filip Kostić on the counter-attack.
Jarstein substituted in loss, no injury
Rune Jarstein and Norway, on the other hand, had less to cheer about as they were defeated 3-0 by Turkey in Malaga. Our goalkeeper was substituted at half-time in what was his 70th appearance for his country. The substitution wasn't injury-related and the keeper was blameless in the two first-half goals conceded. "Jarstein didn't feel in top form," said Norway's assistant Kent Bergersen. "It's nothing serious and I wasn't injured. I feel better now," the goalkeeper told herthabsc.de on Sunday.
U21 Euro: Dilrosun and Maier take point each
Elsewhere, a Herthaner was brought onn from the bench, Javairô Dilrosun replacing Justin Kluivert in the 78th minute to pick up his first appearance of the U21 European Championship in Slovenia and Hungary. Jav and Netherlands U21 had taken the lead through Leipzig's Kluivert, before Lukas Nmecha equalised for Germany late on. Deyovaisio Zeefuik was an unused substitute, while Arne Maier started and completed 82 minutes for Germany. After two games, Stefan Kuntz's Germany side sit top of Group A on four points. After a pair of draws, Netherlands sit in third place with two points from as many games.
Three players not used – two more in action on Sunday
There was a chance for another Hertha match-up in the world Cup qualifiers, but it wasn't to be. In the 1-1 draw between Czech Republic and Belgium, neither Vladimír Darida nor Dedryck Boyata featured for their respective countries. The same was the case for Peter Pekarík, who did not feature in Slovakia 2-2 draw with Malta. The next action for a Hertha player will be Sunday evening (28/03/21) when Krzysztof Piątek could make an appearance for Poland against Andorra in Warsaw at 20:45 CEST, while Mattéo Guendouzi and France U21 will look to make amends for their Group C Euro U21 loss to Denmark. Santiago Ascacíbar and Argentina U23 will face Japan U24 again in a friendly match on Monday (29/03/21, 11:45 CEST).

Date
Kick-off
Player
Fixture (location)
Result
24.03.21
20:45 CET
Vladimír Darida
WCQ Estonia - Czech Republic (Tallinn)
2-6 (1-4)
24.03.21
20:45 CET
Peter Pekarík
WCQ Cyprus - Slovakia (Strovolos)
0-0
24.03.21
20:45 CET
Dedryck Boyata
WCQ Belgium - Wales (Heverlee)
3-1 (2-1)
24.03.21
20:45 CET
Nemanja Radonjić
WCQ Serbia - Ireland (Belgrade)
3-2 (1-1)
24.03.21
20:45 CET
Rune Jarstein
WCQ Gibraltar - Norway (Gibraltar)
0-3 (0-2)
24.03.21
21:00 CET
Javairô Dilrosun, Deyovaisio Zeefuik
U21Euro Romania - Netherlands (Budapest)
1-1 (1-1)
25.03.21
20:45 CET
Krzysztof Piątek
WCQ Hungary - Poland (Budapest)
3-3 (1-0)
25.03.21
21:00 CET
Mattéo Guendouzi
U21Euro France - Denmark (Györ)
0-1 (0-0)
26.03.21
11:00 CET
Santiago Ascacíbar
FR Japan U23 - Argentina U23 (Chōfu)
0-1 (0-1)
27.03.21
18:00 CET
Rune Jarstein
WCQ Norway - Turkey (Málaga)
0-3 (0-2)
27.03.21
20:45 CET
Nemanja Radonjić
WCQ Serbia - Portugal (Belgrad)
2:2 (0:2)
27.03.21
20:45 CET
Dedryck Boyata
WCQ Czech Republic - Belgium (Prag)
1:1 (0:0)
27.03.21
20:45 CET
Peter Pekarík
WCQ Slovakia - Malta (Trnava)
2:2 (0:2)
27.03.21
21:00 CET
Javairô Dilrosun, Deyovaisio Zeefuik
U21Euro Germany - Netherlands (Székesfehérvár)
1-1 (0-0)
28.03.21
20:45 CEST
Krzysztof Piątek
WCQ Poland - Andorra (Warsaw)
28.03.21
21:00 CEST
Mattéo Guendouzi
U21Euro Russia - France (Szombathely)
29.03.21
12:45 CEST
Santiago Ascacíbar
FR Japan U24 - Argentinien U23 (Kitakyushu)
30.03.21
18:00 CEST
Javairô Dilrosun, Deyovaisio Zeefuik
U21Euro Hungary - Netherlands (Székesfehérvár)
30.03.21
18:00 CEST
Nemanja Radonjić

WMQ Azerbaijan - Serbia (Baku)

30.03.21
20:45 CEST
Dedryck Boyata
WCQ Belgium - Belarus (Leuven)
30.03.21
20:45 CEST
Rune Jarstein
WCQ Montenegro - Norway (Podgorica)
30.03.21
20:45 CEST
Vladimír Darida
WCQ Wales - Czech Republic (Cardiff)
31.03.21
18:00 CEST
Mattéo Guendouzi
U21Euro Iceland - France (Györ)
31.03.21
20:45 CEST
Krzysztof Piątek
WCQ England - Poland (London)