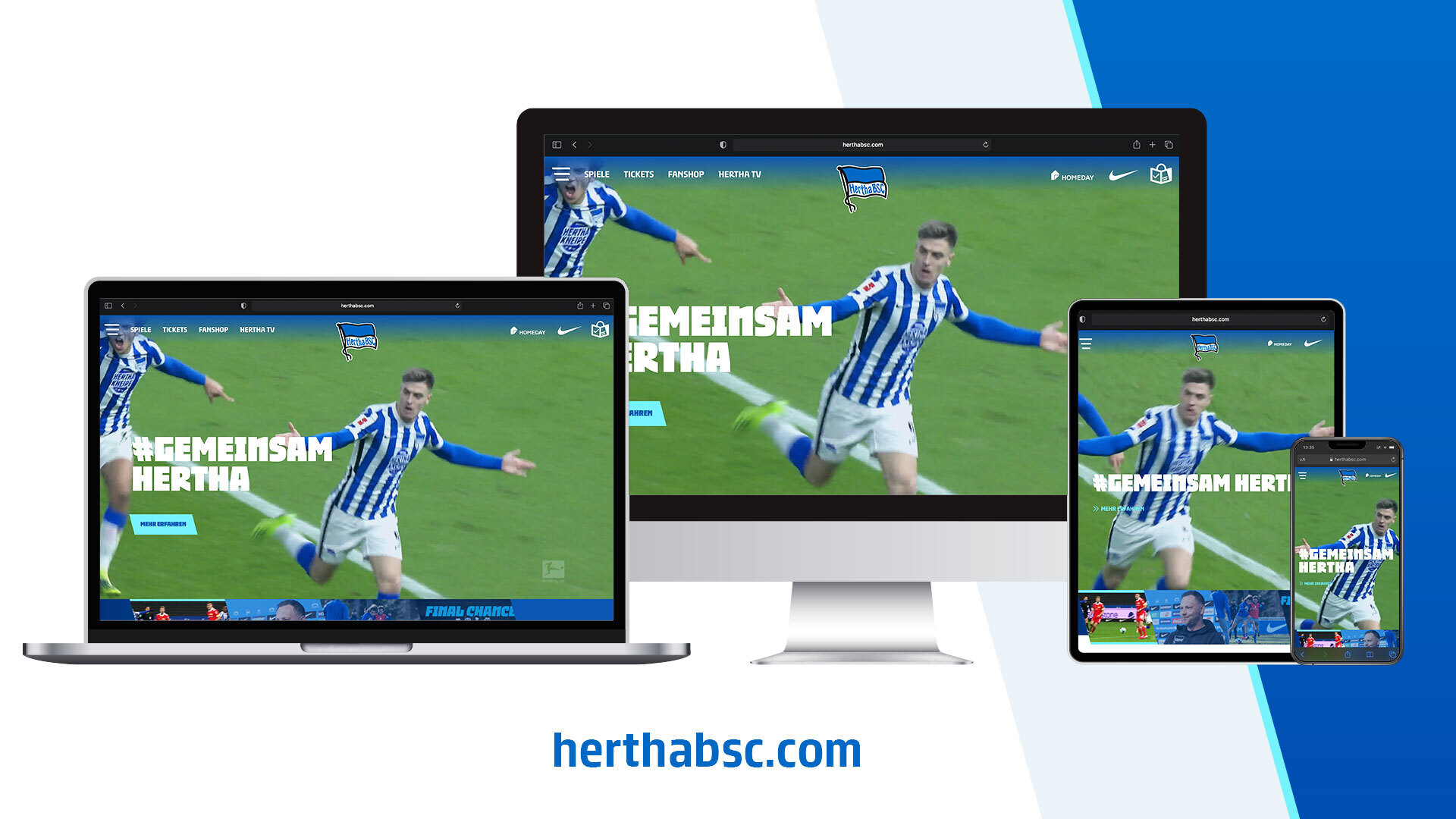 Club
|
March 22, 2021, 08:03 AM
Hertha BSC launch a new website and OTT channel
Hertha BSC are on the move digitally! The club have updated their online presence to meet current demands and have added further online services. After working closely with Berlin-based agency diva-e (for the homepage) and endava (HerthaTV), the side from the capital have a new website and their own OTT channel to provide all fans around the world with an emotional, attractive and forward-thinking digital experience, as well as underlining the club's role as a digital forerunner.
Mobile, multi-language and accessible
The club's homepage is one of the most important places for members and fans to find out information about their favourite club at first hand. The website has been built with a mobile first approach in mind, making it fully accessible on all platforms. The base URL of the new website is herthabsc.com, which recognises the international focus of the site – along with German, news is also available in English and Spanish. On the German pages, there are also options for "simple language" and an integrated read-aloud function, making the site fully accessible.
One particular focus when developing the website was on simple usability, as well as a consistent user navigation using digital touch points. Multimedia player profiles, emotive content on matchdays, detailed statistics, interesting behind the scenes insights and everything worth knowing all enable the supporters to stay connected with their club online. The new website guarantees quick and uncomplicated access to a wide range of content, information on memberships and exclusive merchandise and partner offers.
A larger digital TV presence – Carsten Schmidt on the podcast
The new HerthaTV, which is now available under tv.herthabsc.com, provides Hertha content for free on all devices. Whether you are at home or on the go, you can watch Hertha classics like "Ein Tach mit…" (A day with…), where presenter Lena meets the first-team players, or the regular format "Eine Woche in Blau-Weiß" (A week in blue and white). All pre-match press conferences are also live streamed, classic videos are available and "Hertha 030 – die Hertha BSC Spieltags-Show" (Hertha 030 – the Hertha BSC matchday show) are also included. HerthaTV also covers eSports streams with "Eligella" to provide a wide range of videos for Herthaner to enjoy.
One of the highlights for the start of the new site is a podcast with CEO Carsten Schmidt, who discusses current challenges and offers some personal insights.
There is an enormous amount of content without limits and barriers. This digital experience is another important step for the future of our club.
Paul Keuter, member of the board, said: "Our aim is to provide a unique and holistic digital experience which the fans can connect with. Our revised website and new OTT channel will help our fans and members immerse themselves into the diverse world of Hertha BSC. Making the website completely accessible was particularly important to us as well. There is an enormous amount of content without limits and barriers. This digital experience is another important step for the future of our club. I would like to thank everyone who has worked hard on this."
Maurice Sonneveld, Head of Digital Media, added: "The successful relaunch of our website and the development of our own OTT channel has seen us reach an important milestone in the setup of our holistic digital ecosystem. While designing the new site, it was particularly important for us to follow an all-inclusive approach based on feedback from our fans, so that all the needs of our users are covered in a way that is also consistently integrated into our digital infrastructure. We are proud of the results and the positive feedback – it's been a real team effort."