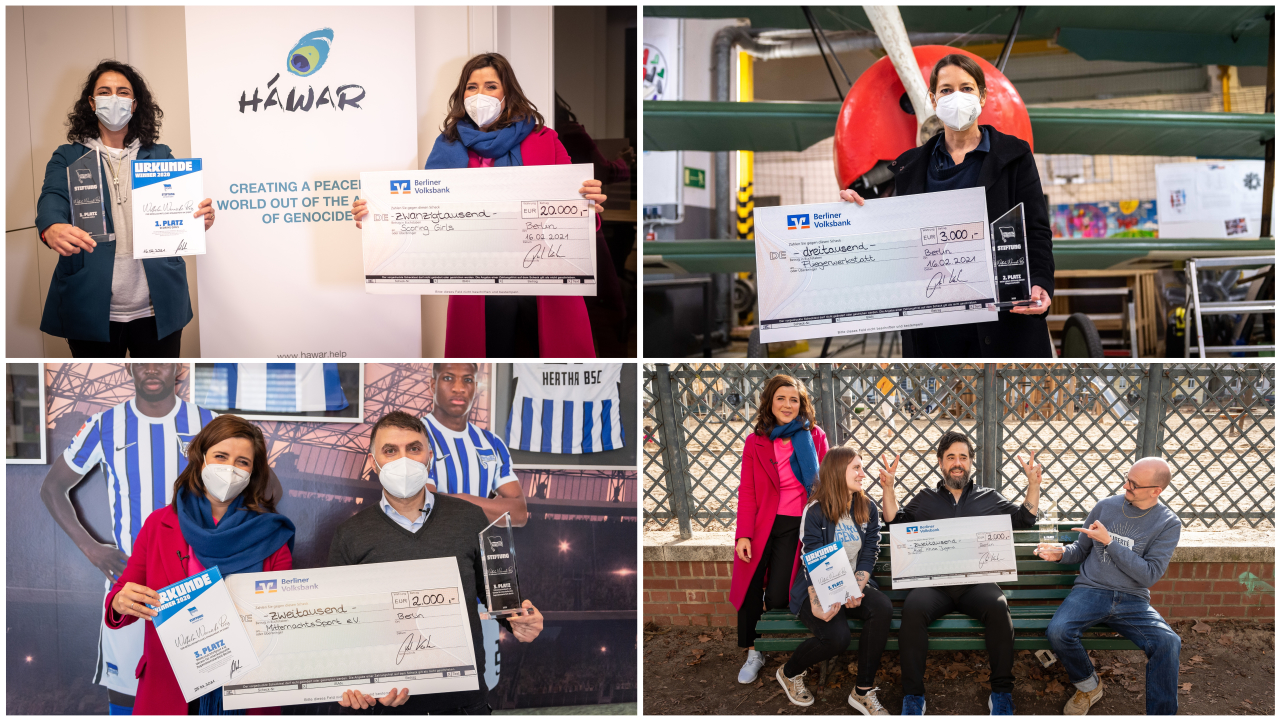 Social engagement
|
March 5, 2021, 10:10 AM
Hertha BSC foundation awards Wilhelm Wernicke Prize for 2020
The Hertha BSC foundation has awarded the Wilhelm Wernicke Prize for the first time. The award, named after our long-term club president – was brought to life in 2020 by foundation chairman Bernd Schiphorst and is an integral part of the Blue-Whites' social and charitable efforts. "Whether it's working with children and young adults, supporting socially disadvantaged groups, or fighting against racism and discrimination in sport, the Wilhelm Wernicke Prize aims to provide incentive for organisations, projects and individuals from the Berlin-Brandenburg region to commit themselves to social engagement in sports," explained Schiphorst. "'Gemeinsam Hertha' (Together for Hertha) is a motto we have promoted lately, which has prompted great showings of solidarity from many people from the fan scene, club members and even staff. It is also a motto that perfectly encapsulates the Wilhelm Wernicke Prize too though," added executive board member Paul Keuter. There will be three winners of the annual award, with first place receiving €20,000, second place getting €3,000 and finally €2,000 going to third place. Host of Berlin TV channel rbb, Eva-Maria Lemke, who is also part of the award's panel of judges, surprised this year's winners with their trophies and prize money.
'Scoring Girls' becomes first ever winner
The prize for first place went to 'Scoring Girls'. The project, which is part of the Háwar.help charity set up by former professional female footballer Tuğba Tekkal, helps girls and young women with migrant backgrounds or a refugee history gain a greater awareness for their own strengths and interests through football. 'Scoring Girls' goes beyond just using sport in their social engagement though, with football training also accompanied by school- and homework help sessions, as well as career orientation workshops. "We will put the money to good use so that the girls can really excel," promised Tekkal.
We will put the money to good use so that the girls can really excel
Second place was awarded to 'Fliegerwerkstatt Berlin'. The initiative at Tempelhof Field provides young people between 12 and 25 years old with experience in various trades. Last year, 400 participants from numerous countries were able to bring different projects to life without any time or work pressure. Third place was shared by 'Axel Kruse Jugend' and 'MitternachtsSport e.V.'. The former, an official Hertha fan club, strives to making Berlin a more tolerant, open-minded and diverse place and is involved in several projects, actively promoting the values that the Blue-Whites stand for. 'MitternachtsSports e.V.' is a multi-award-winning intercultural youth and social-work club, which uses sport to cultivate the alliance of important values such as respect, tolerance and fair-play.
Special award for new app
The panel of judges also chose to award a special prize to school pupil Jolina Hukemann. The 16-year-old is a goalkeeper and her football team have often struggled to get a referee for their games, meaning coaches have had to step in. To solve the problem, the youngster from Gütersloh developed an app that helps connect teams with hobby referees. The Hertha BSC foundation will now be supporting her work going forward.