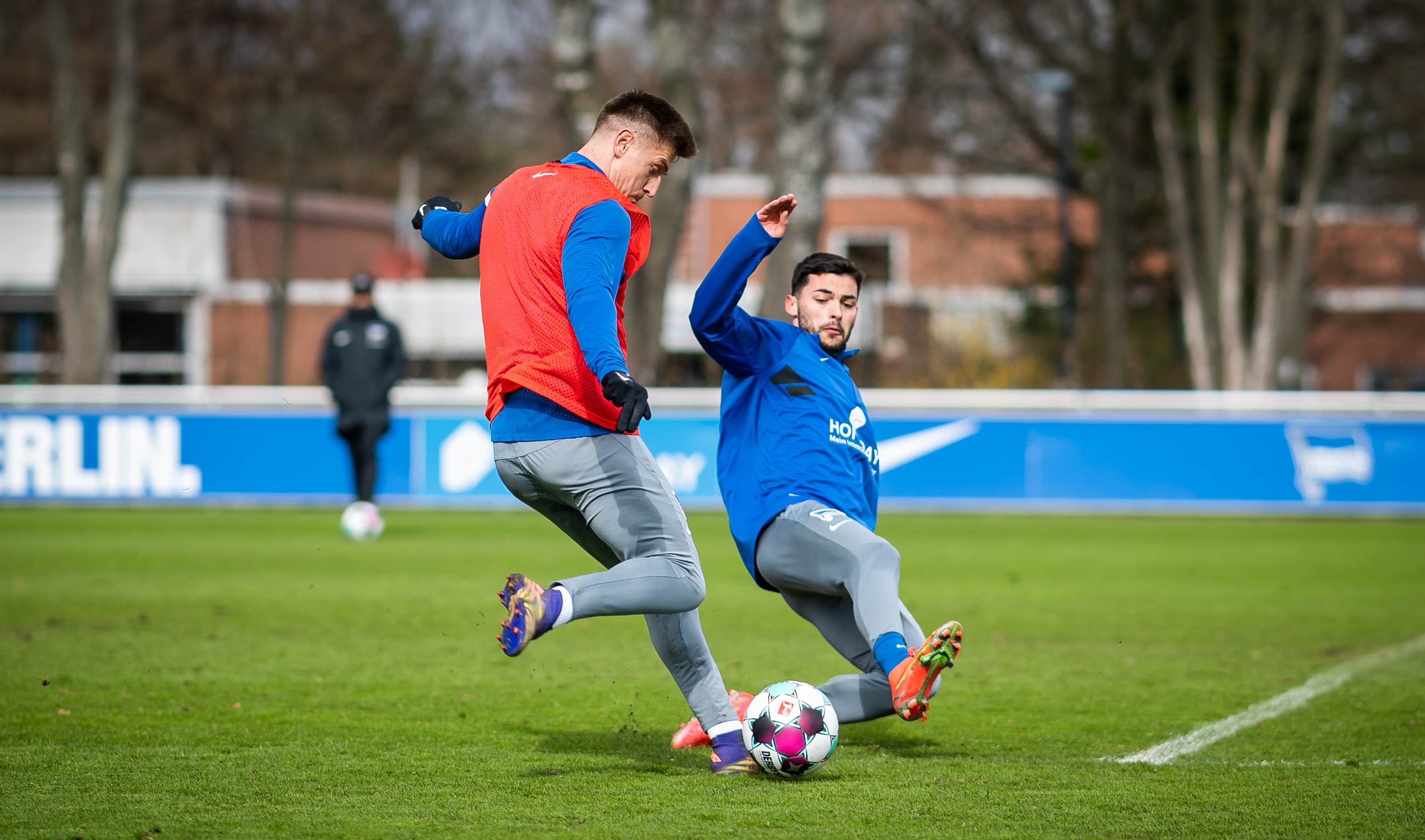 First team
|
April 6, 2021, 04:37 PM
Break it down and go again
Only seven weeks remain until the end of the 2020/21 Bundesliga season. There are seven games remaining in that space of time, seven matches in which we will give everything to remain a top-flight club. On Tuesday, just two days after the Easter Sunday derby against Union, Pál Dárdai had his boys back on the training pitch for some more work. The coach has set a simple goal for the final run-in this season: "We have picked up seven points in the last four games - that's a rate that we have to maintain," said the Hungarian. Arne Friedrich sees it as a decisive phase as well: "April could be the most important month for us. We will give everything not only to stay in this league, but also to build a strong foundation to start next season as well as possible."
We have picked up seven points in the last four games - that's a rate that we have to maintain.
Everyone in blue and white knows that it's been an up-and-down period. After the strong performance against Leverkusen, there were phases in the derby where the team did not perform to their potential. "Everyone wanted to help, everyone wanted to make decisions, but we have to do that together. We didn't play it simple enough," explained Dárdai, who will work hard with the players over the coming days with the focus on pressing and Gegenpressing as well as positioning on the pitch. "There are a lot of things that I can show the boys. I want to convince the players to do it my way because that will help us progress." Instead of taking three or four touches on the ball, the build-up play will now consist of just one or two touches.
M. Dárdai back but Boyata misses out
Dedryck Boyata missed out during Tuesday's training session, and he will take no part in the home match Borussia Mönchengladbach at the Weekend (10.04.21, 15:30 CEST). The centre back picked up another injury during his comeback appearance for the Belgian national team and will be sidelined for the foreseeable future with a torn thigh muscle. "When he is fit, I will need him. But first he has to work with Henrik Kuchno to get to a stage where he is physically ready to help us," said Dárdai of his captain. Rune Jarstein, who tested positive for coronavirus ahead of the derby, remains in quarantine as he recovers. The third player who missed the weekend's fixture, Márton Dárdai, returned to action. "He strained his ligaments and didn't play because he was not 100% fit," said the coach. The teenager completed the whole session with his teammates on Tuesday. Eduard Löwen trained alone, while Luca Netz is out for the season after undergoing an operation. Joining the team in training was Lucas Tousart, although the midfielder will miss the upcoming fixture through suspension after collecting too many yellow cards. "Santiago Ascacíbar has made a good impression. He would be the first choice to replace Lucas. It would probably be too soon for Sami Khedira to start. In an emergency, Niklas Stark can also help out in defensive midfield."
The head coach still has a few days left in which to make a final decision. The first half of Tuesday's session was completed out on the pitch all together, before those who started the derby returned to the changing room and the remaining players went head-to-head in a game. Club legend Nello di Martino leapt to action at short notice to take care of the Hertha goalkeepers. Arne Friedrich will be working to find a replacement goalkeeping coach in the near future. "We don't want to dream, we just have to keep working like dogs," said Pál Dárdai. "We have a game against Gladbach that we are capable of winning." Three points would be the perfect way to start the final countdown this season.
We don't want to dream, we just have to keep working like dogs.