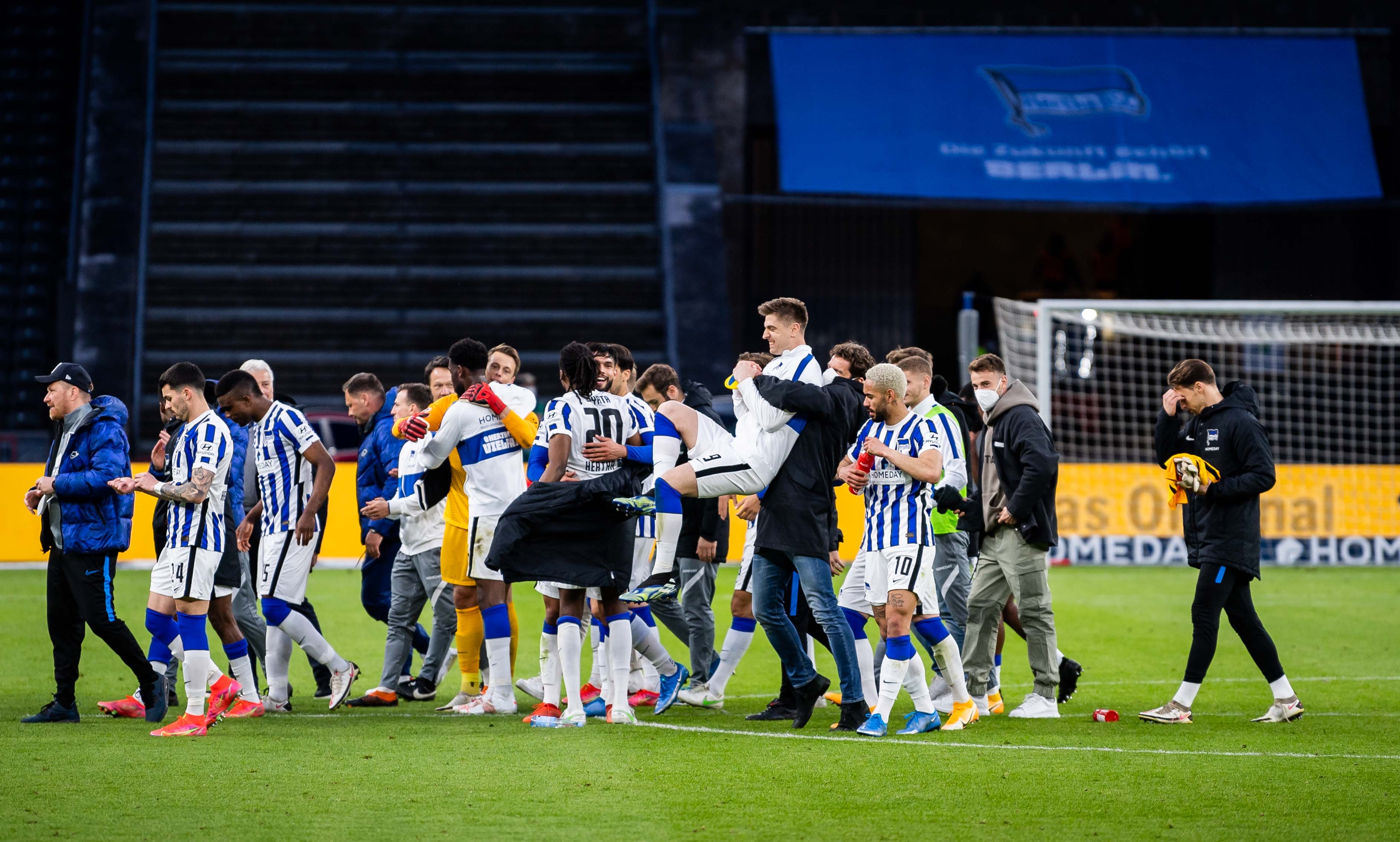 First team
|
May 6, 2021, 08:45 PM
"An important second step!"
What a way to ease the pressure! With an excellent 3-0 win against Sport-Club Freiburg, Hertha have climbed out of the relegation zone with one game still in hand over our rivals. The players were delighted as they faced the press after the game: "We presented ourselves as a team, and that was key," said a thrilled Alexander Schwolow after the fifth consecutive match without defeat. "It was an important second step towards survival!" herthabsc.com sums up the reaction from the Olympiastadion.
Krzysztof Piątek: After Jordan's shot I thought that it might be difficult for the goalkeeper so I made my way in. It was the right decision! (grins) I'm happy that I was able to help the team by putting us in front. Overall, it was a good game and we picked up three really important points. But now we have to keep going and build on it straight away. We still have four games in which we have to give everything for survival. After that we can evaluate the season and draw conclusions about what we have to do better in the future.
Niklas Stark: This win was really important for the soul but we still have a big task ahead of us. So none of us can relax, we don't want to do that at all. We are motivated to take the next step. We have a match every three days so everything else is just in the background where it belongs. Before the game, the coach came to us and told us that we would rotate like this. We all accepted it and anyone who looked at the bench could see and hear that nobody was annoyed by it. We need every man and that showed in this game.
Javairô Dilrosun: We had some difficulties at the start but then we played our way into the game well. We were really compact and above all we set up as a team. On top of that we played some nice football when we had possession. Freiburg thought that we would use a 5-3-2 but then we surprised them with the 4-2-3-1. We are really happy with the win. The game gives us lots of confidence for the matches to come. We still have one game in hand and now everything is up to us. We have to get points in every game to stay in the league. That's the most important thing for the team and the club. We are going into the game against Bielefeld to win. We will give everything to keep the three points in Berlin.
Alexander Schwolow: We presented ourselves as a team, and that was key. Personally I am really happy considering the first game this season when we conceded four goals. That was a tough return for me – we made amends for that a bit today. It was an important second step towards survival! Everyone knew that we would rotate. That there were so many changes was a bit of a surprise for us as well – but it was outstanding how our boys did. But that was no surprise either – if you see them in training then you see everything that they can do. Nobody lets their head drop when they're not in the team. That wasn't the case for me either. The players are reaping the rewards for everything they've given.