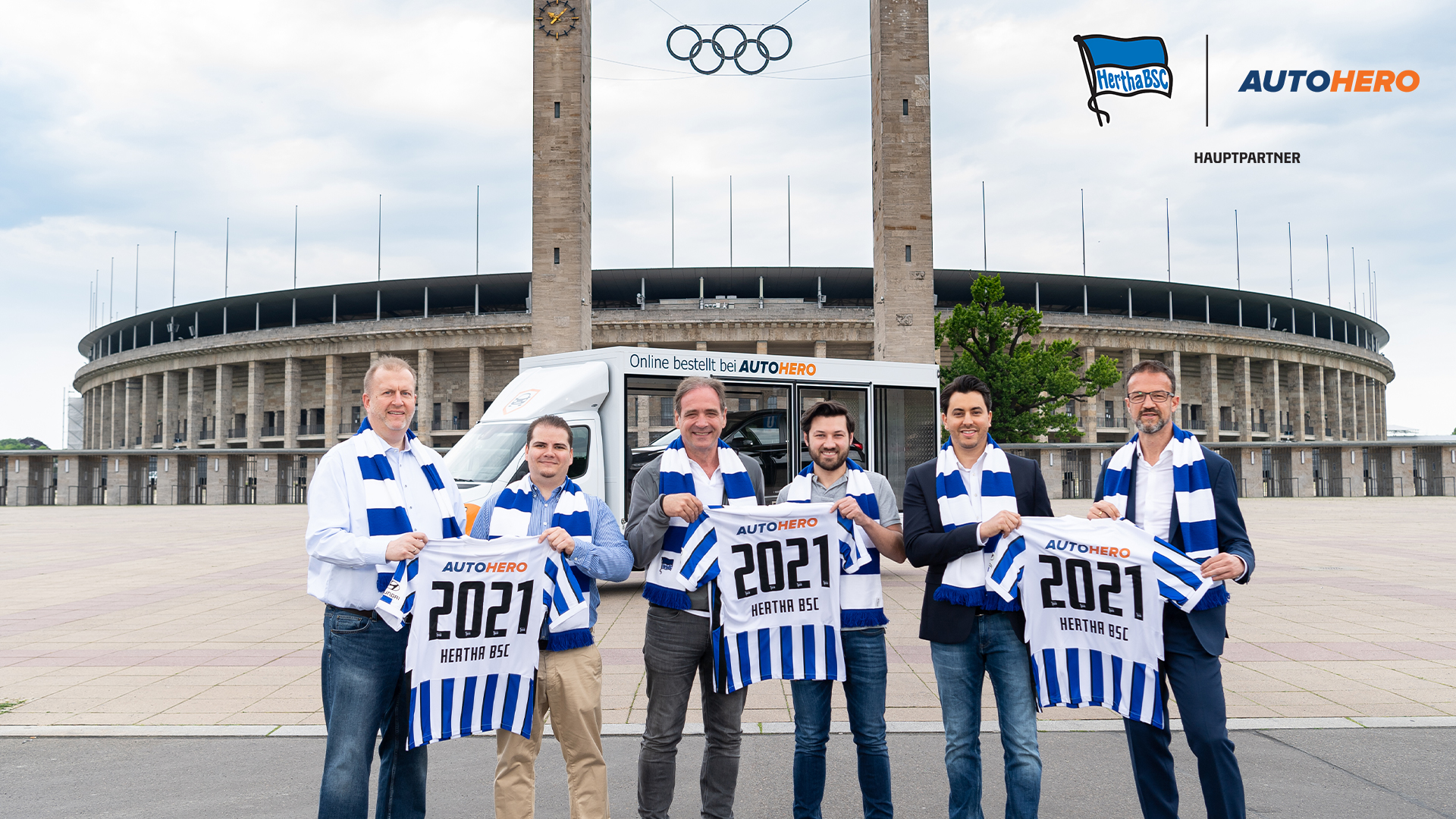 First team
|
June 4, 2021, 10:30 AM
Autohero becomes new main club sponsor of Hertha BSC
Autohero, which is a part of the AUTO1 group founded in 2012 in Berlin and is now one of Europe's leading digital automobile platforms, will become Hertha BSC's main club sponsor from the 2021/22 season. The Berlin-based company's logo will feature on the front of Hertha's shirts for at least two years, officially replacing Homeday from 1st July. There is also an option for a third season.
Alongside classic advertising in and around the stadium, Autohero will focus on fan activation – both physically and digitally. The partnership with Hertha BSC is their first of any kind in German professional football.
"In the past few weeks, we've had a number of serious conversations while searching for a new main sponsor. In Autohero, we have found a partner that is suited perfectly to Hertha BSC. They are revolutionising the used car market, are growing as a company and come from Berlin, and are therefore an ideal fit for our ambitions. We're really excited about this new partnership. I would like to take this opportunity to thank our current main sponsor, Homeday, for their successful cooperation, which will continue through June," said Carsten Schmidt, Hertha BSC CEO.
"We are proud to have a new strong partner at our side in the form of the capital city club. We at Autohero, the innovative online shop for used cars, have big ambitions much like Hertha BSC, and we are very excited to be starting on our road to success together as Berliners," commented Christian Bertermann, co-founder & CEO of AUTO1 Group SE. Hamza Saber, CEO of Autohero & SVP Northern Europe AUTO1 Group SE, added: "We believe that buying your car online is by far the best shopping experience and is also the future. Together with Hertha BSC as a partner, we hope to inspire new ways to buy a car and create new touchpoints in the football community with our Autohero brand."
"I'm pleased that, as part of our cooperation with Hertha BSC and thanks to the productive talks with Autohero, we have been able to present such an attractive partnership. Autohero is a successful company, which as an innovative online shop for used cars is an ideal fit for Hertha BSC's wide-reaching and digital-orientated 360-degree communication platform. I am certain that Autohero will be of valuable support to Hertha's development ambitions," said Hendrik Schiphorst, CEO at SPORTFIVE Germany. SPORTFIVE is a long-term marketing partner of Hertha BSC and once again mediated the partnership with the club's new main sponsor.