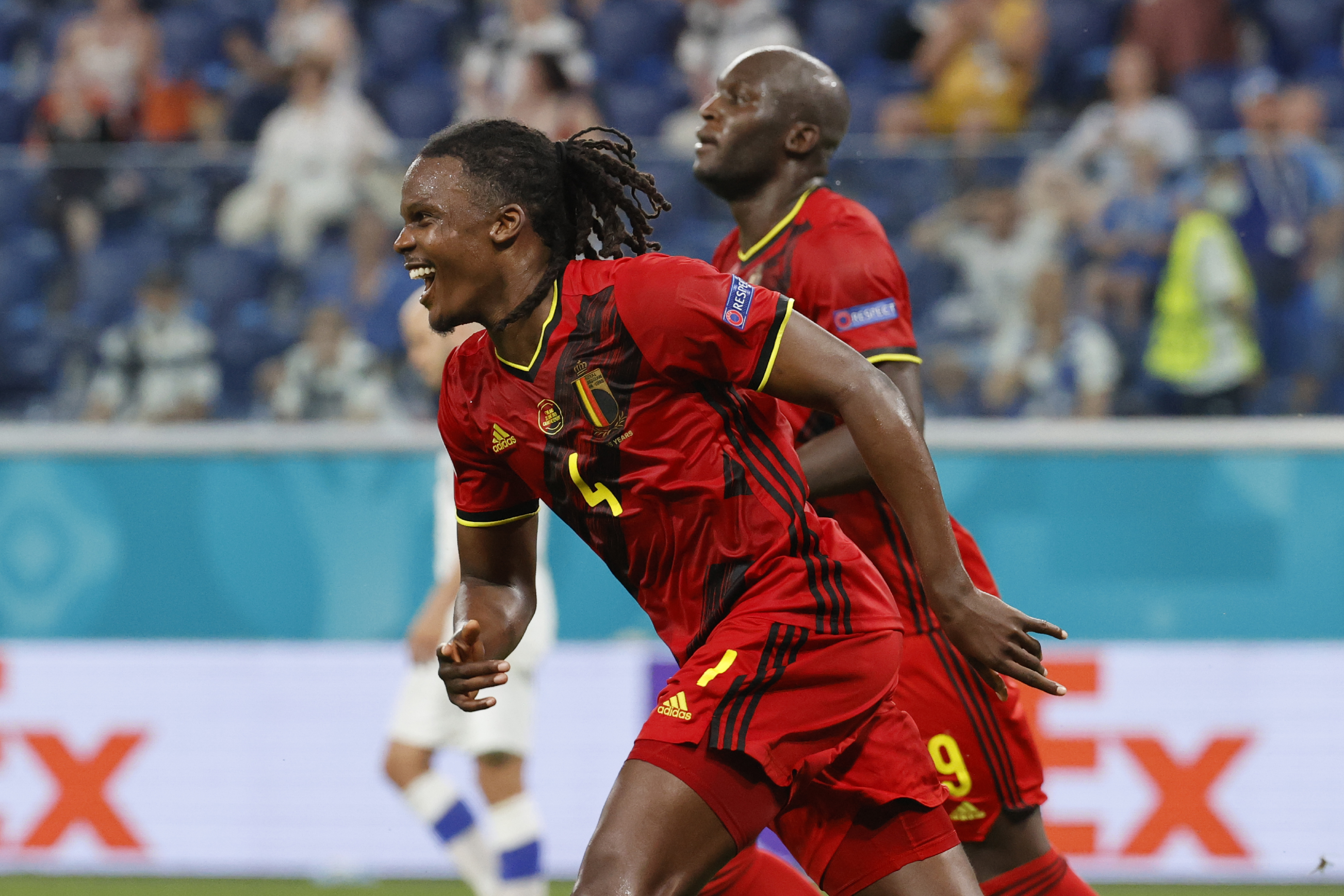 First team
|
June 24, 2021, 03:45 PM
Tough tasks in the Last 16
On Wednesday, 23rd June 2021, the UEFA EURO 2020 group stage came to an end. As the tournament moves into the knockout phase, two Hertha players are still in contention with their national teams, while another Blue and White representative is heading home after defeat in the final group game.
Dedryck Boyata and Vladimír Darida are in the Last 16
On Monday night, Dedryck Boyata played 90 minutes as Belgium completed a near perfect group campaign. With three wins from three, seven goals scored and only one conceded, the Red Devils wrapped up the group win and can now prepare to take on Portugal in the round of 16, as was confirmed on Wednesday night. Portugal, thanks in part to the tournament's leading goalscorer Cristiano Ronaldo and his five goals so far, secured third place in their group with four points, putting them among the four best third-placed teams. Boyata is not expecting an easy game against the Portuguese: "The game against Portugal will be tough, they have a lot of quality and a great mentality in their team, but so do we. And we always play to win," explained our captain. The game begins at 21:00 CEST in Seville on the 27th June.
After groups B and C were completed, Vladimír Darida and the Czech Republic were able to start looking forward to the knockout stages with one game to spare. The four points picked up against Scotland and Croatia were enough to guarantee a third-place finish superior to Finland and Ukraine's. In their final group game, the Czechs lost 1-0 to England and did indeed finish third in the group. In the next round, they will face a high-flying and free-scoring Netherlands side, who won Group C with a maximum nine points. "The Netherlands are top quality – individually and as a team. They were great in the group stage, but now we're in the knockouts, which have their own dynamic. We will give absolutely everything to see our EURO 2020 story continue," said Darida ahead of the meeting in Budapest (27th June, 18:00 CEST).
Peter Pekarík eliminated
Slovakia, on the other hand, failed to reach the knockouts. They were eliminated after losing 5-0 to Spain in their final group game. Although they finished third in their group, their record of three points and a -5 goal difference wasn't enough to see them make it out of the group, with only the best four third-placed teams qualifying for the round of 16. "We're really disappointed. We had high hopes and really wanted to reach the next round, so we're gutted we lost. I'll need a while to get over it. Now I'm going to recharge my batteries on holiday," summed up Pekarík.
Omar Alderete wins against Chile
In their third group game at Copa América, Paraguay beat Chile (2-0) to reach the quarterfinals with a game to spare. Our defender Omar Alderete came off the bench in the 84th minute for his first appearance of the tournament. Their final Group A game is against Uruguay on Tuesday, 29th June at 02:00 CEST. The quarterfinal ties will be played from 2nd to 4th July.
| | | | | |
| --- | --- | --- | --- | --- |
| Date | Time | Player | Fixture (location) | Result |
| Fri, 12.06.21 | 21:00 CEST | Dedryck Boyata | EUROs: Belgium - Russia (St. Petersburg) | 3-0 |
| Mon, 14.06.21 | 15:00 CEST | Vladimír Darida | EUROs: Scotland - Czech Republic (Glasgow) | 0-2 |
| Mon, 14.06.21 | 18:00 CEST | Peter Pekarík | EUROs: Poland - Slovakia (St. Petersburg) | 1-2 |
| Tue, 15.06.21 | 02:00 CEST | Omar Alderete | EUROs: Paraguay - Bolivia (Goiania) | 3-1 |
| Thu, 17.06.21 | 18:00 CEST | Dedryck Boyata | EUROs: Denmark - Belgium (Copenhagen) | 1-2 |
| Fri, 18.06.21 | 15:00 CEST | Peter Pekarík | EUROs: Sweden - Slovakia(St. Petersburg) | 1-0 |
| Fri, 18.06.21 | 18:00 CEST | Vladimír Darida | EUROs: Croatia - Czech Republic (Glasgow) | 1-1 |
| Mon, 21.06.21 | 21:00 CEST | Dedryck Boyata | EUROs Finland - Belgium (St. Petersburg) | 0-2 |
| Tue, 22.06.21 | 02:00 CEST | Omar Alderete | CA: Argentina - Paraguay (Brasilia) | 1-0 |
| Tue, 22.06.21 | 21:00 CEST | Vladimír Darida | EUROs: Czech Republic - England (London) | 0-1 |
| Wed, 23.06.21 | 18:00 CEST | Peter Pekarík | EUROs: Slovakia - Spain (Seville) | 0-5 |
| Fri, 25.06.21 | 02:00 CEST | Omar Alderete | CA: Chile - Paraguay (Brasilia) | 0-2 |
| Sun, 27.06.21 | 18:00 CEST | Vladimír Darida | EUROs: Netherlands - Czech Republic (Budapest) | |
| Sun, 27.06.21 | 21:00 CEST | Dedryck Boyata | EUROs: Belgium - Portugal (Seville) | |
| Tue, 29.06.21 | 02:00 CEST | Omar Alderete | CA: Uruguay - Paraguay (Rio de Janeiro) | |