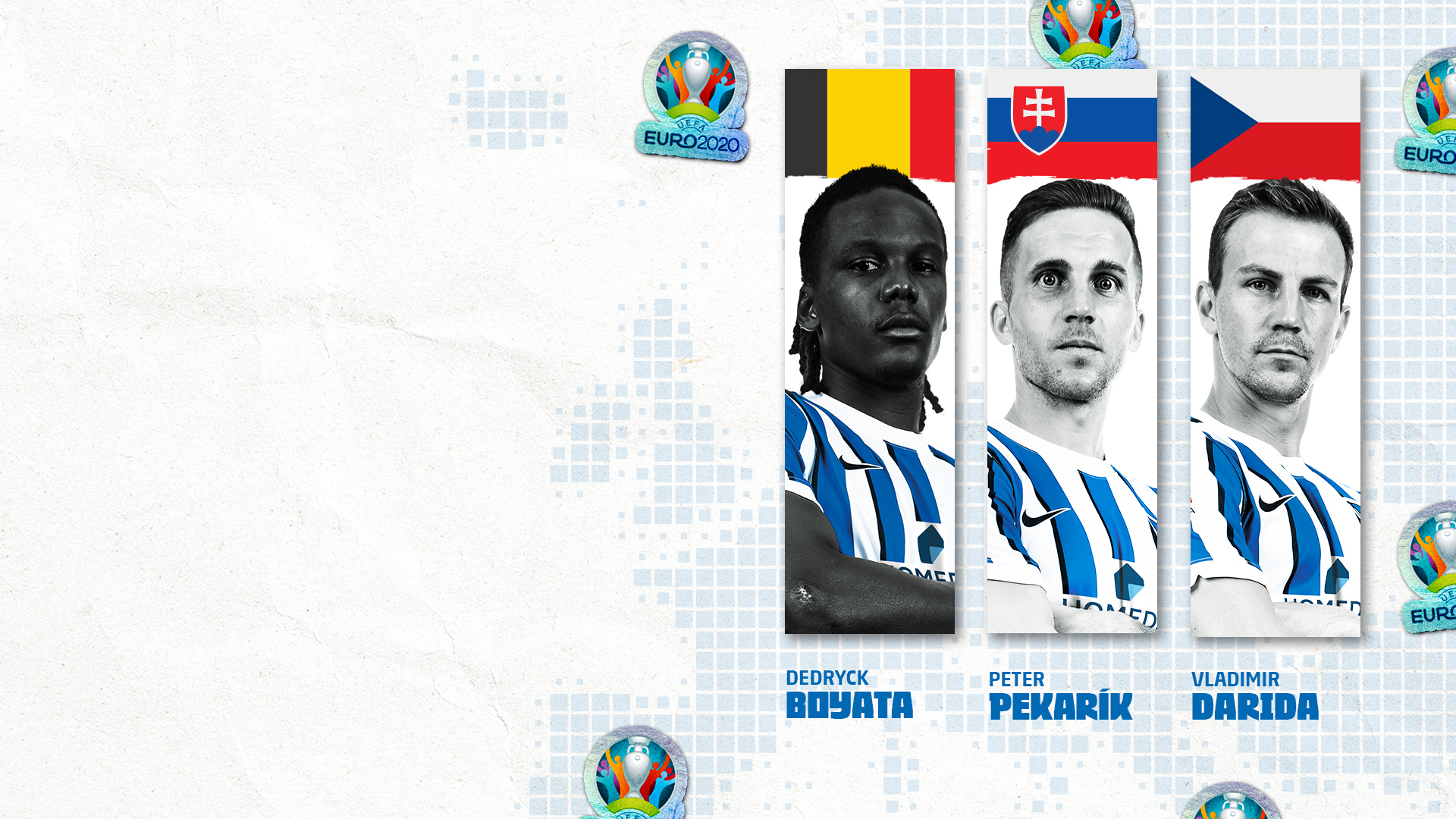 First team
|
June 1, 2021, 05:08 PM
Four Herthaner in international action
The next major tournament is just around the corner: from 11th June to 11th July, Europe's best national teams battle it out to lift the European Championship trophy. Three Hertha players will be in action in the tournament, which is taking place in several countries at the same time: Dedryck Boyata, Vladimír Darida and Peter Pekarík. Our captain will be the first blue and white player in action with Belgium. In Group B, Boyata and the Red Devils take on Russia on 12th June (21:00 CEST), five before facing Denmark (18:00 CEST). The final group opponent is Finland on 21st June (21:00 CEST). "We have the clear goal of qualifying for the knockout phase," said Boyata, who is preparing for the highly anticipated tournament with friendlies against Greece (03/06/21) and Croatia (06/06/21). "We want to give ourselves good feeling for the tournament with two successful friendlies," says the 30-year-old, who is going into his second major tournament after the 2018 World Cup.
Vladimír Darida: Czech captain
Czech Republic, led by Vladimír Darida, will also be aiming high. In Group D with Scotland, Croatia and England, the clash with the Scots on 14th June (15:00 CEST) is already marked as an important one. "On paper, Croatia and England are certainly the favourites, but we will give everything to have a say. Three points against Scotland would be a perfect start," says Darida. The midfielder the 'Reprezentace' will then face World Cup runners-up and Luka Modrić (18/06/21, 18:00 CEST) before the side who finished fourth in the same tournament three years ago and its Premier League stars four days later (22/06/21, 21:00 CEST). "We're just really looking forward to the meetings," says Darida. Ahead of the tournament, the Czech side are in a training camp in Italy, where they will face Italy (04/06/21) and Albania (08/06/21).
On paper, Croatia and England are certainly the favourites, but we will give everything to have a say.
Pekarík's missed Hertha meeting
Peter Pekarík could have been in line to take on a familiar face at this summer's European Championship, but Krzysztof Piątek's ankle fracture prevents a Hertha encounter when Slovakia open their campaign against Poland in Group E on 14th June (18:00 CEST). After that, Pekarík's team will face Sweden on 18th June (15:00 CEST) and Spain on 23rd June (18:00 CEST). "Of course, Spain have a lot of quality, and Poland and Robert Lewandowski will also be confident going into the tournament. Perhaps no one is expecting anything from us or Sweden, but that is our chance. We are one and want to do our country justice," said our number 2. The 'Repre', who have been at a training camp in Austria, will play friendlies against Bulgaria (01/06/21) and the Austria (06/06/21).
Alderete at the Copa América
While Europe's best countries are battling it out, Omar Alderte is due to fight for a trophy with Paraguay at the Copa América. Whether the tournament will take place, however, is unclear due to the severity of the Coronavirus situation. In Group A, our center-back and Paraguay are down to face Bolivia (14/06/21), Argentina (21/06/21), Chile (24/06/21) and Uruguay (27/06/21), with the top four teams qualifying for the next round.
Overview: International fixtures with Hertha involvements
| | | | | |
| --- | --- | --- | --- | --- |
| Date | Time | Player | Fixture | Result |
| 12.06.21 | 21:00 CEST | Dedryck Boyata | EURO: Belgium - Russia | |
| 14.06.21 | 02:00 CEST | Omar Alderete | CA: Paraguay - Bolivia | |
| 14.06.21 | 15:00 CEST | Vladimír Darida | EURO: Scotland - Czech Republic | |
| 14.06.21 | 18:00 CEST | Peter Pekarík | EURO: Poland - Slovakia | |
| 17.06.21 | 18:00 CEST | Dedryck Boyata | EURO: Denmark - Belgium | |
| 18.06.21 | 15:00 CEST | Peter Pekarík | EURO: Sweden - Slovakia | |
| 18.06.21 | 18:00 CEST | Vladimír Darida | EURO: Croatia - Czech Republic | |
| 21.06.21 | 01:00 CEST | Omar Alderete | CA: Argentina - Paraguay | |
| 21.06.21 | 21:00 CEST | Dedryck Boyata | EURO: Finland - Belgium | |
| 22.06.21 | 21:00 CEST | Vladimír Darida | EURO: Czech Republic - England | |
| 23.06.21 | 18:00 CEST | Peter Pekarík | EURO: Slovakia - Spain | |
| 24.06.21 | 02:00 CEST | Omar Alderete | CA: Chile - Paraguay | |
| 27.06.21 | 23:00 CEST | Omar Alderete | CA: Uruguay - Paraguay | |