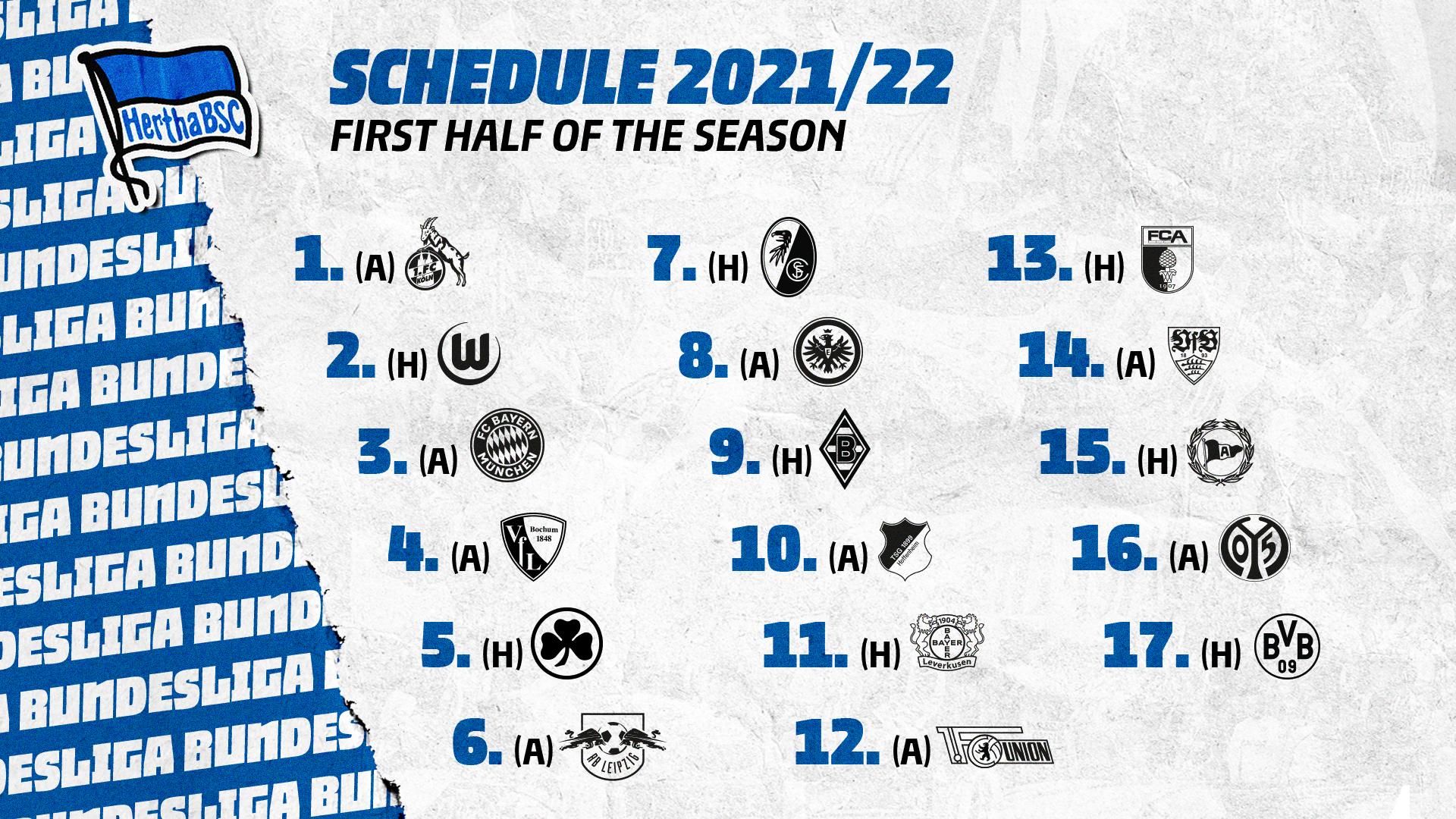 First team
|
June 25, 2021, 12:00 PM
Away in Köln to start, then Wolfsburg at home
Hertha's pre-season begins on Monday (28/6/21) with performance tests ahead of the 2021/22 season. Now the Hertha players know their schedule for the new campaign too after the DFL announced the fixtures for the new season on Friday (25/6/21). Pál Dárdai's side's first game is away to 1. FC Köln on the second weekend in August. A week later, we will host VfL Wolfsburg in the Olympiastadion. August is concluded with a tricky visit to reigning champions FC Bayern.
First international break at the start of September – derby in November and April
After the first international break of the season at the start of September, another away game follows at promoted side VfL Bochum. After this, there is another match against the other new side Greuther Fürth, before games in Leipzig and at home to Freiburg. The second international break of 2021/22 then takes place after matchday 7 at the beginning of October. Hertha then resume with a trip to Frankfurt, a home game versus Gladbach, a visit of Hoffenheim and then Leverkusen come to Berlin ahead of the final international break of 2021. The final run of games is kicked off with the first derby of this season, this one taking place in Köpenick on matchday 12. The year is rounded off with three games in a week, concluding with Dortmund coming to Berlin.
Second half of the season begins on 7th January – season ends on 14th May
The winter break this year will last two and a half weeks. The second half of the season begins between the 7th and 9th January 2022. Two more international breaks are planned for the end of January and end of March. The home derby is scheduled for the start of April and a trip to BVB will end Hertha's 2021/22 Bundesliga campaign.
All 34 Bundesliga games in 2021/22:
| Matchday | Date | Fixture |
| --- | --- | --- |
| 1 | 14th-15th August 2021 | 1. FC Köln - Hertha BSC |
| 2 | 20th-22nd August 2021 | Hertha BSC - VfL Wolfsburg |
| 3 | 27th-29th August 2021 | FC Bayern München - Hertha BSC |
| 4 | 11th-12th September 2021 | VfL Bochum - Hertha BSC |
| 5 | 17th-19th September 2021 | Hertha BSC - SpVgg Greuther Fürth |
| 6 | 24th-26th September 2021 | RasenBallsport Leipzig - Hertha BSC |
| 7 | 1st-3rd October 2021 | Hertha BSC - Sport-Club Freiburg |
| 8 | 15th-17th October 2021 | Eintracht Frankfurt - Hertha BSC |
| 9 | 22nd-24th October 2021 | Hertha BSC - Borussia Mönchengladbach |
| 10 | 29th-31st October 2021 | TSG Hoffenheim - Hertha BSC |
| 11 | 5th-7th November 2021 | Hertha BSC - Bayer 04 Leverkusen |
| 12 | 19th-21st November 2021 | 1. FC Union Berlin - Hertha BSC |
| 13 | 26th-28th November 2021 | Hertha BSC - FC Augsburg |
| 14 | 3rd-5th December 2021 | VfB Stuttgart - Hertha BSC |
| 15 | 10th-12th December 2021 | Hertha BSC - DSC Arminia Bielefeld |
| 16 | 14th-15th December 2021 | 1. FSV Mainz 05 - Hertha BSC |
| 17 | 17th-19th December 2021 | Hertha BSC - Borussia Dortmund |
| | | |
| 18 | 7th-9th January 2022 | Hertha BSC - 1. FC Köln |
| 19 | 14th-16th January 2022 | VfL Wolfsburg - Hertha BSC |
| 20 | 21st-23rd January 2022 | Hertha BSC - FC Bayern München |
| 21 | 4th-6th February 2022 | Hertha BSC - VfL Bochum |
| 22 | 11th-13th February 2022 | SpVgg Greuther Fürth - Hertha BSC |
| 23 | 18th-20th February 2022 | Hertha BSC - RasenBallsport Leipzig |
| 24 | 25th-27th February 2022 | Sport-Club Freiburg - Hertha BSC |
| 25 | 4th-6th March 2022 | Hertha BSC - Eintracht Frankfurt |
| 26 | 11th-13th March 2022 | Borussia Mönchengladbach - Hertha BSC |
| 27 | 18th-20th March 2022 | Hertha BSC - TSG Hoffenheim |
| 28 | 1st-3rd March 2022 | Bayer 04 Leverkusen - Hertha BSC |
| 29 | 8th-10th April 2022 | Hertha BSC - 1. FC Union |
| 30 | 16th-17th April 2022 | FC Augsburg - Hertha BSC |
| 31 | 22nd-24th April 2022 | Hertha BSC - VfB Stuttgart |
| 32 | 29th-30th April 2022 | DSC Arminia Bielefeld - Hertha BSC |
| 33 | 6th-8th May 2022 | Hertha BSC - 1. FSV Mainz 05 |
| 34 | 14th May 2022 | Borussia Dortmund - Hertha BSC |