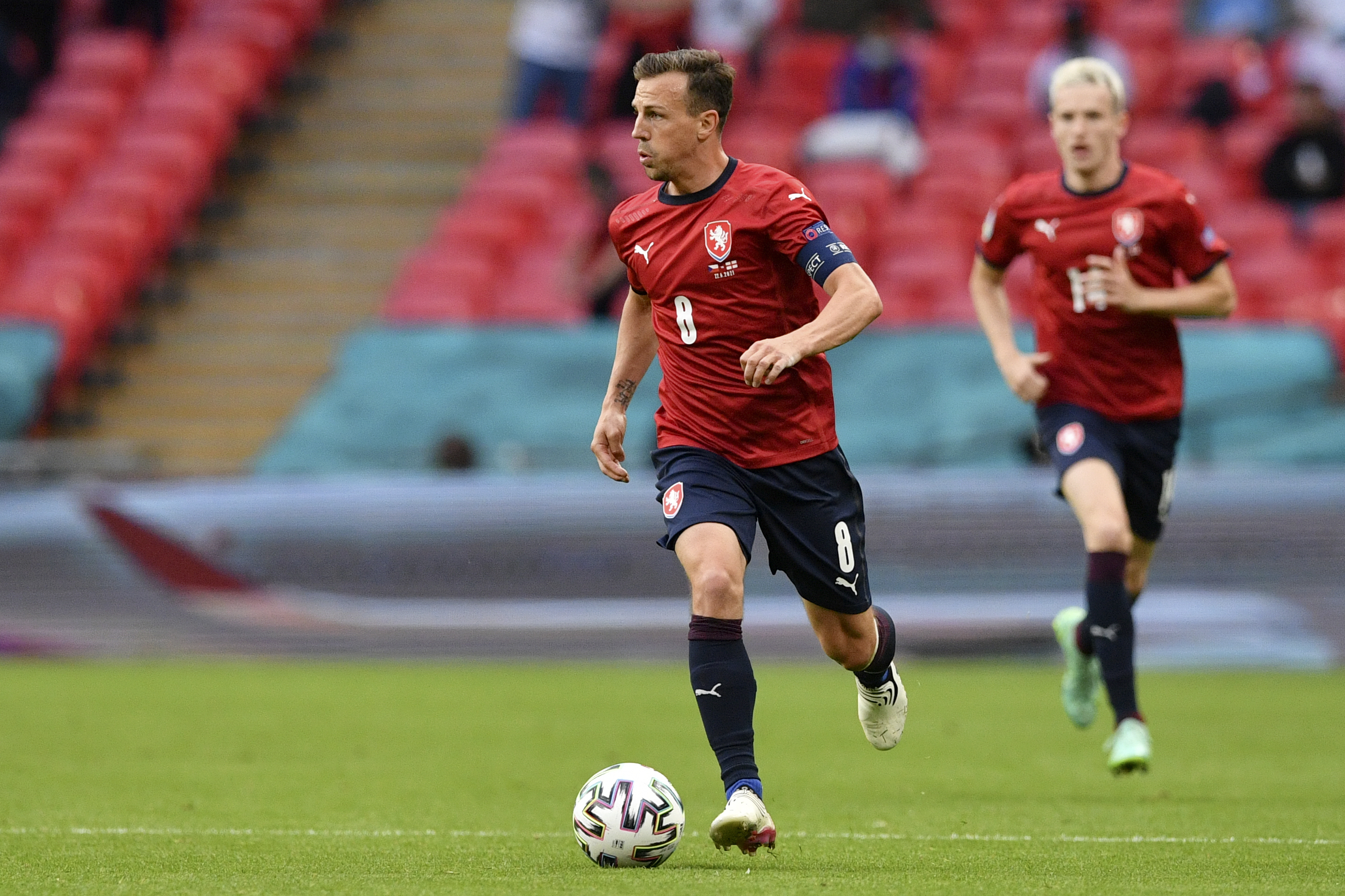 First team
|
July 2, 2021, 09:32 AM
Three Herthaner hoping to reach the semi-finals
The round of 16 at EURO 2020 provided several shocks, with France, Portugal and Germany all exiting the tournament. The Netherlands were also dumped out, going out 2-0 to the Czech Republic despite winning all three of their group games. The outsiders, without captain Vladimír Darida who was injured, took advantage of a Matthijs de Ligt red card to reach the quarterfinals for the first time since 1996. As a result, they will face Denmark on Saturday evening in Baku (3/7, 18:00 CEST). Czech Republic will be hoping to have their captain back, especially because he trained with the team on Thursday. "I completed the whole session without any problems, so I'm optimistic that I can play. It's a big game for us and everybody back home will be right behind us. We want to continue living the dream and reach the semi-finals," summed up Hertha's midfielder.
Belgium looking to knock out Italy
Belgium's route to the quarterfinals saw them narrowly scrape past defending champions Portugal 1-0. Up next is Italy in Munich for Dedryck Boyata & Co., this game taking place on Friday night (2/7, 21:00 CEST). "Italy are unbeaten so far and have only conceded one goal in four games – the same as us. We're prepared for an even game, where minor details will make the difference. Making the semi-finals is our aim!" said Boyata ahead of the game against a familiar face. Italy coach, Roberto Mancini, was in charge at Manchester City when Boyata become a first-team player. Belgium would face Switzerland or Spain on 6th July if they progress, while Darida's Czech Republic would take on England or Ukraine on 7th July.
Alderete to face Peru in the quarterfinals
Paraguay, including our defender Omar Alderete, finished third in Group A at Copa América. They had already booked their place in the knockouts with a game to spare. Overall, their group stage record was even, beating Bolivia and Chile but losing to Argentina and Uruguay. Our number 14 has worked his way into the team during the tournament, playing the full 90 minutes last time out. Their quarterfinal tie is on Friday (2/7, 23:00 CEST) in Brazil against Peru, who finished second in Group B.
Overview of Hertha players in action:
| | | | | |
| --- | --- | --- | --- | --- |
| Date | Time | Player | Fixture (location) | Result |
| Fri, 12.06.21 | 21:00 CEST | Dedryck Boyata | EUROs: Belgium - Russia (St. Petersburg) | 3-0 |
| Mon, 14.06.21 | 15:00 CEST | Vladimír Darida | EUROs: Scotland - Czech Republic (Glasgow) | 0-2 |
| Mon, 14.06.21 | 18:00 CEST | Peter Pekarík | EUROs: Poland - Slovakia (St. Petersburg) | 1-2 |
| Tue, 15.06.21 | 02:00 CEST | Omar Alderete | CA: Paraguay - Bolivia (Goiania) | 3-1 |
| Thu, 17.06.21 | 18:00 CEST | Dedryck Boyata | EUROs: Denmark - Belgium (Copenhagen) | 1-2 |
| Fri, 18.06.21 | 15:00 CEST | Peter Pekarík | EUROs: Sweden - Slovakia (St. Petersburg) | 1-0 |
| Fri., 18.06.21 | 18:00 CEST | Vladimír Darida | EUROs: Croatia - Czech Republic (Glasgow) | 1-1 |
| Mon, 21.06.21 | 21:00 CEST | Dedryck Boyata | EUROs: Finland - Belgium (St. Petersburg) | 0-2 |
| Tue, 22.06.21 | 02:00 CEST | Omar Alderete | CA: Argentina - Paraguay (Brasilia) | 1:0 |
| Tue, 22.06.21 | 21:00 CEST | Vladimír Darida | EUROs: Czech Republic - England (London) | 0-1 |
| Wed, 23.06.21 | 18:00 CEST | Peter Pekarík | EUROs: Slovakia - Spain (Seville) | 0-5 |
| Fri, 25.06.21 | 02:00 CEST | Omar Alderete | CA: Chile - Paraguay (Brasilia) | 0-2 |
| Sun, 27.06.21 | 18:00 CEST | Vladimír Darida | EUROs: Netherlands - Czech Republic (Budapest) | 0-2 |
| Sun, 27.06.21 | 21:00 CEST | Dedryck Boyata | EUROs: Belgium - Portugal (Seville) | 1-0 |
| Tue, 29.06.21 | 02:00 CEST | Omar Alderete | CA: Uruguay - Paraguay (Rio de Janeiro) | 1-0 |
| Fri, 02.07.21 | 21:00 CEST | Dedryck Boyata | EUROs: Belgium - Italy (Munich) | |
| Fri, 02.07.21 | 23:00 CEST | Omar Alderete | CA: Peru - Paraguay (Goiania) | |
| Sat, 03.07.21 | 18:00 CEST | Vladimír Darida | EUROs: Czech Republic - Denmark (Baku) | |