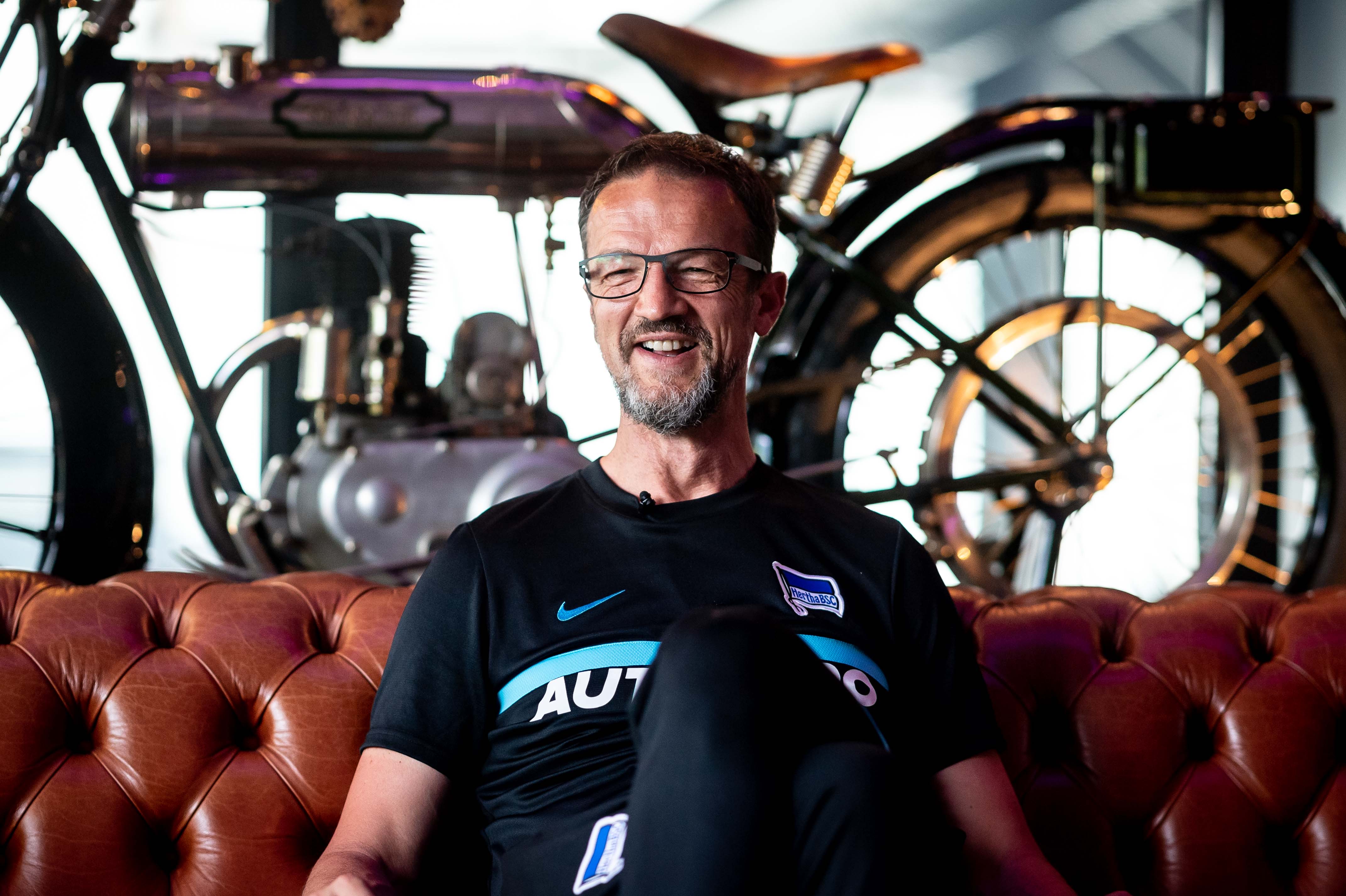 First team
|
July 30, 2021, 05:55 PM
"Calmly do my best for Hertha"
Hertha have been in Leogang now for six days, with their time in Austria now slowly coming to an end. Fredi Bobic has had a busy peiod, watching training, whilst also having a number of conversations with various people. The 49-year-old is close with the coaching staff, Arne Friedrich and other members of the sporting management. The former Hertha player can often be seen on the phone, and he is in high demand with the media. On Friday, he took time to speak to the journalists about pre-season, the squad and chats with Pál Dárdai. herthabsc.com has summarised his quotes on...
...his first few months back at Hertha BSC: A lot has happened so far. I got through June thanks to Arne Friedrich, and I'm really thankful to him for that. We then stepped things in July, as a number of new staff members arrived. We've restructured the academy, the U23s and the first-team setup, plus we had the project 'Goldelse'. Slowly but surely, things are clicking into place, but that will take a bit more time. We're constantly questioning what we do, so that we can work out what we can improve on, or work out what's missing. Not everything is perfect, but we're on the right track and I'm really satisfied. Ultimately, the most important thing will always be winning football games – that makes things a lot easier!
...the win over Liverpool: It was a great game. The fans in the stadium provided the lads with some extra motivation. We saw live what everyone else did at the EUROs, i.e. the difference the fans make. I thought about the last time I was in a crowd of 12,000 fans – it was a while ago now. The lads did great for large parts of the game, although they did have problems now and again. That's normal, however, against a team like Liverpool. I don't want to read too much into the result, it was just a great game against an excellent side and it will give us confidence. That's what pre-season is always about.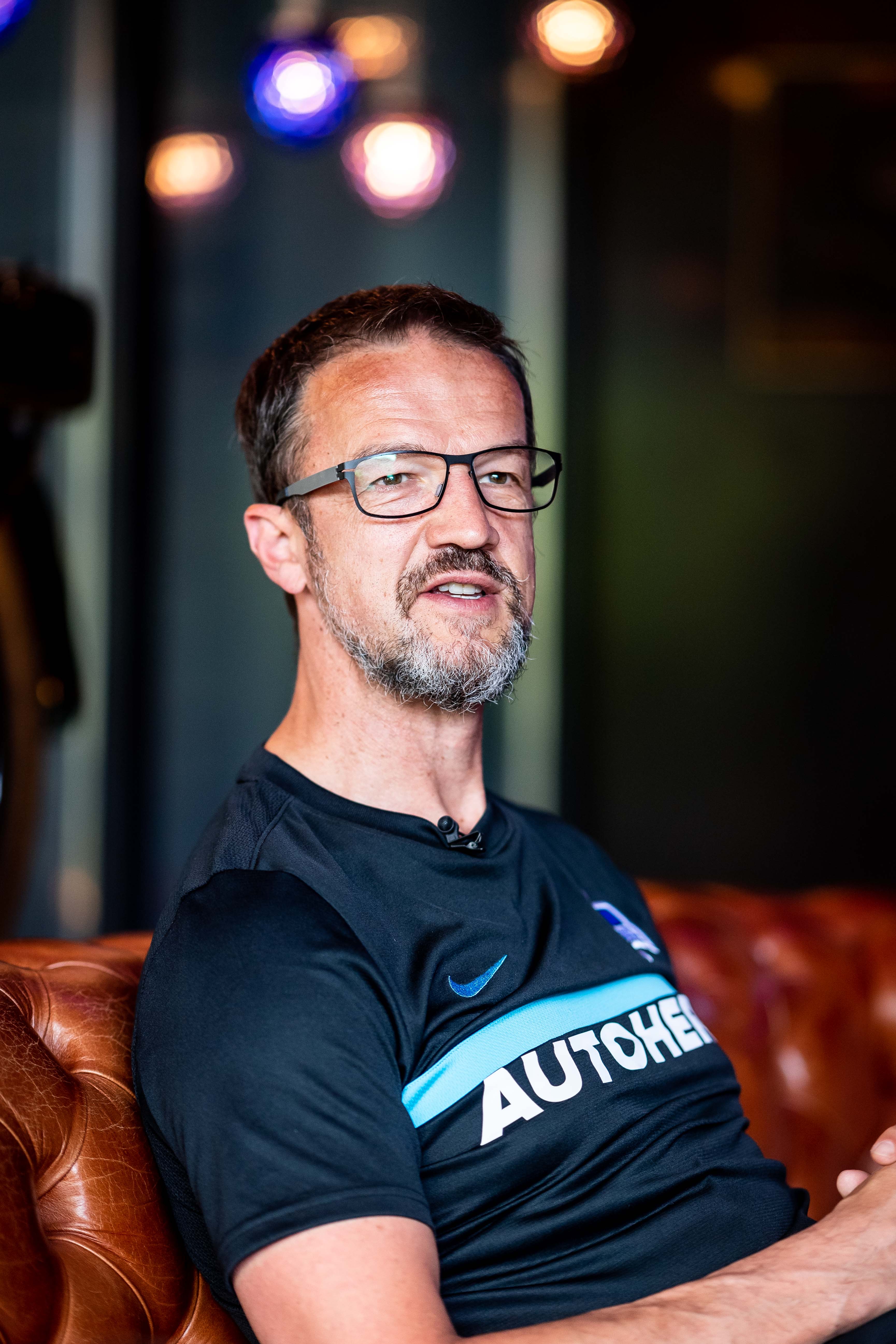 ...the new signings on the scoresheet: I'm obviously pleased that Stevan Jovetić and Suat Serdar both scored. It will give them a nice little boost. What really impressed me with Suat's goal was the risk he took. He was either going to smash it onto the ski jump in Innsbruck or into the back of the net. He also scored from a narrow angle at St. Pauli. I hope that he keeps playing with this confidence and bravery in the Bundesliga. He's looking really, really good. We obviously know about Stevan's quality, you only need to look at his CV for that. He's a really versatile player, not just a striker. He can play anywhere in an attacking sense, gets into space and likes to receive the ball. He's certainly confident on the ball and that's always good. The way he played was really good, but he's got some way to go and needs to get some minutes in his legs. He did play a lot in Ligue 1 last season, however he's trained individually a lot recently.
...Luca Netz: His transfer is not done yet, but it's looking like it will happen. He wouldn't be getting more minutes at his new club – he'd get game time at Hertha too. If he leaves us, then it's not for sporting reasons. We tried everything to get him to sign a new contract, but you have to set limits. That's how it goes sometimes in football and we have to accept this decision. If a young lad from our academy really does leave, it will be a real shame. We place trust in our youngsters and like to see them develop. Our aim is to then see these lads playing for Hertha BSC in the Bundesliga. But there are situations where things don't work anymore. We've seen them 1,000 times in the Bundesliga, not just here.
...new signings: Generally, all players have a certain amount of quality and talent, but the question is how will they use it? I like difficult and complicated guys. Can you get them on the right track or not? It works well sometimes, and not so well on other occasions. One thing has become clear to me over the past few years – mentality can beat quality, we saw that at EURO 2020. Every team needs the right attitude and it's really, really important that we have players that fit in to our team and who will invest their all to ensure we have success together.
... Pál Dárdai's wishes: Every coach would like new players, some even 10! Pál's no different to the others. We speak a lot and it's really enjoyable. We are trying to do our best for Hertha BSC and we're working on one or two players. We're pushing things both ways there. Overall, the transfer market is pretty quiet and a lot more difficult than last summer. There is a lot of fear out there and people are having to be creative with their deals. Being calm and quiet about investments is the right way of going about things. We have a responsibility towards the club and the staff here. The future is unknown, so now's not the time to take risks. We have to be prepared for various eventualities.
Every coach would like new players, some even 10! Pál's no different to the others. We speak a lot and it's really enjoyable. We are trying to do our best for Hertha BSC.
...names mentioned by the media: We know Jurgen Ekkelenkamp well and we're interested. We're currently considering if a deal is possible or not, but we've got no agreement with Ajax. There's nothing to report regarding Nemanja Radonjić. I've not found the door that was supposedly open for Javairô Dilrosun to Rotterdam! Nobody has been in contact with us. We expect August to be pretty chaotic. We're looking at a number of possibilities, this is a situation we've never had before. I'm excited personally. 80% of clubs want to get rid of players, but still need new signings at the same time.
...Prince Boateng: The great thing is he can still play good football, which we saw against Liverpool. He'll definitely helps us on the pitch, but what has impressed me is that he has developed as a person even more since our time together in Frankfurt. You can see how happy he is to be back at Hertha. He's always positive and that has a positive impact on the lads. Signing Prince was incredibly important for the team spirit and the guys are happy to be playing with him. He can carry on where Sami Khedira left off.
...the team structure: Prince isn't the only one who can do that. We've got experienced players like Dedryck Boyata, Vladimír Darida and Peter Pekarík. Sometimes these guys don't even need to be playing to help the team, just having them around is helpful. Niklas Stark and Suat Serdar can also step up too.
...talented youngsters from the academy: I'm really enjoying seeing them in action here. Playing with the first team really helps young players. We'll have to see which make the step up to professional football. The close connection between the first team and the academy was one of the reasons why I chose to come to Berlin. We've got some great lads here and having them so close helps us see how far along they are. This will also have an influence on our transfer plans. Will a player be ready in two or three years? Should we get a player to bridge the gap for those years so the talent can continue to develop?
Playing with the first team really helps young players. The close connection between the first team and the academy was one of the reasons why I chose to come to Berlin.
...fans in stadiums: This topic is being discussed a lot in the Bundesliga right now. I believe it's not spoken about enough publically. It's not just relevant for football, but also for other sports and for the culture industry. It's a real headache for us, because according to the health authorities, we've developed good concepts, however we're not allowed more fans. We don't want any special rights, just normal ones. Last year, we showed what was possible. A number of other countries copied our health concepts and now we're one of the countries with the fewest fans allowed in grounds. I spoke to Jürgen Klopp about this for example. The incidence rates in England are much higher than they are here, yet they are allowed to fill up to 75% of their grounds. I've started to ask myself if we're in a bad film or we should mount legal challenges. We would be able to help out with vaccinations and could then offer people the chance to get vaccinated so that they could get a jab outside or in the stadium.