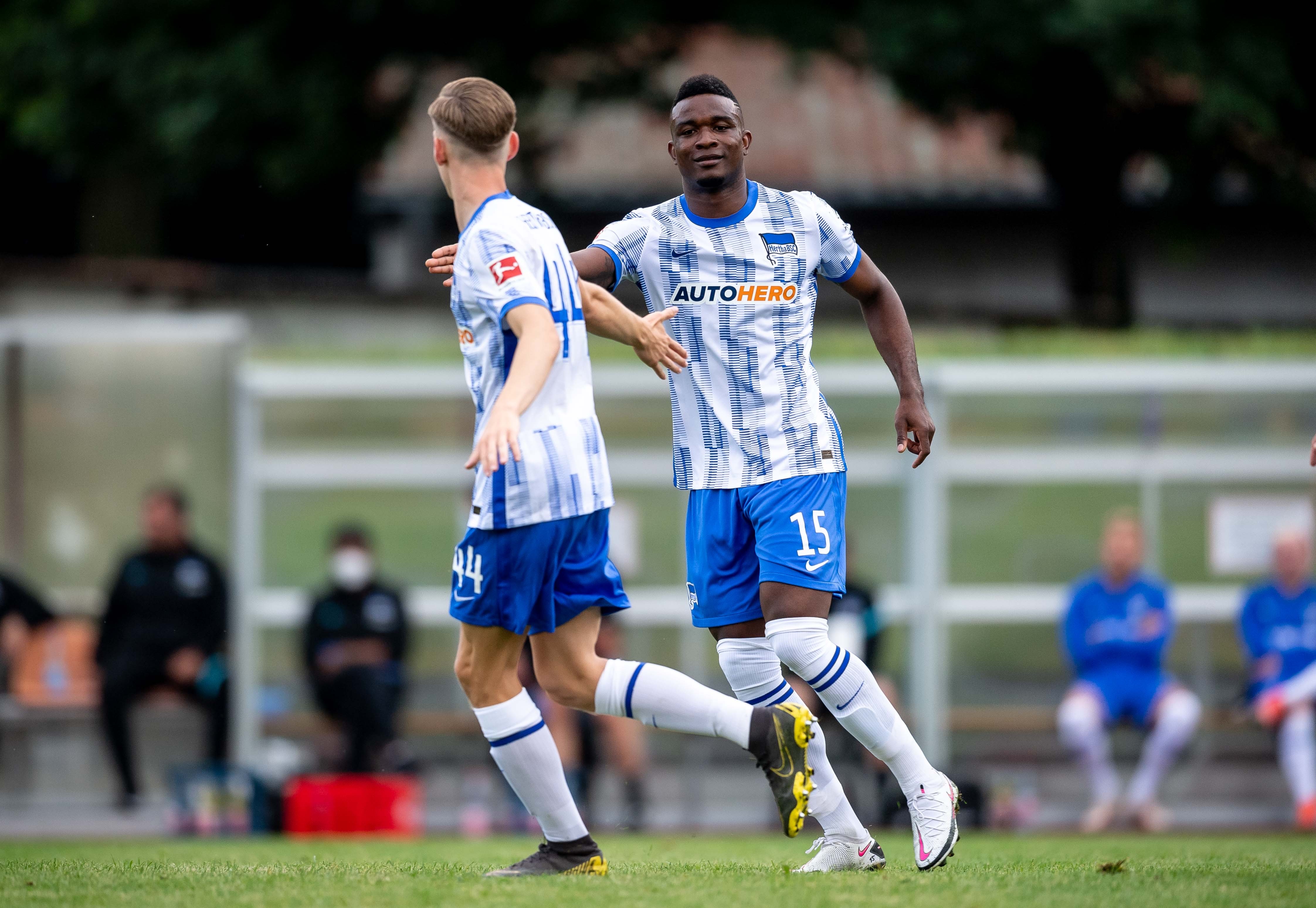 First team
|
July 1, 2021, 08:24 PM
Massive win to start pre-season
Hertha kicked off their first training camp of 2021/22 with a convincing win on Thursday evening. Pál Dárdai's side won 16-0 in Neuruppin against SV Schwarz-Rot Neustadt (Dosse). Prince Boateng made his first appearance back in blue and white and Suat Serdar also made his debut in the new kit.
Tousart and Selke both score a brace
Hertha quickly took control, hitting the post after four minutes through Jessic Ngankam. The first goal, however, didn't take long to come. After Suat Serdar won the ball, he combined with Davie Selke, who set up Lucas Tousart to open the scoring (4'). Selke then scored himself, heading home a precise cross from Marvin Plattenhardt (10'). The Old Lady continued to press for goals and duly found them. Some fine play from Serdar saw him set up Tousart and he converted for his second (20'). Selke then got his brace seven minutes later with another header, this time from a Dodi Lukébakio cross. The Belgian turned goalscorer soon after for Hertha's fifth and final goal of the first half (31'). Selke did actually have the ball in the net again in the 37th minute, though it was ruled out for offside.
Dárdai made ten changes for the second period, only keeping goalkeeper Lotka on the pitch. Our hunger for goals only grew though. Jhon Córdoba went berserk after coming on, scoring four goals inside the first four minutes of the second half! He then set up youngster Anton Kade for Hertha's tenth goal of the evening (53'), before Santiago Ascacíbar hit the post. A penalty provided the next goal, academy product Ruwen Werthmüller the taker and goalscorer (55'). He then made it a dozen for Hertha with his second three minutes after his first. Córdoba took the next penalty after 62nd minutes, making it 13-0 with his fifth. The Columbian wasn't done there yet either, netting yet another goal with 20 minutes to play. Maximilian Mittelstädt added the 15th (77') and Jonas Michelbrink rounded the goalfest off with six minutes to go.
The Hertha players will work hard over the coming days to get fit for the new season. The training camp will conclude with the next friendly against MSV Neuruppin on Wednesday, 7th July (15:30 CEST).
Hertha BSC (first half): Lotka, Zeefuik, Stark, Dárdai, Plattenhardt, Tousart, Boateng, Lukébakio, Serdar, Ngankam, Selke
Hertha BSC (second half): Lotka, Klünter, Gechter, Torunarigha, Netz, Kade, Michelbrink, Ascacíbar, Werthmüller, Mittelstädt, Córdoba
Goals: 1-0 Tousart (6'), 2-0 Selke (10'), 3-0 Tousart (20'), 4-0 Selke (27'), 5-0 Lukébakio (31'), 6-0 Córdoba (46'), 7-0 Córdoba (48'), 8-0 Córdoba (49'), 9-0 Córdoba (50'), 10-0 Kade (53'), 11-0 Werthmüller (55', penalty), 12-0 Werthmüller (58'), 13-0 Córdoba (62', penalty), 14-0 Córdoba (70'), 15-0 Mittelstädt (77'), 16-0 Michelbrink (84')
Attendance: 1,000
Excited for the new season? Get yourself a new shirt now!