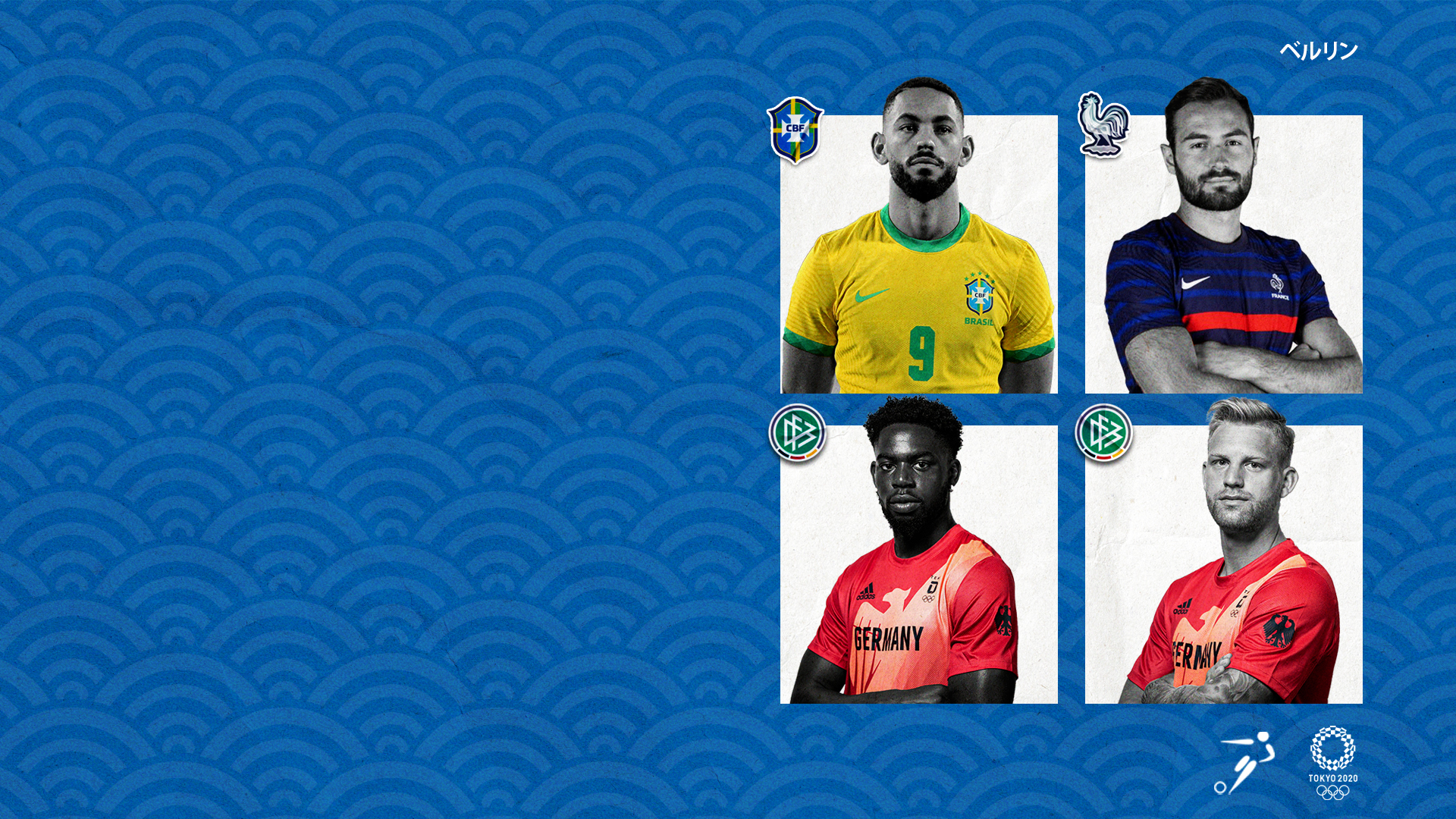 First team
|
July 21, 2021, 11:30 AM
Hertha quartet at the Olympics
While Hertha's preparations for the new season are in full swing, four of our players are working toward a very different major sporting event: the Olympic Games in Tokyo. From 23 July to 8 August, athletes from all over the world will compete for gold medals in 33 different sports. The football tournament will start one day before the official opening of the event and will be carried out across seven stadiums.
Blue and White reunion to kick things off

On 22 July at 13:30 CEST, the Olympic football tournament will begin with a repeat of the 2016 final. Stefan Kuntz's side take on Brazil in their first group game: A reunion for Arne Maier, Jordan Torunarigha and Matheus Cunha. "The U21 EUROs was the first time I realised the kind of dynamic a tournament can create. The feeling of winning a cup was outstanding and it makes you want more. The Olympics would be huge, of course. We know it won't be easy, facing the defending champions in our first game, but we have a good team and believe in our abilities," said Maier, who was in the squad back in 2019, when the Germany U21s booked their Olympic ticket.
We know it won't be easy facing defending champions Brazil in our first game, but we are a good team and believe in our abilities.
Cunha and his Brazilian teammates are equally pumped for the tournament to get underway. The Hertha man knew he had to use the qualification period to impress, and with five goals in as many games, he became the top goalscorer of the campaign. Our Number 10 is particularly excited for the meeting with his Hertha colleagues: "The Olympics is a huge occasion and I am excited to be taking part in this fantastic tournament with such a great team. It's cool that we're playing against Germany with Jordan and Arne straight away, but we need to beat them. We want to get to the final, that's our aim," said Cunha.
"Dream come true" for Tousart
Midfield man Lucas Tousart completes our Hertha BSC Olympic quartet. Just like Arne Maier, the 24-year-old helped secure France's qualification for Tokyo 2020 by finishing among the last four at the U21 European championship. "Taking part in the Olympics is a dream come true for me. It's a once in a lifetime opportunity for a footballer to be involved in an occasion like this that brings all the world's sports together," said the Frenchman. 'Les Blues' also have their first game on Thursday (22 July at 10:00 CEST), taking on Mexico in Group A.

Every team except hosts Japan qualified for the Olympics via their confederation's tournament. The group stage will be carried out with four groups of four and the top two teams from each group will progress to the quarterfinals. The final will be played on 7 August in Yokohama.