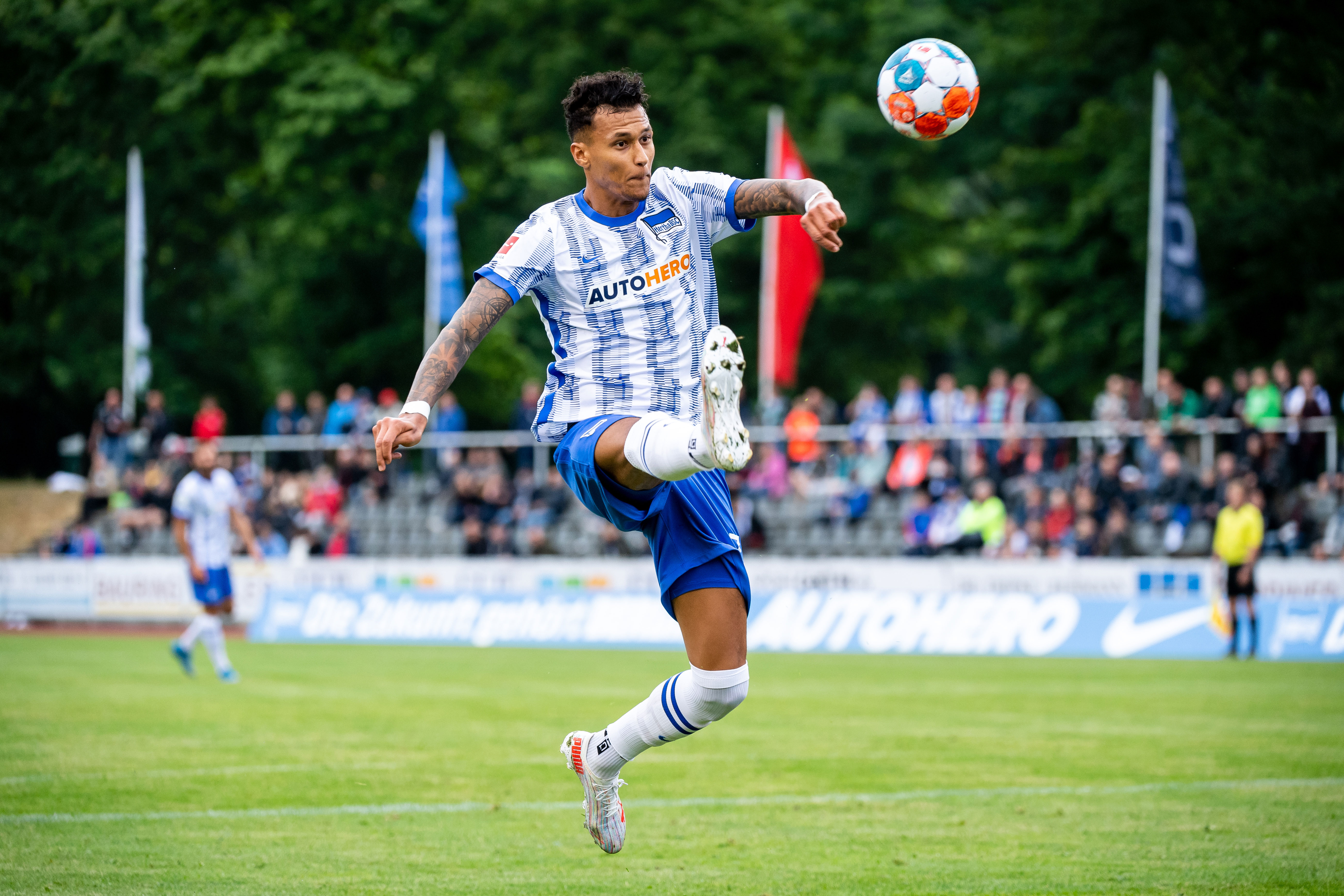 First team
|
July 7, 2021, 11:37 AM
Happy to be back
The Hertha players have completed nine tiring training sessions so far in their training camp in Neuruppin. One player who has stood out so far is Davie Selke. The striker, who has returned from his loan at SV Werder Bremen, has returned full of energy and highly motivated. "I'm a loud guy on the pitch. I want to help the lads, give them tips and instructions from up front – that's my way of playing. I'm really excited to be wearing the Hertha colours again," said the 26-year-old.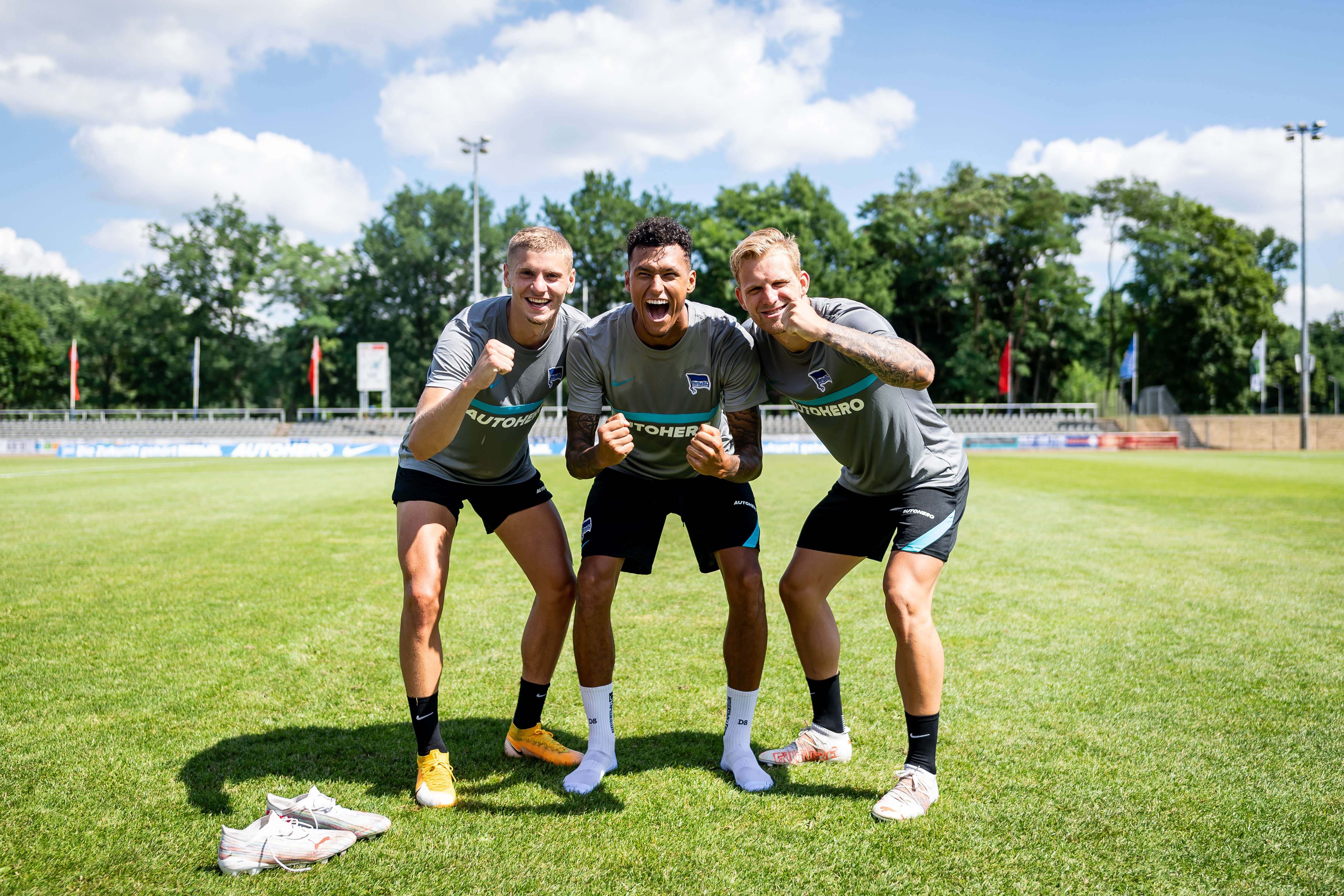 In order to be at his best for his return to the capital, Selke worked hard during the break. "I don't know if I've ever been fitter in my career than I am now. I did a lot of extra shifts during the summer break," revealed the tall German. Fans visiting the training camp in Neuruppin have been able to notice what great shape Selke is in. The attacker has not just been impressing in Kuchno's infamous fitness sessions, but also in drills and mini games, regularly being a part of the winning sides in training. "Davie is well involved in training. He's working hard and he's fully focused. I'm happy that he's here," commented coach Pál Dárdai. "I never stopped following Hertha BSC during my time in Bremen. I watched games and now I'm glad to be back. Berlin became my home," said our number seven.
Self-critical reflection
Selke is also well aware that the past few months didn't go as planned for him personally. "It's no secret that I wasn't happy with how things were going and that I wasn't able to perform to my best over a long period of time," accepted the 2017 U21s EUROS winner. "I have shown what I'm capable of previously at Hertha. I had a good spell here – my goals per game ratio in my first year was the best in my career. I want to replicate that again now."
I want to bring my qualities onto the pitch. If I can do that, I know I can help the team.
Praise from Fredi Bobic
Fredi Bobic also believes that Selke can get back to his best in familiar surroundings. "It's a massive chance for Davie. We're obviously planning with him and we know what he's capable of," said our managing director for sport. "Davie works really hard. He looks really motivated and upbeat, which is positive for us to see," praised the 49-year-old. Although Bobic is one of a number of new faces at the club, not much seems to have changed for Selke upon his comeback. "It doesn't feel like I've moved clubs or had a transfer, just like a nice return home. I'm happy to be here," described Selke.
"On the pitch, I'm not very funny and people don't like spending time with me. However, off it I don't think there's much to criticise. I'm really happy as part of this squad and I'm always up for a laugh," said the striker. "Davie's positive outlook is good for us in the changing room," stressed Dárdai. His mix of physical strength and motivation, plus his fun side will hopefully help Hertha have more success in the future. Selke, who has 164 Bundesliga appearances to his name, revealed his goals for the season: "I want to bring my qualities onto pitch. If I can do that, I know I can help the team. I want to get minutes by earning them."