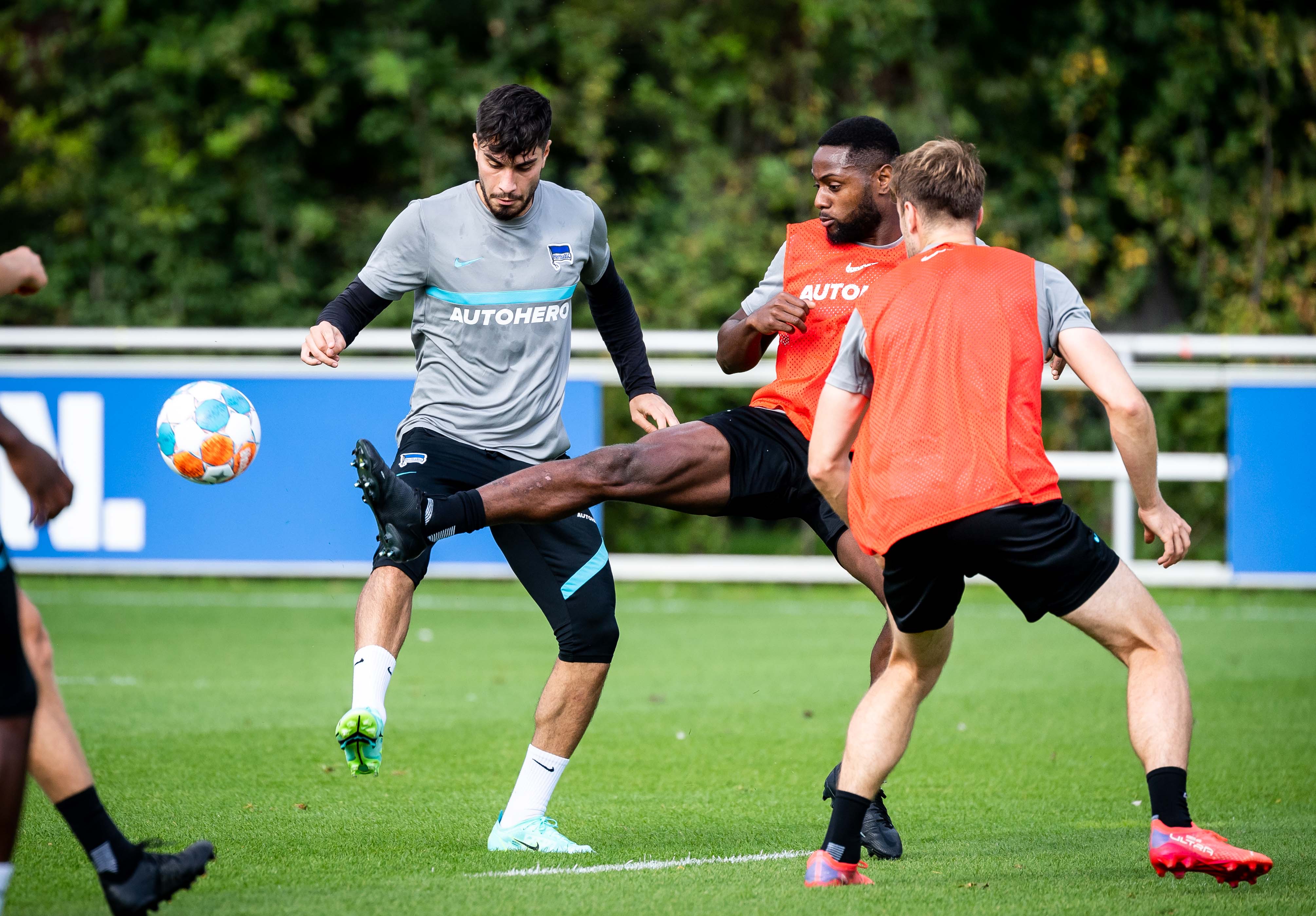 First team
|
August 25, 2021, 10:19 AM
High levels of concentration and effort
Everything was ready when the players stepped out onto the training ground at Schenckendorffplatz. The grass was freshly mowed, the lines drawn out and the cones and balls were set up. The sun was shining down on the Olympic Park and played its part in ensuring that the Blue-Whites started this week's training feeling good – even though results in the Bundesliga so far had not played out as hoped. "We are sticking together, negativity doesn't benefit anyone. Our levels of concentration and effort in training are very high," commented Pál Dárdai, knowing full well that these positives in training need to start paying off in competitive fixtures. "We need results of course!"
This was Ishak Belfodil's first 90 minutes as a Hertha player and, after warming up, he and his new teammates went through various patterns of play on different sizes of pitch. "Ishak is a striker capable of ten to twelve goals, and so can replace Jhon," said Dárdai of his new attacker. The 29-year-old is expected to make his debut in Hertha colours this weekend if possible. "He will travel with the squad. He is a quick, dangerous player and it is not easy to play against him. He is a great option to have." The head coach was speaking about his plans for the big game on Saturday, away at FC Bayern München (18:30 CEST).
'Wait and see' for Boateng and co.
Belfodil's new fellow strike partner, Krzysztof Piątek, is yet to rejoin the first team squad, but is making progress on his return from injury. Márton Dárdai (ankle) also missed out, as well as Prince Boateng (back). "Márton will be out for two to three weeks, and Prince will be out initially for two days off, then we'll see how things are," said the head coach. Matheus Cunha is not with the club amid transfer negotiations. Rune Jarstein is gradually increasing his training intensity and continued his work with Hendrik Vieth. However, it is still too early to estimate a return date.
The team will have to take advantage of their remaining time available ahead of their clash against the record champions. Two sessions are scheduled for Wednesday, while one session each is planned for Thursday and Friday before the team heads to the south of the country. "Everyone knows the usual situation in Munich. We have a small chance and we have to take it, but before that we want to train well this week," said Dárdai.