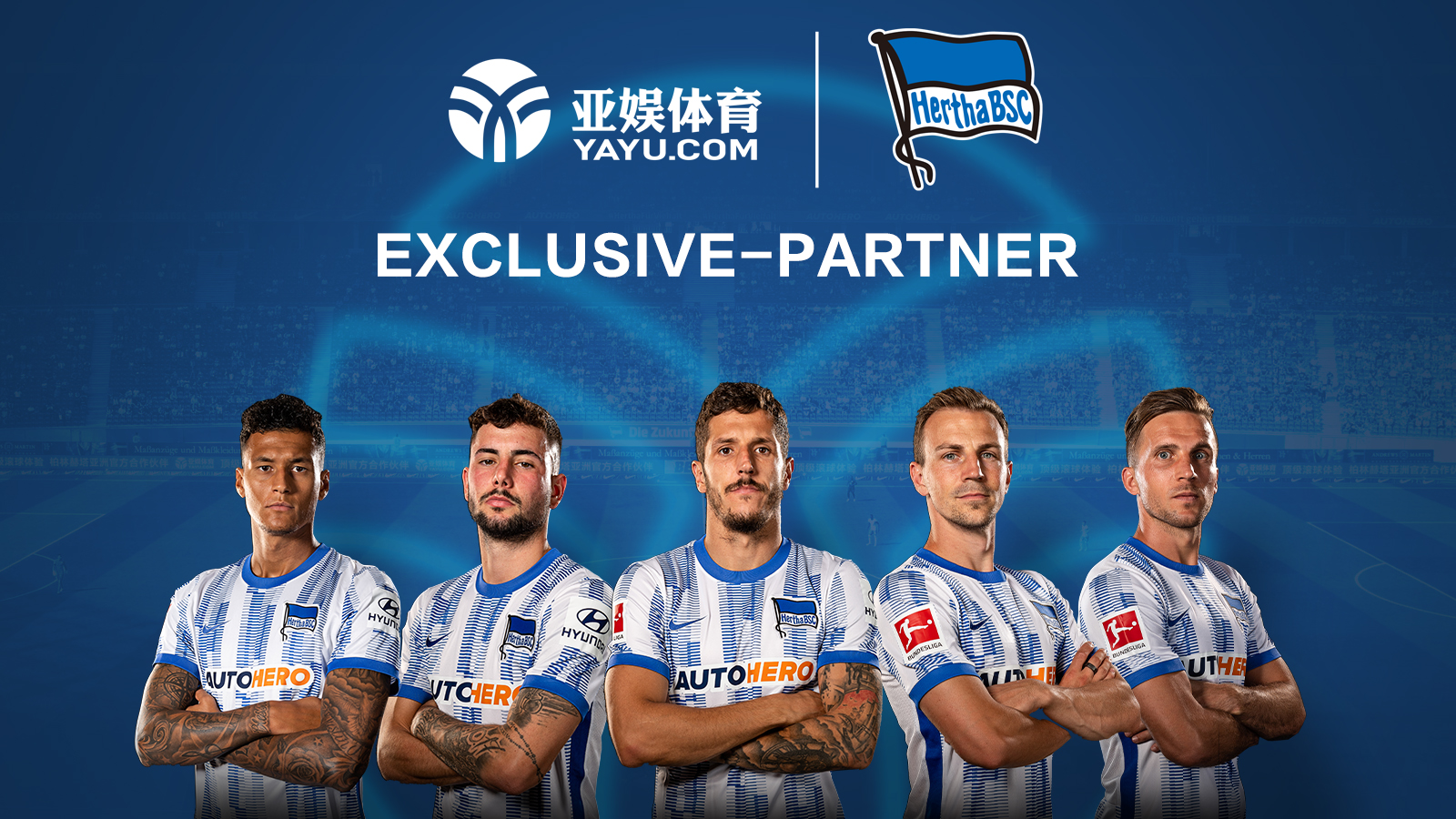 Club
|
August 27, 2021, 12:45 PM
YAYU Sports becomes regional partner in Asia
For the new 2021/2022 seasons, Hertha Berlin and YAYU Sports, a young Asian brand that provides an interactive platform for sports entertainment, are entering into a two-year partnership. This is a cross-sector fusion of soccer and digital sports for the Asian market, focusing on various forms of collaboration in brand communication and other aspects.
As Hertha Berlin's exclusive partner in the Asian region, YAYU Sports secures an extensive rights package with the primary goal of visibility in new markets.
Ingo Schiller, Managing Director Hertha Berlin, explains: "YAYU Sports is a leading provider of online sports entertainment services in Asia, we are pleased to now have YAYU as a regional partner in Asia at our side. As a capital club, it is of high importance to grow together with strong partners internationally as well, considering the forward-looking development."
Thorben Jeß, Vice President Team Hertha Berlin, added: "We are very pleased that YAYU Sports, as Hertha Berlin's regional partner in Asia, has recognized the potential of working together and will be part of the Hertha family for the next two years. The collaboration between the two parties has the potential to create a new marriage of sports and entertainment."
About YAYU Sports
YAYU Sports represents the new swing of sports and entertainment in Asia. At a time when the online sports and entertainment industry is gaining momentum, YAYU Sports has stood out to explore its unique development path. Based on its extensive online sports information resources, strong online technical team, digital platform building, and investment in innovative R&D and security, YAYU Sports provides world-class experiences to users in Asia and around the world.
About Hertha Berlin
Hertha Berlin can look back on a varied history of over 125 years, making it one of the oldest clubs in the Bundesliga. Berlin's largest club currently has around 38,000 members. In the early 1930s, Hertha Berlin became German champions twice in a row. Three times the Berliners reached the DFB Cup final. In 1979, the blue and white were in the semifinals of the UEFA Cup, and in 2000 the capital club entered the intermediate round of the Champions League. The Olympiastadion Berlin - the venue of the Blue-Whites - has been the venue of the home games since 1963 and holds 74,629 spectators. Since the anniversary season in 2017, Hertha Berlin has been playing its games under the motto 'The future belongs to Berlin' - this is a promise that every Berliner would probably sign. Today, Hertha Berlin is the capital's club that unites fans from East and West.
About SPORTFIVE
SPORTFIVE harnesses the unique emotional power of sport to create groundbreaking partnerships in sports. Through responsible marketing, full-service solutions and the creation of long-term value for all sports stakeholders, SPORTFIVE strategically and creatively connects brands, rights holders, media platforms and fans based on a global network and with decades of experience and a pioneering spirit of innovation. As a market leader with a focus on customer orientation and high data intelligence, SPORTFIVE leads the sports business into the future through innovative digital solutions, always aiming to be the partner on par with the most advanced solutions. SPORTFIVE is a global international sports business and marketing agency with a network of over 1,200 local experts in 15 countries around the world, counting soccer, golf, eSports, motorsports, handball, tennis, American soccer and many other sports among its areas of activity. For more information, visit SPORTFIVE's website, Content Hub and social profiles.