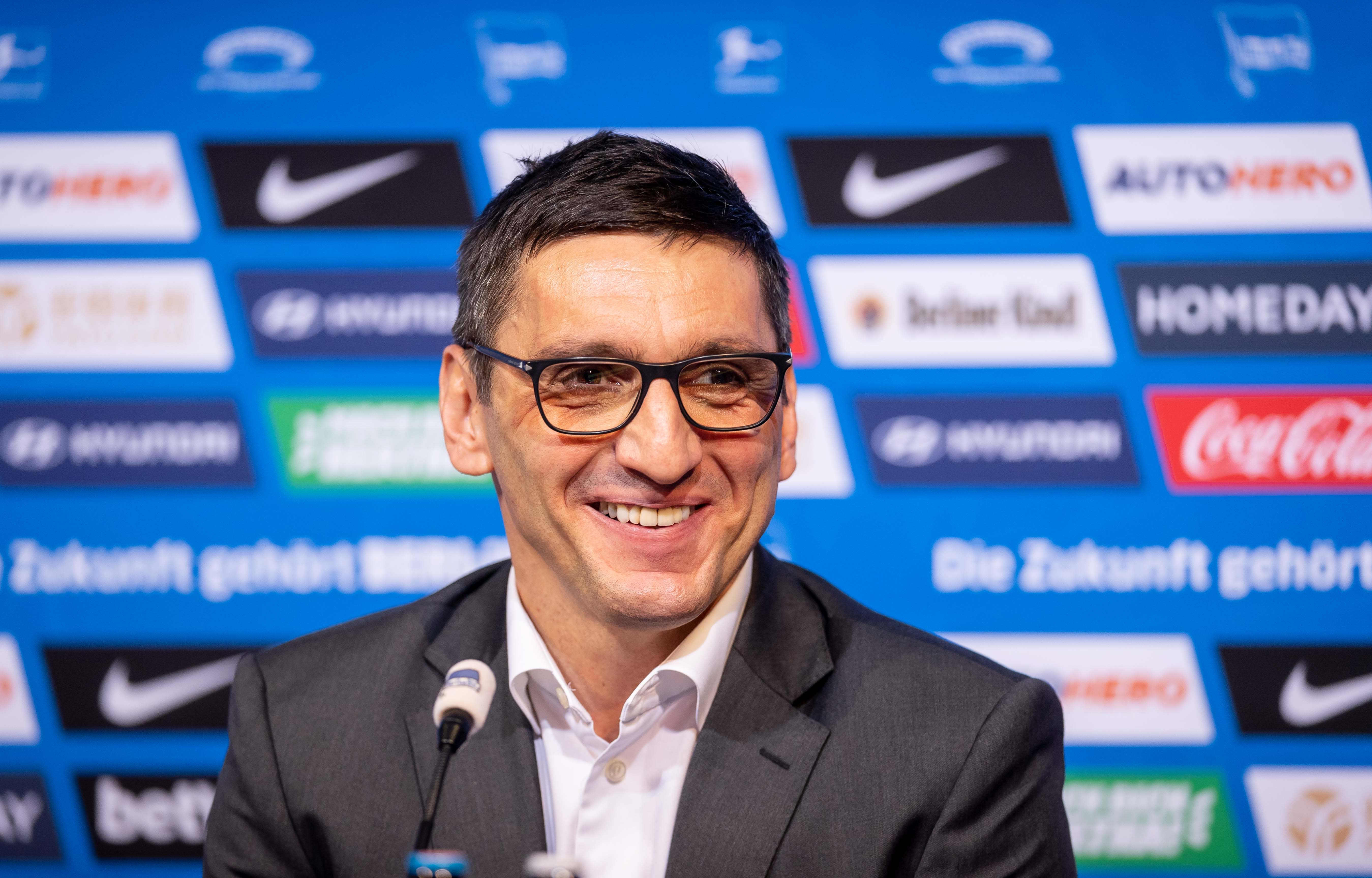 First team
|
November 29, 2021, 03:52 PM
"Get the strengths of the players onto the pitch"
As Tayfun Korkut entered the conference room at the Olympiapark at exactly 15:00 on Monday afternoon, all eyes were on him. It was his first official business as the new head coach of Hertha BSC. "It feels good to be able to sit here. I would like to thank Fredi Bobic and all other members of the board for their trust in me. I'm looking forward to Hertha and working with all the people here," said the 47-year-old in the near 35-minute long press conference, in which he spoke about his first few hours in the office, working with his new squad and his footballing philosophies. "It's all about getting the strengths of the players onto the pitch as well as we can. We need to find some foundations which fit the squad well," said the new arrival. herthabsc.com have collected all the latest from our new head coach and our sporting director.
Tayfun Korkut on...
...his goals:
The goal is always the same: to play successful football. In the past, I've always tried to play to the strengths of the players in my squads. I want to make sure that the lads feel at home and that we find some foundations which fit the team, together. That's what it's all about, especially at the start of a job. The organisation of a team is important to me, so that the side is in games for the full 90 minutes and always has chances to win games.
...the short-term and his footballing philosophy:
It's about doing the simple things well and with a necessary bit of pragmatism. I love neat, flowing football, but as a coach you need to be adaptable and a bit like a chameleon, always adapting to your team so you are able to play successful football together.
...his time off from football:
I'm a passionate coach. My time off definitely wasn't boring though; I used it to care for my family. I did follow what was going on in the football world at the time though, of course. It was good to be able to do that without the pressure of the day-to-day off the job, so I dove deep into what was going on, travelled all over the place, and kept tabs on Hertha in the Bundesliga the whole time.
...discussions with Fredi Bobic:
I've spoken with Fredi regularly for years - when he called me and asked if I would take the job, it became clear to me very quickly that I wanted to do it.
Our sporting director was alongside Korkut in the conference room answering questions.
Fredi Bobic on...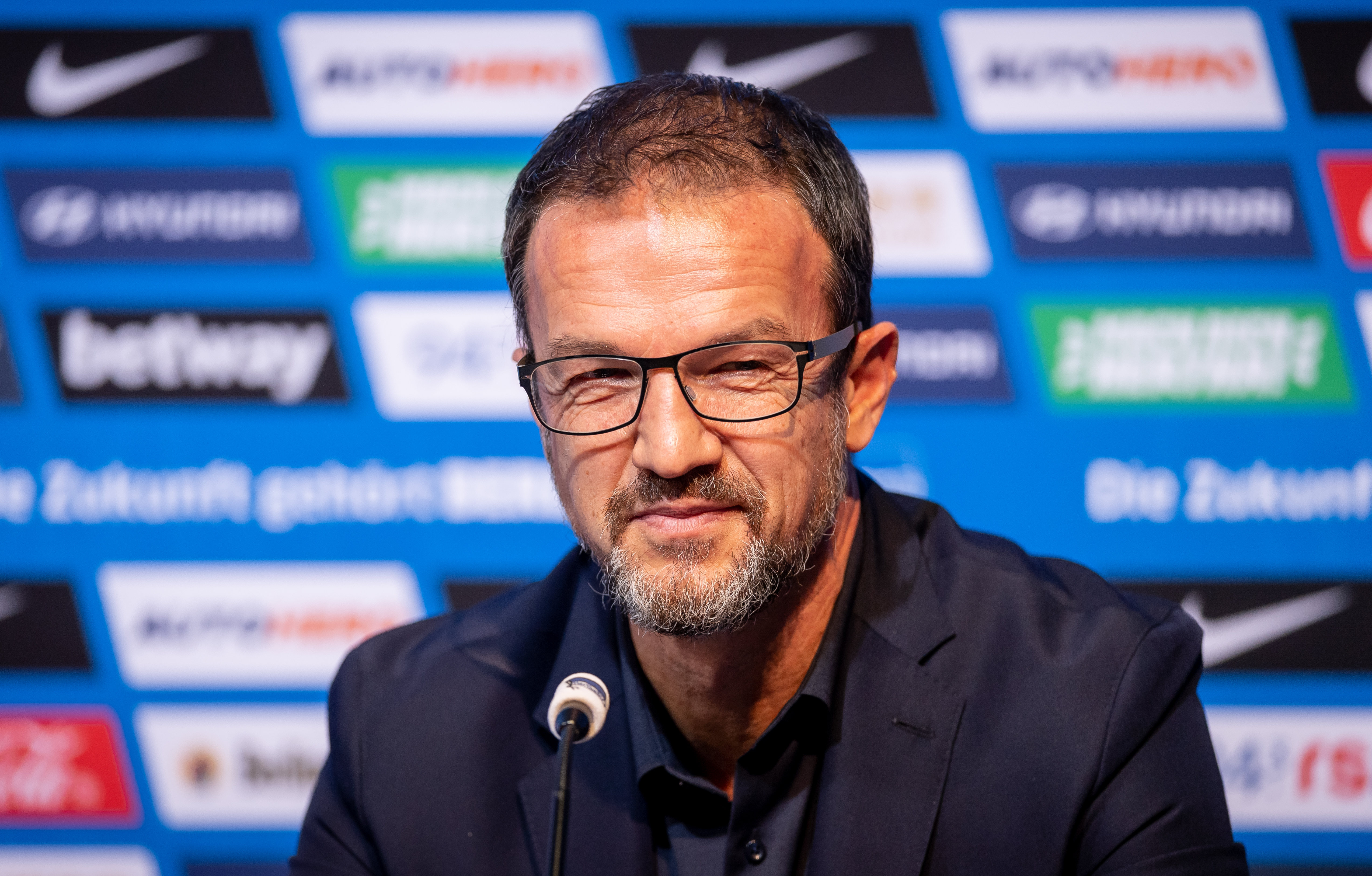 ...deciding on Tayfan Korkut:
I'm someone who makes informed decisions, so I'm delighted to be able to welcome Tayfun to the club. He's taking over a solid team who just need a bit of clear structure and orientation – he's a team player who can inspire the squad. I've known Tayfan for years, since our time at Stuttgart together, and we haven't lost contact. I'm convinced he's the right man for the job and can put some new impetus into the club. Tayfun is a global citizen, can speak many languages perfectly and has already had an eventful career as both a player and coach. He has proved that he can deal with difficult situations and is adaptable to different types of squads. Arne Friedrich and I will do everything we can to help him feel at home here as quickly as possible, bring in the necessary changes and collect those all-important points. The fact we had such trusting discussions and agreed on working until the end of the season together, during which time he wants to convince people of how he can work, speaks to the kind of guy he is.
...reasons for the change of coach:
Winning or losing against Augsburg did not change the decision we made. There are times where you have to make an informed decision, and this was one of those times. Ups and downs are normal, but we felt that there was not enough improvement and development taking place in some areas. It doesn't boil down to one person, rather the whole of Hertha BSC. We need to make the best out of what we have – that's the mission. Tayfun is someone who can think his way into a team and adapt his footballing philosophies in steps to suit the players. It's now about regaining stability – that is the team's responsibility.
...final talks with Pál Dárdai and his assistants:
We shared our decision with Pál and his assistants in a personal meeting with Arne Friedrich. That's how it should be - it needs to be respectful. It was a very open and cooperative meeting, in which I thanked them for their service to the club. We'll sit down with Pál, 'Zecke' and Admir in the spring of next year to discuss their future at Hertha. It would have been the wrong time to do so now.