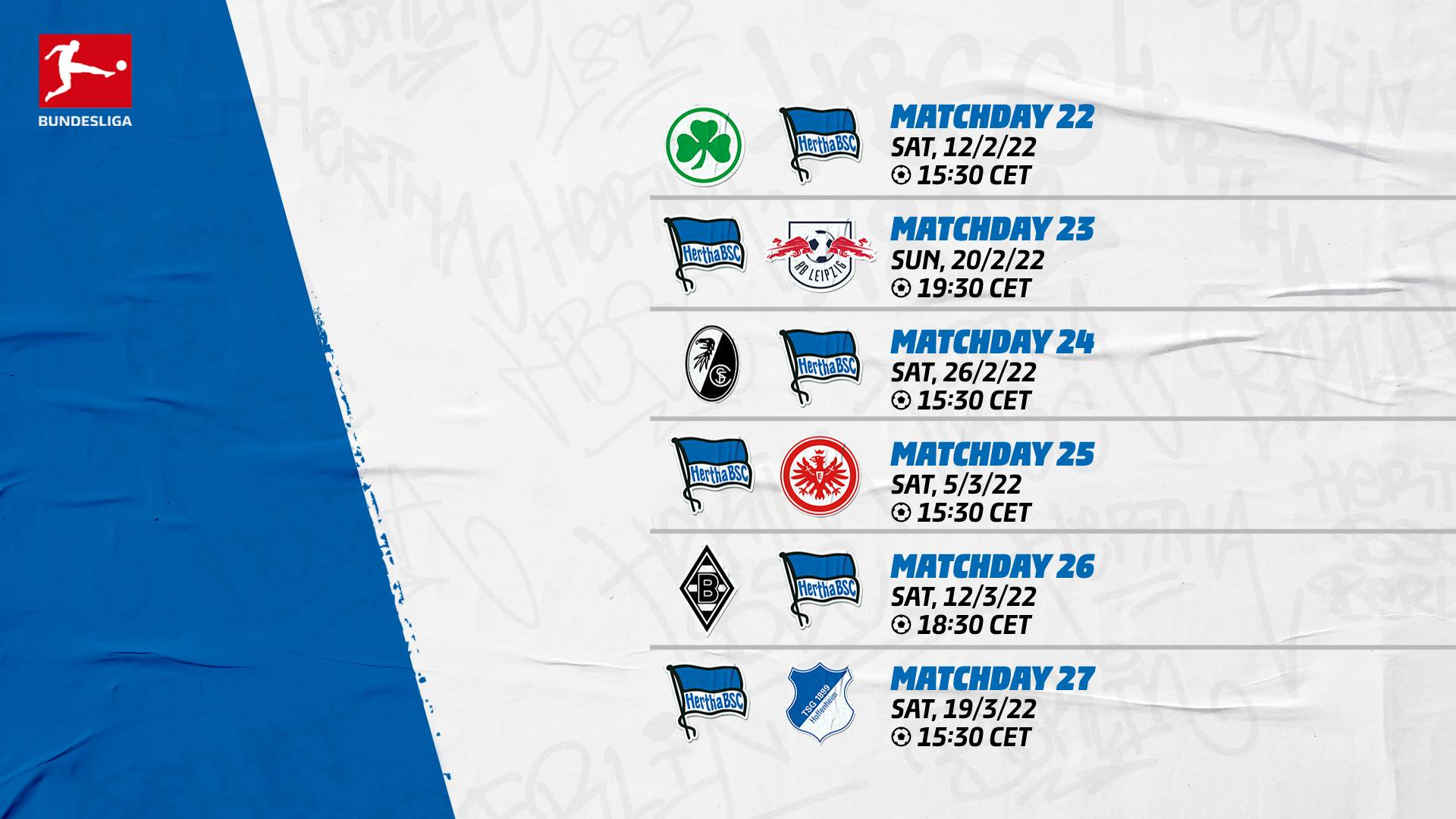 First team
|
December 17, 2021, 01:15 PM
Plenty of Saturday games
The footballing year of 2021 will come to a close this weekend with matchday 17 of the 2021/22 season, before the league begins its winter break over the festive period. But football fans don't need to wait long before it all kicks back off again, with the first matches of the new year taking place in the second weekend of January, when Tayfun Korkut's side will welcome 1. FC Köln to the Olympiastadion (9tht January, 15:30 CET). The next few matchdays have also already been scheduled- matches away to Wolfsburg (Sat, 15/1/22, 15:30 CET), against FC Bayern (Sun, 23/1/22, 17:30 CET) and vs. Bochum (Fri, 4/2/22, 20:30 CET) - but now matchdays 22 to 27 have been penciled in and officially announced by the DFL on Friday.
Only Sunday game in this period comes against RasenBallsport Leipzig at 19:30 CET
Hertha's second away day in 2022 comes on 12tht February against SpVgg Greuther Fürth (kick-off 15:30 CET). We then welcome RB Leipzig for a Sunday evening kick-off on 20tht Februarz 2022 (19:30 CET). At the end of the month, BSC travel south to play SC Freiburg for a game against Christian Streich's side at the best kick-off time in football: Saturday, 15:30 CET (26/2/22).
A prime-time game against Borussia Mönchengladbach
Hertha's first of three fixtures in March is at home to Eintracht Frankfurt (Sat, 5/3/22, 15:30 CET) before a trip to Mönchengladbach (Sat, 12/3/22, 18:30 CET). Seven days later, our capital-city club will host TSG Hoffenheim on matchday 27 on 19th March 2022 (15:30 CET).
Fixtures overview
| Matchday | Date | Kick-off (all CET) | Match |
| --- | --- | --- | --- |
| 17 | Sat, 18/12/21 | 18:30 | Hertha BSC vs. Borussia Dortmund |
| 18 | Sun, 09/1/22 | 15:30 | Hertha BSC vs. 1. FC Köln |
| 19 | Sat, 15/1/22 | 15:30 | VfL Wolfsburg vs. Hertha BSC |
| 20 | Sun, 23/01/22 | 17:30 | Hertha BSC vs. FC Bayern München |
| 21 | Fri, 4/2/22 | 20:30 | Hertha BSC vs. VfL Bochum |
| 22 | Sat, 12//2/22 | 15:30 | SpVgg Greuther Fürth vs. Hertha BSC |
| 23 | Sun, 20/2/22 | 19:30 | Hertha BSC vs. RasenBallsport Leipzig |
| 24 | Sat, 26/2/22 | 15:30 | SC Freiburg vs. Hertha BSC |
| 25 | Sat, 5/3/22 | 15:30 | Hertha BSC vs. Eintracht Frankfurt |
| 26 | Sat, 12/3/22 | 18:30 | Borussia Mönchengladbach vs. Hertha BSC |
| 27 | Sa., 19/3/22 | 15:30 | Hertha BSC vs. TSG Hoffenheim |