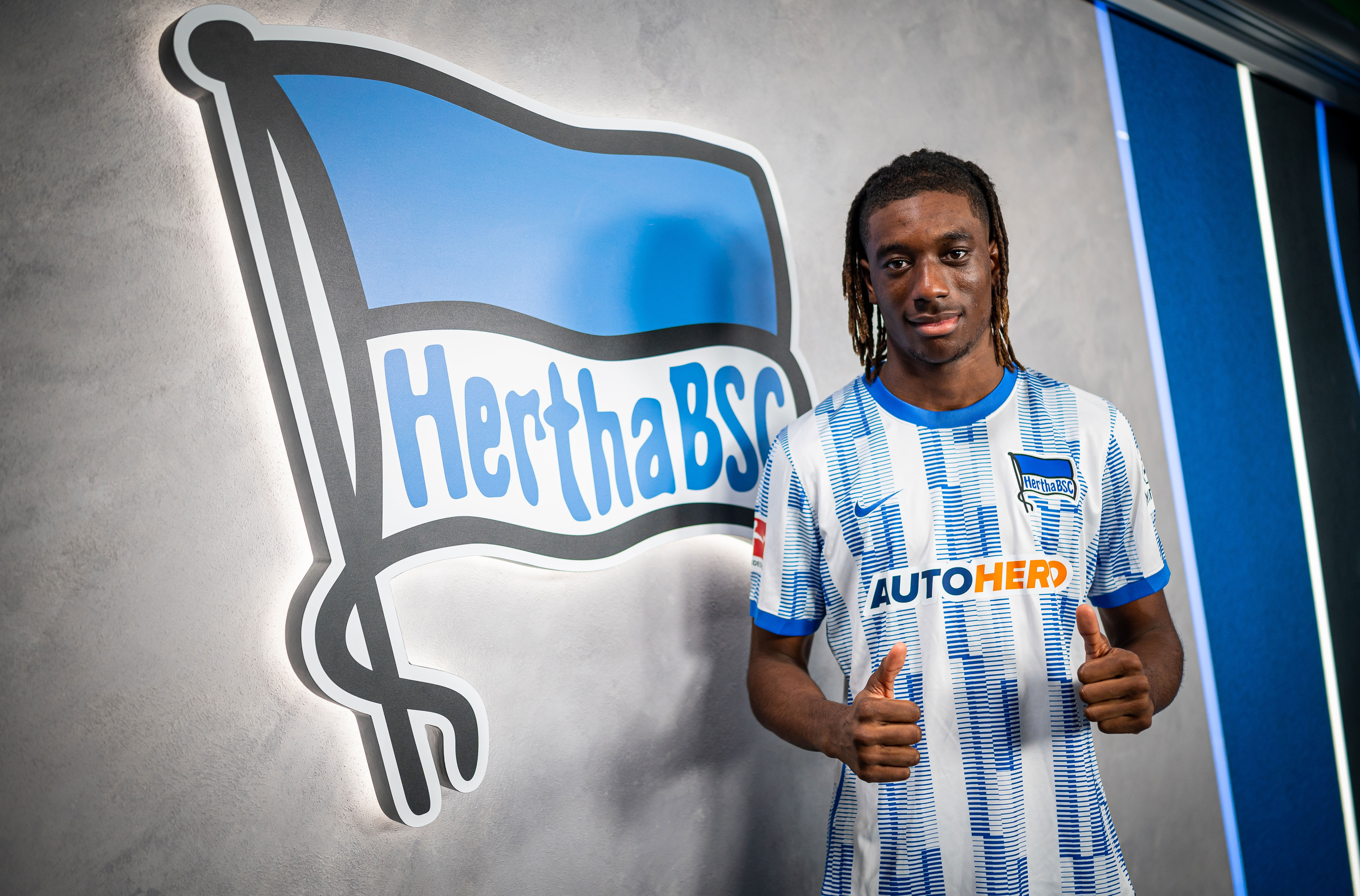 First team
|
January 31, 2022, 12:53 PM
"I'm not coming unprepared"
Kélian Nsona had a busy time during his first visit to the Olympiastadion. After completing his medical and signing his contract alongside Fredi Bobic, our new signing was then answering our questions. The 19-year-old's excitement at his new challenge was clear to see. "As soon as I looked at the club more closely, I was convinced by the project," said Nsona. The Frenchman spoke to herthabsc.com about his connection to his hometown, his goal celebration and his excitement to play for Hertha.
herthabsc.com: Kélian, welcome to Hertha BSC! To start off, can you talk us through this transfer? What reasons were decisive for you deciding to join the Old Lady?
Nsona: Thank you, I'm happy to be here! After I decided that I wanted a new sporting challenge, I sat down with my agent and my family and looked at the clubs that were interested in me. Together, we decided on Hertha BSC because they made it clear that they wanted me here. As soon as I looked at the club more closely, I was convinced by the whole project and then I knew I wanted to come to Berlin. Hertha is a big club that impressed me straight away. I have the feeling that this transfer is the next big step in my career.
herthabsc.com: You can play on both wings, but what's your favourite position?
Nsona: I like both wings, however I feel a bit more comfortable on the left. If I had to describe my game, I'd say I'm an attacker that likes to find space. My best qualities are my dribbling and my pace.
If I had to describe my game, I'd say I'm an attacker that likes to find space.
herthabsc.com: A few of your former teammates for France's youth sides in Georginio Rutter (TSG Hoffenheim), Enzo Millot (VfB Stuttgart) and Tanguy Nianzou (FC Bayern) are already in the Bundesliga. Did you speak to any of them before this move?
Nsona: Yeah, I chatted a bit with them. They're all really happy playing here – the Bundesliga is one of the biggest competitions in the world. This wasn't decisive for my decision though, I'd already made my mind up. It's obviously good when people you know confirm that they enjoy it here and that the league is a good choice.
herthabsc.com: What do you already know about the Bundesliga? How closely have you followed it up to now?
Nsona: I watch a lot of football and I've always had an idea of what was going on here, so I'm not coming unprepared. I've noticed that the games here are often intense, but watching matches is one thing, playing in them is another. I'm looking forward to the challenge.
herthabsc.com: You grew up near to Paris and began your career there. Following a move to Caen, you're now making the jump to German football. Do you already know Berlin?
Nsona: Not yet, which is why I'm really looking forward to living and playing here. We checked out the Olympiastadion just before this interview and it's a really nice stadium.
herthabsc.com: The number 94 is in your Instagram bio, which is the first two numbers of Ivry-sur-Seine's postcode. You've obviously got a real attachment to your hometown – what does the town mean to you and your career?
Nsona: Everything! Ivry-sur-Seine is my base, my haven. I grew up there and became a professional footballer there. My family and my closest friends are still there and they've supported me since I was young. The town is really important to me, which is why I signal 94 when I score a goal.
herthabsc.com: Do you have a nickname? What do your teammates call you?
Nsona: (laughs) Ooh, let me have a think… I don't have a real nickname, most people just shorten my name. Kélian becomes K-L-N (pronounced: Ka-Ell-En).
herthabsc.com: What do you like to do in your free time away from football?
Nsona: I like to spend as much time as possible with my family and friends. Being surrounded by them is really important to me, and I'm really pleased that my mother is coming to Berlin with me. To switch off from football, I like to watch films, preferably action films. For example, I watched the latest Spider-Man recently, it was really good!