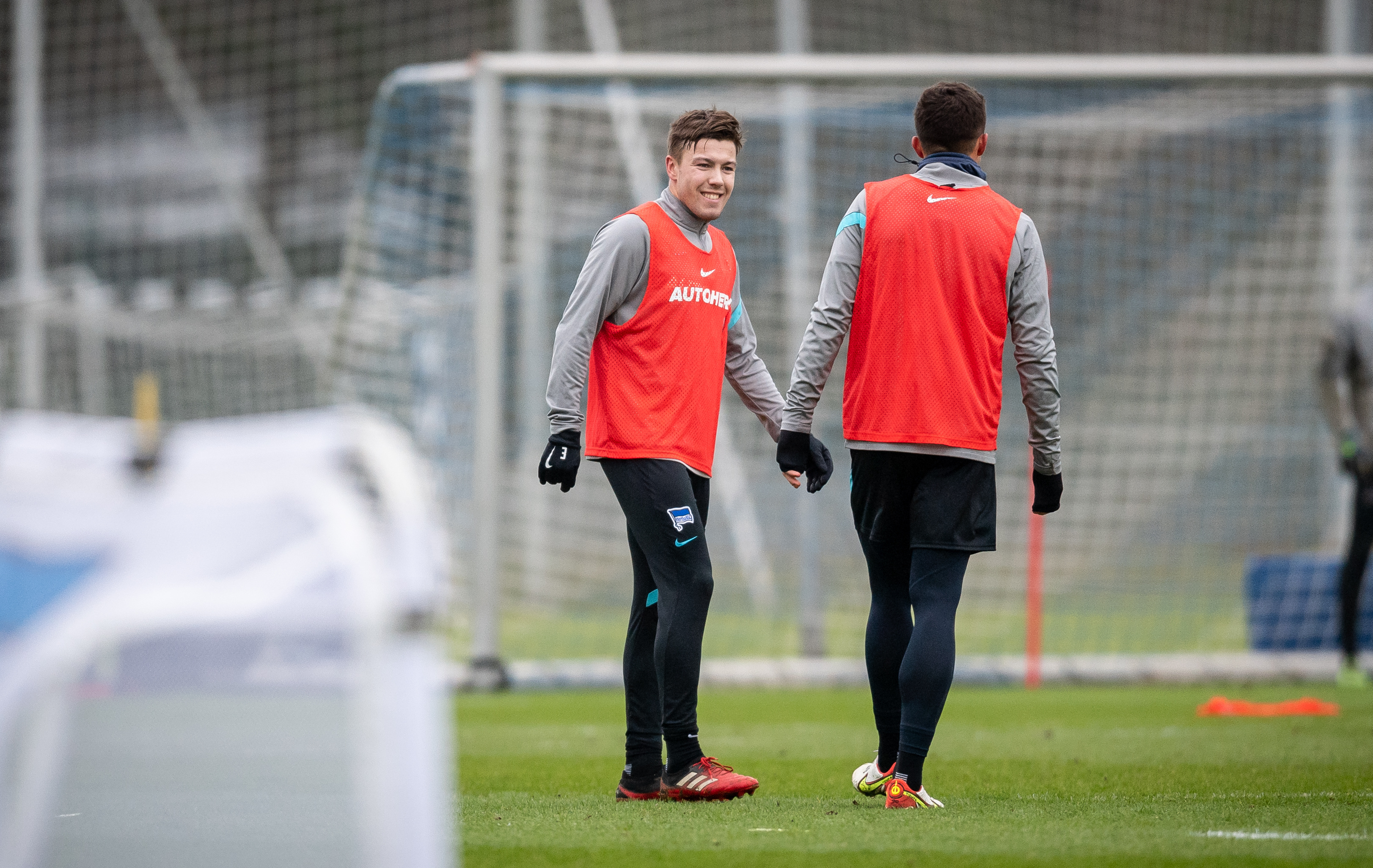 First team
|
January 26, 2022, 04:01 PM
Focus on defence: returnees and new faces at training
Following a training-free day on Tuesday, head coach Tayfun Korkut had a double session in store for his team on Wednesday. In the morning, some of our Blue-Whites took part in an indoor fitness session whilst the other group underwent a more specific training session on the pitch led by fitness coach Henrik Kuchno. "We split the team up so we could better manage individuals' workload," explained the coach. Korkut kept a close eye on the happenings outdoors and chatted with both his coaching staff and the players during the session.
Korkut saw Jordun Torunarigha and Niklas Stark at the outdoor session, who both missed the games against Union and Bayern due to injury. "I was frustrated to have missed both the matches," said our number 25, who has quickly got back to full fitness and is feeling refreshed ahead of the weekend off due to the January international break. "I don't have any more issues and I'll make good use of the sessions so I'm fully ready to play again." Rune Jarstein (recovery training) and Davie Selke (recovering from a Corona infection) were absent from training. Meanwhile, Marc Oliver Kempf, our latest signing, took part in his first training session at Hertha BSC. A lot of hard work was done during the 90-minute session which worked closely on passing and gameplay.
Bjørkan working hard and motivated
Fredrik Bjørkan, who put in a shift playing at wing-back last weekend in what was his Bundesliga debut for Hertha BSC, received praise from his head coach. "He'll be a good addition to our squad once he's got used to playing in this league – you could see that on Sunday. He's a lively player who brings a good tempo to our team," Korkut had good things to say about our new number 3. The 23-year-old is now focusing on integrating quickly into the team. "It's important for him now that he gets quickly up to speed in training, having already took part in some sessions last week," added the head coach.
The left-sided defender admits to getting a good taste for the Bundesliga during his debut against FC Bayern. He's also got good first impressions of his teammates. "I'm very glad to be here. We're working hard and are motivated to improve our situation." The Norwegian, who sees himself as a small cog in the Hertha machine, knows a team effort will be required. "To help the team be successful, I'd like to do my bit by contributing in attack and helping set my teammates up with good chances." He'll do this at Schenkendorffplatz to begin with, but hopefully he'll then start to do this at Bundesliga grounds.