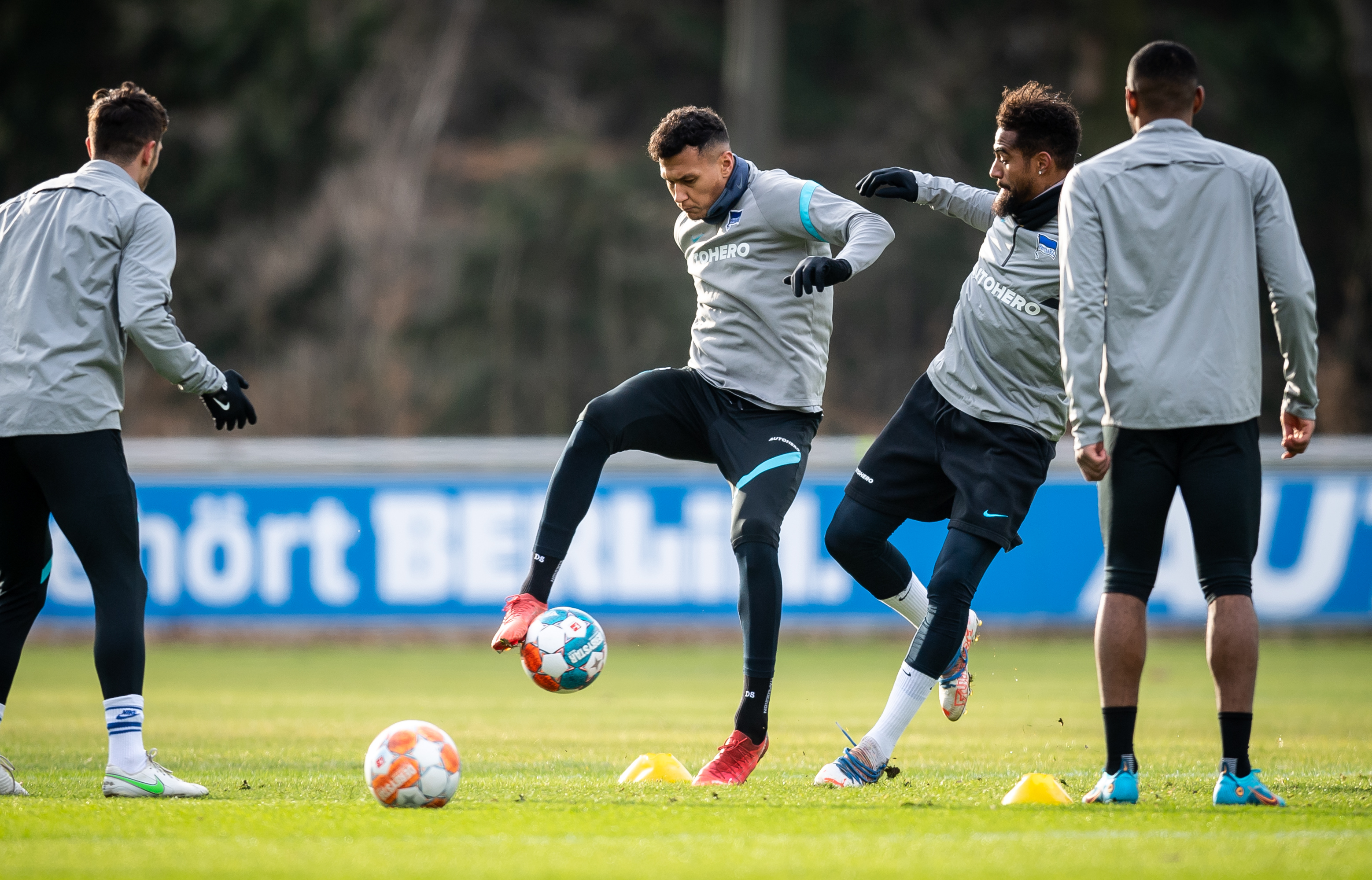 First team
|
January 31, 2022, 04:48 PM
Getting ready for Bochum!
Hertha kicked off a fresh week of training on Monday afternoon with a 90 minute session at Schenckendorffplatz. After a weekend off, it was clear that the players were looking forward to putting some work in and going for a first win of the new year against Bochum on Friday (04.02.22, 20:30 CET). "The two days of were good for us mentally. Now we have to give everything to get the three points against Bochum. To do that, we want to do all the basics well on Friday: run, battle and fight!" – Suat Serdar knows what the key factors will be against the promoted side.
The boys were working hard as they look to get what they want from matchday 21, starting the week in a focussed and determined manner. After warming up and doing some exercises with the ball, head coach Tayfun Korkut worked with his charges on positioning in a nine-vs-nine game. In the game at the end of the session, the players were not only conspicuously loud and full of energy, but also clinical in front of goal. Goalkeepers Alexander Schwolow and Marcel Lotka had their work cut out for them. "We have a lot planned for this week and we also want to work on set-pieces and tactics," said coach Korkut, giving an insight into his ideas for training sessions this week.
Selke back involved – Lee and Nsona absent
U19s 'keeper Robert Kwasigroch joined Schwolow and Lotka to make up the goalkeeping trio as teammates Rune Jarstein (recovery), Oliver Christensen (muscle problem) and Nils Körber (knee) as well as Dedryck Boyata (ligament) and Vladimir Darida (ankle) all missed out. Linus Gechter (precautionary) was working hard with Hendrik Vieth. Striker Davie Selke was back in full training after recovering from Coronavirus. "I'm happy to be back out on the pitch and am feeling good after the illness. Now our focus is on the game against Bochum – we want to win in front of our fans and under the lights," emphasised our number seven.
New signings Dongjun Lee (currently with the South Korean national team) and Kélian Nsona (recovering from a knee injury) were not yet involved in training. "It's important that both the new players and those returning get integrated so that we can work together," said the coach, before looking ahead to the game against the team 11th in the table. "We have a few things to work on and want to go into the fixture well prepared!"