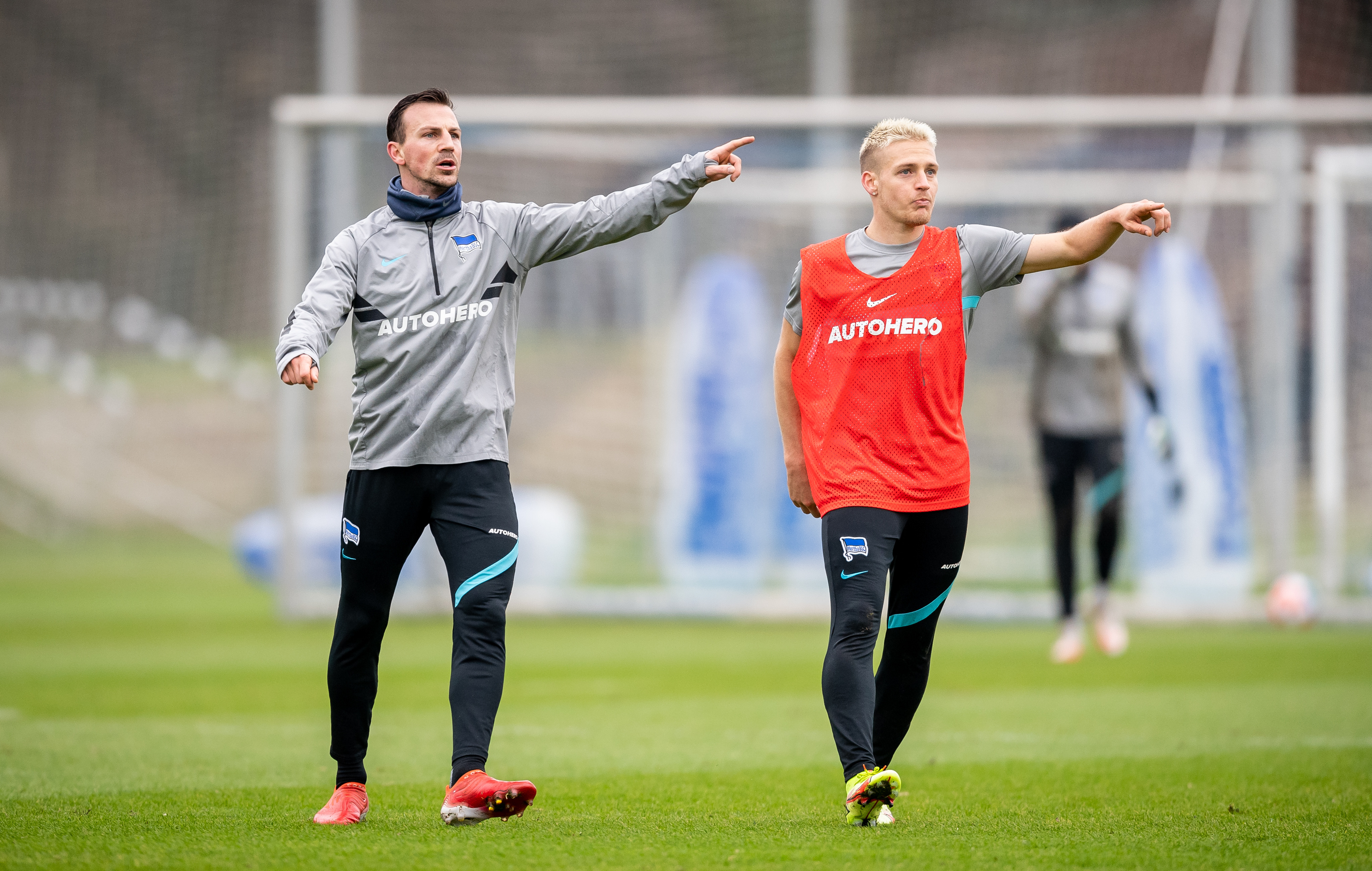 First team
|
February 8, 2022, 01:51 PM
Working hard for the win
Hertha will play four Bundesliga games in the span of 22 days in February. After opening the month with a 1-1 draw against VfL Bochum, our Herthaner will now face SpVgg Greuther Fürth on Saturday (12/02/2022, 15:30 CET). Having already taken a point off one promoted side, the aim is to now take more off another promoted team in short succession. "It will come down to how we approach games like that. We have seen that the desire is there. Now, we need to maintain it over the next weeks in order to get the results we want. The results are the priority, that's certain," said head coach Tayfun Korkut.
Various drills in training
With this in mind, the Herthaner began preparations for the upcoming weekend at the Schenckendorffplatz. Fitness coach Henrik Kuchno led a warm-up to start, followed by a rondo. The team then split into two groups in order to practice different drills. The coaching staff were watching on from the sidelines and shouting instructions that the players then worked to implement. "It was a good session, with lots of energy," said Korkut. "We need to build on that in the coming days in order to have a good feeling going into the game," said Davie Selke.
Seven Herthaner missing – Dárdai forced to end training early
Goalkeepers Rune Jarstein, Nils Körber and Oliver Christensen are all still completing a rehabilitation program, while Dedryck Boyata (ligament injury), Kélian Nsona (rehab) and Prince Boateng (stomach flu) also all didn't train. Centre-back Marc Oliver Kempf also didn't train due to illness. Márton Dárdai was forced to end the session early after receiving a knock to the ankle. Lucas Tousart, who missed the match against Bochum for personal reasons, took part in the full 70-minute session. "Overall, we go based on performances, which includes training and every match. But, there are other factors such as your personal performance, the opponent and the combinations within the team that can have an impact," Korkut said about how he decides which players will be part of the starting XI. "All the lads will have a chance to prove why they should play against Fürth, and then we will pick the right 11 to start." Korkut's side will be looking to pick up their first win in the second half of the season, in order to continue picking up important points this month.