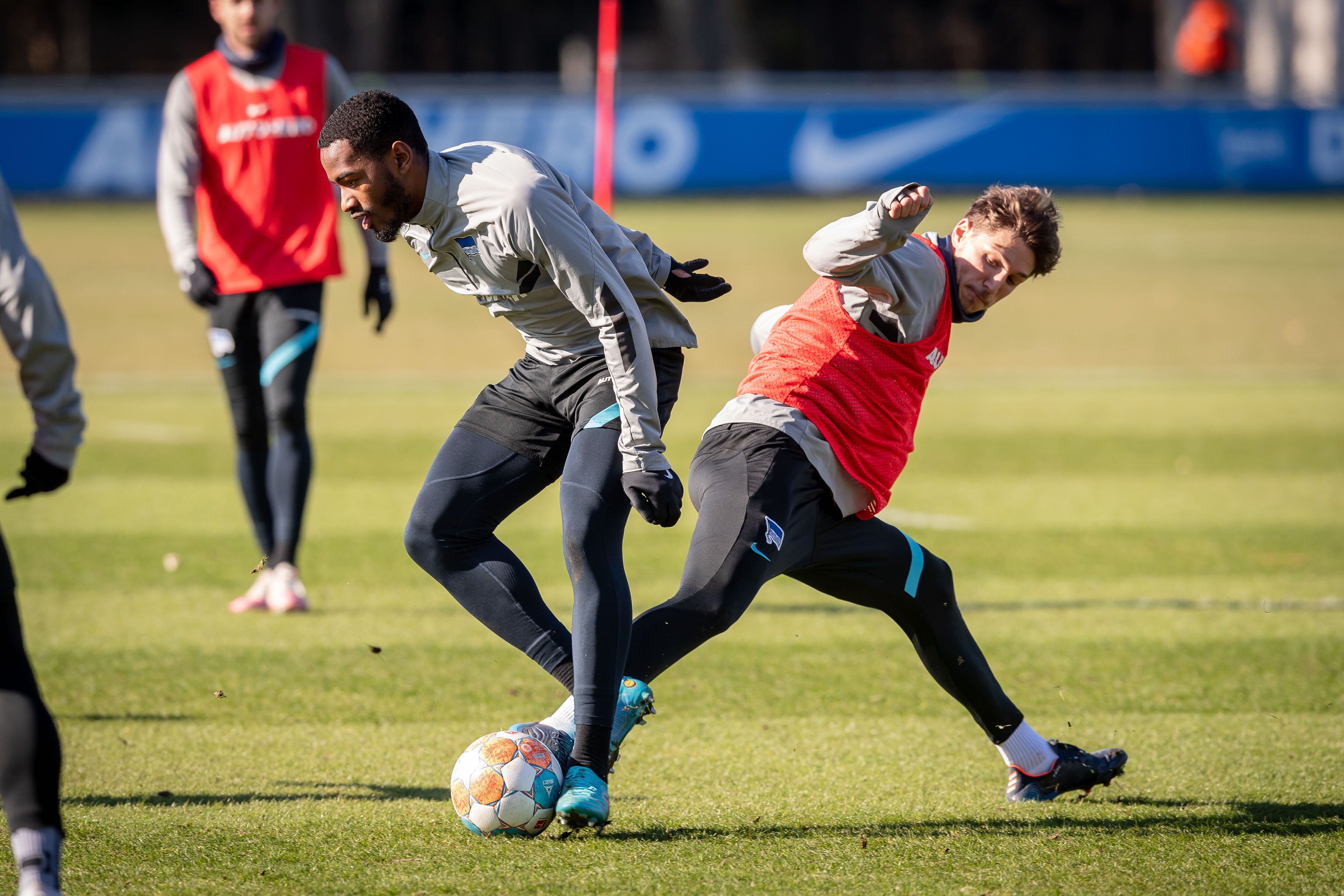 First team
|
March 1, 2022, 12:59 PM
Perseverance, Encouragement and Gegenpressing
Overcoming setbacks calls on many things, not least of which is mentality. A mentality which our team has showed they have; a mentality which will be put to the test on Saturday as Eintracht Frankfurt visit the Olympiastadion (15:30). Our boys in blue and white are working hard every day to bring some positivity and good results to the 'Old Lady'. The first training session of the week took place on Tuesday morning, with a warm-up by Henrik Kuchno being followed by a 'Rondo', the team was split in half to compete on the small pitch, initially with no goals in play but two nets were eventually brought in towards the end. The most important aim: bringing depth into the team's game. What was noticeable from the very start of the session was the volume – the clear communication and instructions between the players really set the working atmosphere and underlined the willingness of the squad to improve their current form. "We have a good team, and we're all working to make sure there is a sense of cohesion and togetherness," said head coach Tayfun Korkut. "Heads up, keep going! Work together – keep your eyes on the whole pitch," Korkut's commands and encouragements echoed around a sunny Schenkendorffplatz, where the Blue-Whites pushed each other to improve the counter-pressing they were working on.
Four including Stark return to full training, three working individually
Our head coach was able to welcome several players back to training in the near 90-minute session. Goalkeeper Oliver Christensen returned following a successful recovery program, with Lukas Klünter, Niklas Stark and Prince Boateng taking part following their Covid-19 infections. "It wasn't nice to be watching the team rather than playing – there's not much worse as a footballer. I'm very happy to be back on the pitch and able to help the lads," said Stark after the session. Linus Gechter and Márton Dárdai trained individually, and Stevan Jovetić did some work indoors. Alexander Schwolow is still isolation following his positive Coronavirus test, and both Rune Jarstein and Kélian Nsona are in recovery training. Apart from them, Hertha have finally got a full squad to choose from.
The goal for the whole group is clear: keep working, persevere and give their all to reward themselves and the fans for their commitment and support at home this weekend. "We have to keep fighting on, remain persistent and try as hard as we can to improve our current situation, especially at this moment, when it seems like everything is going against us. That's our goal for this week and also for the next game, so that we get some points," said Korkut. This intensive 90 minute start to the week should set the tone, not only for the week ahead but also for the 90 minutes on the pitch at the Olympiastadion against the side from Frankfurt this weekend.