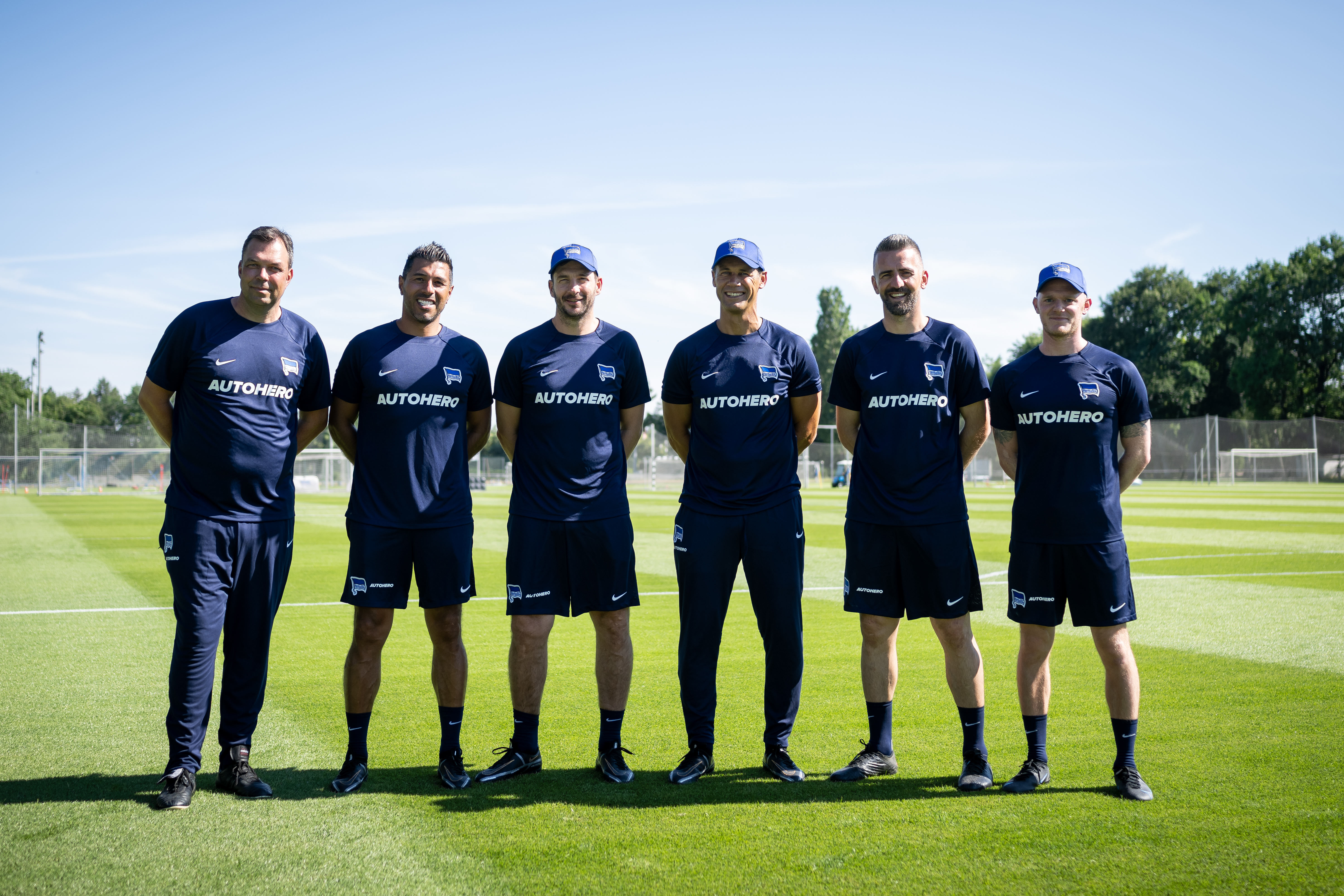 First team
|
June 22, 2022, 05:11 PM
Our new coaching team
Sandro Schwarz has brought three new coaches to Hertha BSC. Volkan Bulut and Tamás Bódog will be the new assistant coaches and Daniel Fischer has joined the team as the assistant coach for analysis. "We work as a tight-knit group and fully trust each other. Volkan's focus will be on organising our training sessions and looking at our opponents. Tamás will analyse our own work and he has gained a lot of experience in this field over the years. Daniel will work on the video analysis, which will focus on individual and team-specific analysis," explained Schwarz, who will continue to work with assistant coach Vedad Ibišević and goalkeeping coach Andreas Menger. "I am happy that I can rely on the experience and the quality of those two. Together we will form a communicative coaching team."
Experience working together in Moscow and Mainz
The former defender Bulut began his coaching career at FC Can Mozaik- a team based in Hannover. The 40-year-old then went on to work as an assistant coach at Havelse, Paderborn, Schalke and Hannover, under André Breitenreiter. The duo led both Paderborn (2014) and Hannover to the top flight (2017), before Bulut moved to Moscow to work under Sandro Schwarz.
Bódog played with Sandro Schwarz at FSV Mainz. The Hungarian last worked for FSV as a scout and has proven himself in various coaching positions. Amongst other things, Bódog has worked as an assistant coach at Mainz, Leipzig and at Brøndby IF. The 51-year-old was also head coach at Diósgyőri VTK, Kisvárda FC and Honvéd back in his native Hungary.
Fischer, who will work closely with Gabor Ruhr, newcomer Phillipp Pelka from Holsten Kiel and Etienne Dzwonkowksy in the video analysis team, has already accompanied Schwarz at several clubs. Last season, the 28-year-old was chief analyst at Dynamo Moscow and he previously worked as a video analyst at FSV Mainz (2017-19) under the then head coach, Sandro Schwarz. Fischer will act as assistant coach for analysis at Hertha. The athletic coaches Henrik Kuchno, Markus Hödl and Hendrik Vieth will remain on board.