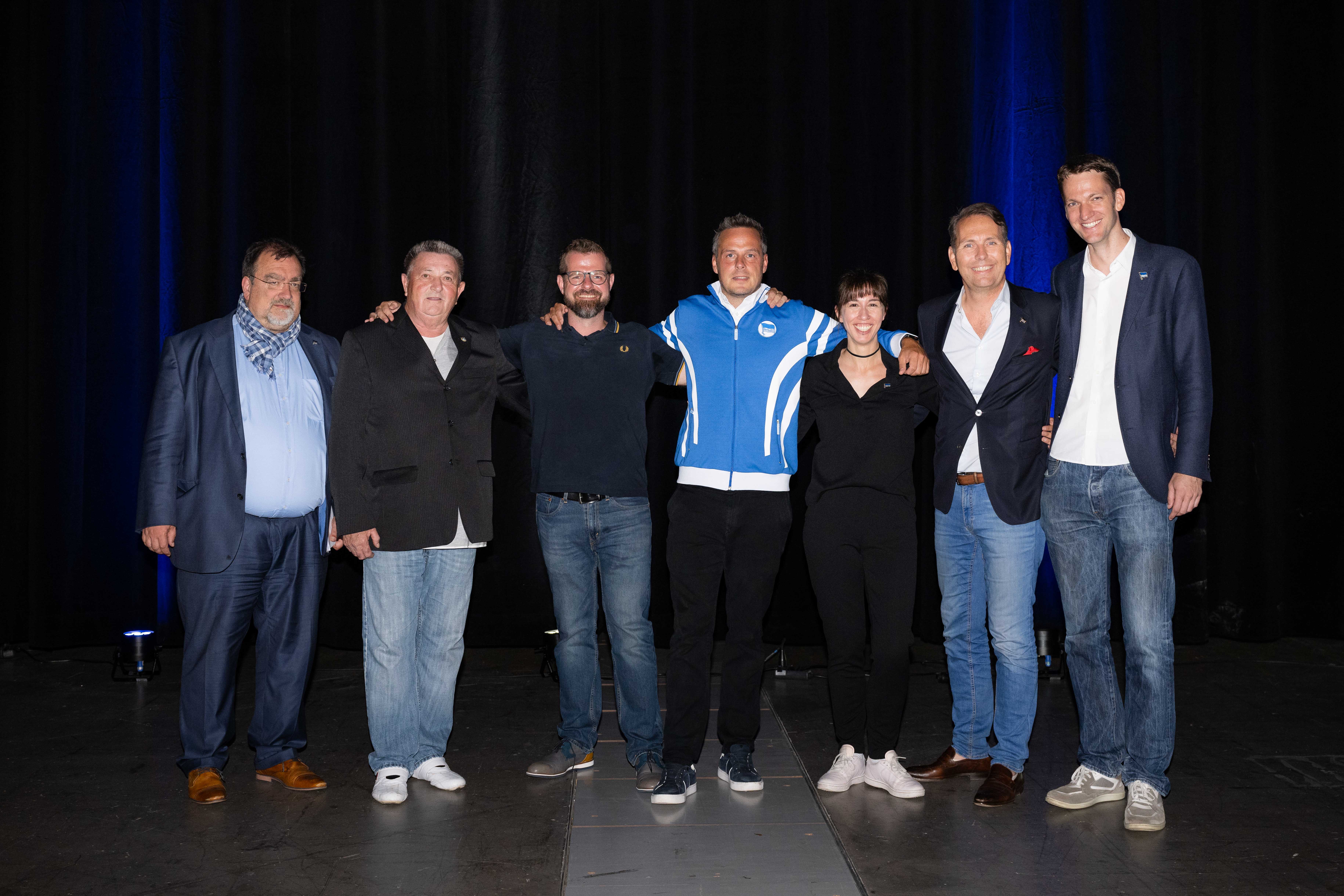 First team
|
June 26, 2022, 06:30 PM
New presidential board elected
At the extraordinary general meeting at the CityCube Berlin on Sunday, the 3,150 fans present elected the new, seven-man presidential board. The new president is Kay Bernstein, who, with all the senior management present, received 1,670 votes to defeat Frank Steffel (1,280 votes) and Marvin Brumme (26). "I would like to thank everyone for their trust and support. Our 'Old Lady' is in intensive care right now. We can only improve things and become healthy again from the inside – we can only achieve this together. Every single one of us is a brand ambassador for Hertha BSC and has to help us try and get back our blue-white soul. Thank you and Ha, Ho, He!" said the 41-year-old, who was given a loud round of applause after the vote. Bernstein is Werner Gegenbauer's successor, who stepped down from the president role after 14 years in May.

Fabian Drescher, who was already a member of the presidential board, will now be Bernstein's vice-president. "I know how things work at the club. Hertha needs to be the club in the capital that unites everyone," commented Drescher, who received 1,996 votes. Ingmar Pering, another member of the presidential board, withdrew his candidature at the last minute.
Kauermann and Bläsing elected to presidential board
Afterwards, the members voted to fill the vacant positions on the presidential board. A total of 24 candidates put their names forward for selection. In the first round of voting, Tim Kauermann (835 votes) received the most votes, while Hans-Joachim Bläsing (559) received the most votes in the second round of voting, as the two will join Bernstein, Drescher, Pering, Peer Mock-Stümer and Anne Jüngermann on the club's presidential board. As stated in the club's statutes, the minimum number of board members has therefore been reached, meaning no further election is necessary.
"Take the energy and hope with us"
Following the conclusion of the voting, the meeting moved on to discussing 'various topics' under the third and final point on the agenda. This included the topic of blind football and other members' concerns. After nearly seven hours, the meeting was called to an end at 17:56 CEST. "Let us take the energy and hope from this general meeting with us, as we look to do better in the future together!" was Bernstein's closing statement at the meeting.