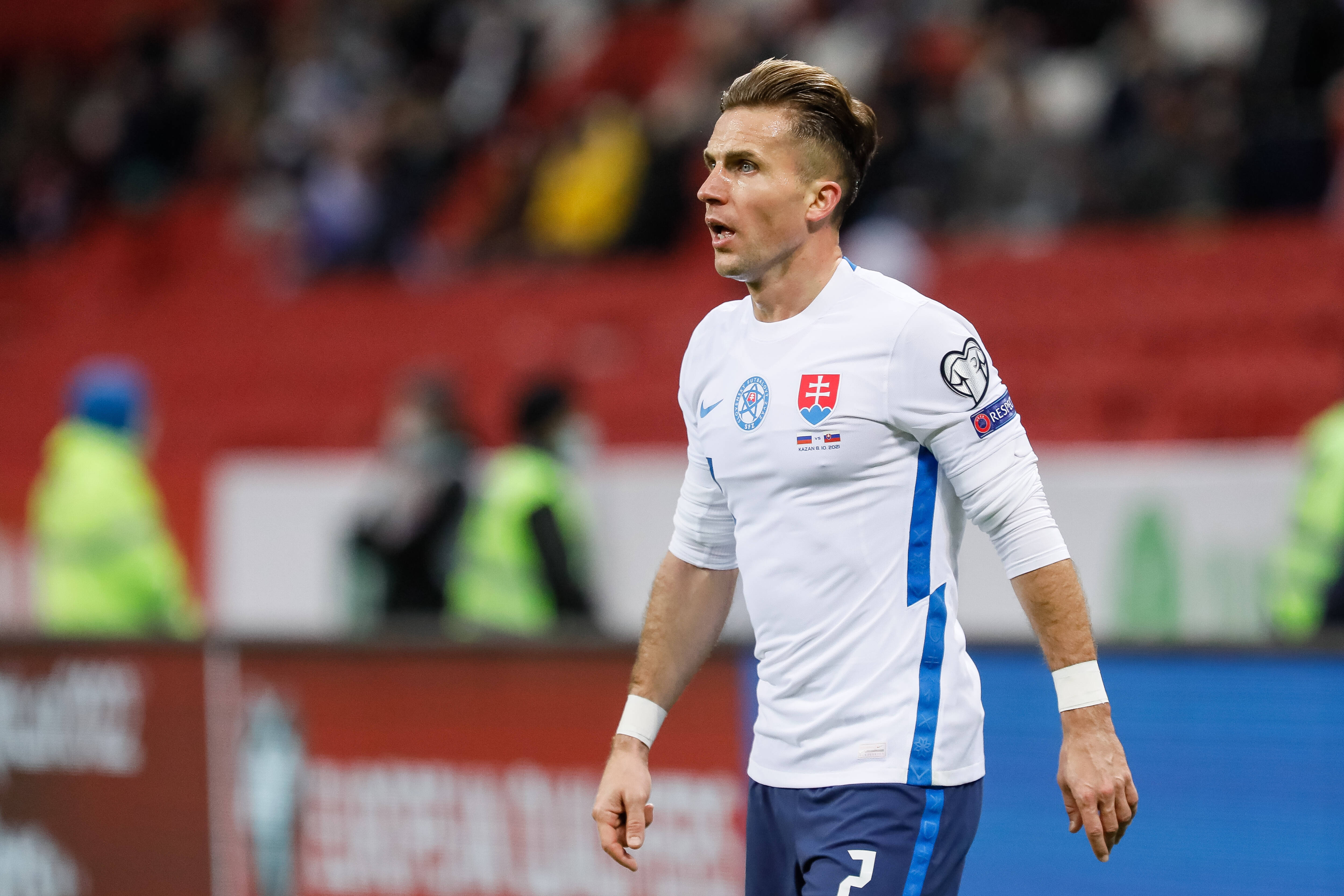 First team
|
June 1, 2022, 01:36 PM
Six Herthaner representing their countries in June
The club football season in Europe is finished: the champions, relegated sides and cup winners are all decided, but there are still scores to be settled on the international stage. There are lots of matches planned for the month of June, and six of Hertha's first team have jetted off to represent their countries over the next ten days. Captain Dedryck Boyata and Belgium will face the Netherlands, Wales and Poland in the UEFA Nations League, a competition the Red Devils reached the final of in 2021.
Fredrik Bjørkan and Stevan Jovetić also have Nations League games on the cards for Norway and Montenegro respectively. Bjørkan's Norway side have games against Sweden, Serbia and Slovenia on the cards in league B, whereas Montenegro's record goalscorer will represent his homeland against Romania, Finland and Bosnia & Herzegovina in league C.
Another Herthaner who will be playing in the Nations League's third division is Peter Pekarík, with Slovakia. Our number 2 is also in league C after the side were relegated from league B last season, and his team faces over 13,500km of flights for games against Belarus, Kazakhstan and Azerbaijan. "We won't have a lot of time to recover properly after the games, so we really need to prepare physically and mentally, and properly focus on our recovery," said the right back, aware of the challenges this international break will pose.
Ekkelenkamp and Dárdai on the hunt for U21 EUROs qualification
Qualification is well underway for the 2023 U21 European Championships in Romania and Georgia. Germany's junior side were able to win the title in the competition's 2021 edition, and along with Márton Dárdai, will look to defend their trophy next year – the Germany U21s will face Hungary and Poland this month. Our number 31 knows what the plan is for his team: "We know what we're going to face in these two games. We need a win to qualify for certain, so that's our goal!" Loan returnee Jessic Ngankam was also nominated for the Germany U21 squad, but had to pull out due to injury.
Jurgen Ekkelenkamp and the Netherlands' U21 squad also have a good chance to qualify for EURO 2023. The Jong Oranje are currently second place in group E, but have a game in hand over leaders Switzerland. They will face Moldova and Gibraltar in this international break.
Hertha's internationals for June 2022:
| Date | Kick-off (CEST) | Player | Fixture (Venue) | Result |
| --- | --- | --- | --- | --- |
| 02.06.2022 | 20:45 | Fredrik Bjørkan | Nations League : Serbia vs. Norway (Belgrade) | 0-1 |
| 03.06.2022 | 18:15 | Márton Dárdai | U21 EUROs Qualifier: Germany vs. Hungary (Osnabrück) | 4-0 |
| | 18:45 | Jurgen Ekkelenkamp | U21 EUROs Qualifier: Moldova vs. Netherlands (Chisinau) | 0-3 |
| | 20:45 | Dedryck Boyata | Nations League: Belgium vs. Netherlands (Brussels) | 1-4 |
| | 20:45 | Peter Pekarík | Nations League: Belarus vs. Slovakia (Novi Sad) | 0-1 |
| 04.06.2022 | 20:45 | Stevan Jovetić | Nations League: Montenegro vs. Romania (Podgorica) | |
| 05.06.2022 | 20:45 | Fredrik Bjørkan | Nations League: Sweden vs. Norway (Solna) | |
| 06.06.2022 | 20:45 | Peter Pekarík | Nations League Slovakia vs. Kazakhstan (Trnava) | |
| 07.06.2022 | 18:00 | Márton Dárdai | U21 EUROs Qualifier: Poland vs. Germany (Lodz) | |
| | 18:00 | Stevan Jovetić | Nations League: Finland vs. Montenegro (Helsinki) | |
| | 20:00 | Jurgen Ekkelenkamp | U21 EUROs Qualifier: Netherlands vs. Gibraltar (Almere) | |
| 08.06.2022 | 20:45 | Dedryck Boyata | Nations League: Belgien vs. Polen (Brussels) | |
| 09.06.2022 | 20:45 | Fredrik Bjørkan | Nations League: Norway vs. Slovenia (Oslo) | |
| 10.06.2022 | 18:00 | Peter Pekarík | Nations League: Azerbaijan vs. Slovakia (Baku) | |
| 11.06.2022 | 18:00 | Jurgen Ekkelenkamp | U21 EUROs Qualifier: Wales - Netherlands (Llanelli) | |
| | 20:45 | Dedryck Boyata | Nations League: Wales - Belgium (Cardiff) | |
| | 20:45 | Stevan Jovetić | Nations League: Montenegro vs. Bosnia & Herzegovina (Podgorica) | |
| 12.06.2022 | 18:00 | Fredrik Bjørkan | Nations League: Norway vs. Sweden (Oslo) | |
| 13.06.2022 | 16:00 | Peter Pekarík | Nations League: Kazakhstan vs. Slovakia (Nur-Sultan) | |
| 14.06.2022 | 20:45 | Dedryck Boyata | Nations League: Poland vs. Belgium (Warsaw) | |
| | 20:45 | Stevan Jovetić | Nations League: Romania vs. Montenegro (Bucharest) | |