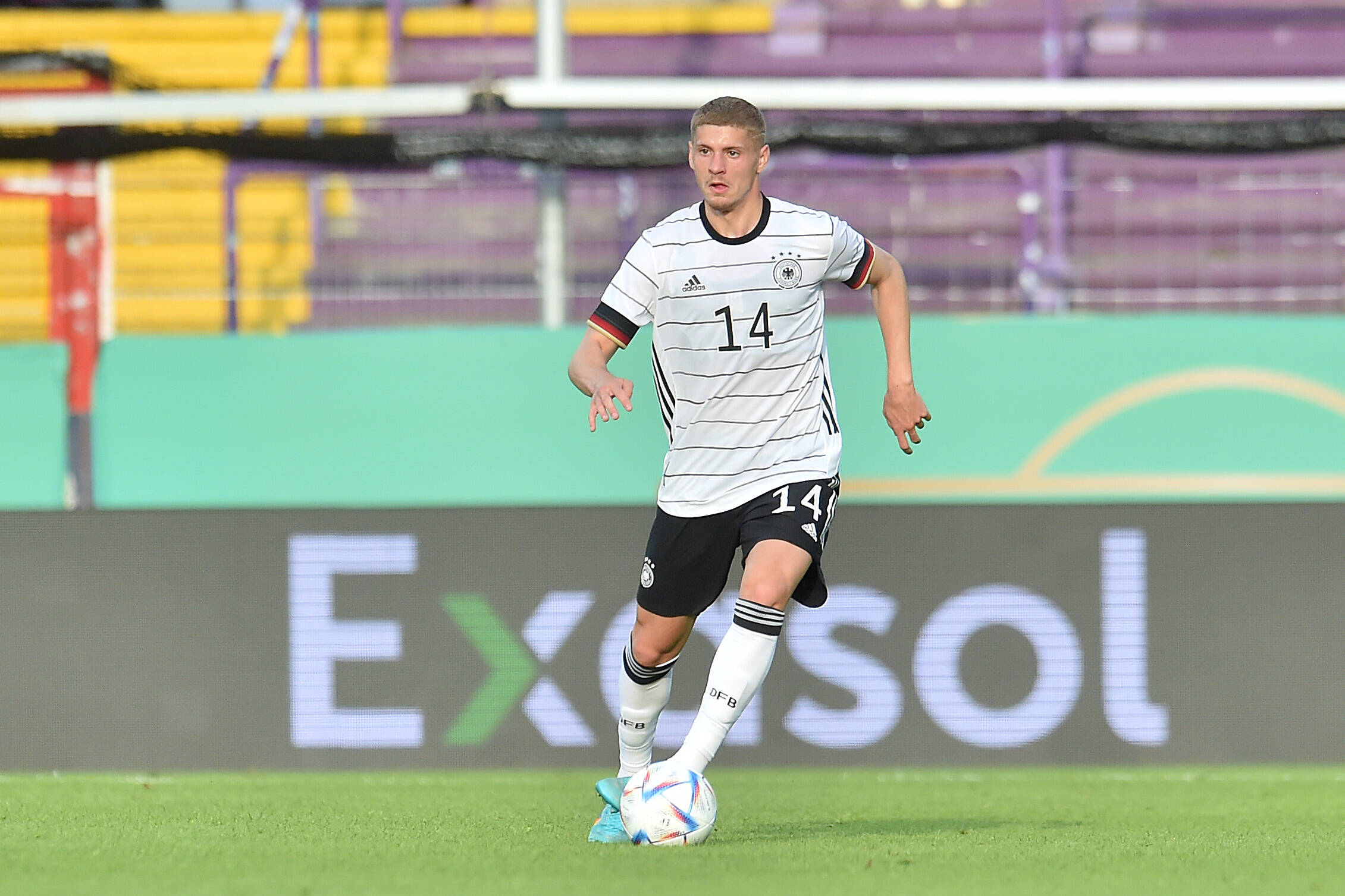 First team
|
June 6, 2022, 11:57 AM
Four Herthaners with important victories
It's three wins from three for Márton Dárdai with the Germany U21s. The central defender came on as a substitute in the 4-0 win over Hungary in Osnabrück, which sealed European Championship qualification for Antonio Di Salvo's side. The victory also means that Germany will go into the tournament in 2023 in Romania and Georgia as group winners. "We undoubtedly wanted to win the game so that we could secure our qualification for the finals. We were successful in doing so and we are delighted," explained our number 31, who helped the side get their clean sheet. Jurgen Ekkelenkamp also featured for the Netherlands U21s in their game against Moldova in Group E. The Flying Dutchmen romped to a 3-0 away win and leapfrogged Switzerland in the table. The Swiss are in action against Bulgaria on Sunday evening.
Second win for Norway and Bjørkan
Peter Pekarik had every reason to celebrate after he featured for Slovakia in the Nations League. It was the 35-year-old right back's 110th cap, which came just hours after he extended his contract with Hertha for another year. His side came away from Belarus with a 1-0 win after a tight contest and Pekarik played for the full 90 minutes. The Falcons are level on points with Kazakhstan at the top of the group. Fredrik Bjørkan's Norway also got off to the perfect start in the Nations League after they got the better of Serbia on Thursday evening (1-0). Our left back, however, was an unused substitute. He also didn't feature in their 2-1 away win in Sweden on Sunday night. Dedryck Boyata played the full 90 minutes for Belgium on Friday evening but his side were thrashed 4-1 by their neighbours, the Netherlands.
Jovetić absent in win over Romania – Pekarík in action on Monday
Montenegro were also successful in the Nations League, defeating Romania 2-0 on Saturday. Their captain and record goalscorer, Stevan Jovetić, wasn't in the matchday squad, though. The only Herthaner in action on Monday is Peter Pekarík. Slovakia will be looking for a second victory when they play Kazakhstan (20:45 CEST).
| Date | Kick Off (CEST) | Player | Fixture (venue) | Result |
| --- | --- | --- | --- | --- |
| 02.06.2022 | 20:45 | Fredrik Bjørkan | Nations League: Serbia vs. Norway (Belgrade) | 0-1 |
| 03.06.2022 | 18:15 | Márton Dárdai | U21 EUROS Qualifier: Germany vs. Hungary (Osnabrück) | 4-0 |
| | 18:45 | Jurgen Ekkelenkamp | U21 EUROS Qualifier: Moldova vs. Netherlands (Chisinau) | 0-3 |
| | 20:45 | Dedryck Boyata | Nations League: Belgium vs. Netherlands (Brussels) | 1-4 |
| | 20:45 | Peter Pekarík | Nations League: Belarus vs. Slovakia (Novi Sad) | 0-1 |
| 04.06.2022 | 20:45 | Stevan Jovetić | Nations League: Montenegro vs. Romania (Podgorica) | 2-0 |
| 05.06.2022 | 20:45 | Fredrik Bjørkan | Nations League: Sweden vs. Norway (Solna) | 1-2 |
| 06.06.2022 | 20:45 | Peter Pekarík | Nations League: Slovakia vs. Kazakhstan (Trnava) | |
| 07.06.2022 | 18:00 | Márton Dárdai | U21 EUROs Qualifier: Poland vs. Germany (Lodz) | |
| | 18:00 | Stevan Jovetić | Nations League: Finland vs. Montenegro (Helsinki) | |
| | 20:00 | Jurgen Ekkelenkamp | U21 EUROs Qualifier: Netherlands vs. Gibraltar (Almere) | |
| 08.06.2022 | 20:45 | Dedryck Boyata | Nations League: Belgium vs. Poland (Brussels) | |
| 09.06.2022 | 20:45 | Fredrik Bjørkan | Nations League: Norway vs. Slovenia (Oslo) | |
| 10.06.2022 | 18:00 | Peter Pekarík | Nations League: Azerbaijan vs. Slovakia (Baku) | |
| 11.06.2022 | 18:00 | Jurgen Ekkelenkamp | U21 EUROs Qualifier: Wales vs. Netherlands (Llanelli) | |
| | 20:45 | Dedryck Boyata | Nations League: Wales vs. Belgium (Cardiff) | |
| | 20:45 | Stevan Jovetić | Nations League: Montenegro vs. Bosnia & Herzegovina (Podgorica) | |
| 12.06.2022 | 18:00 | Fredrik Bjørkan | Nations League: Norway vs. Sweden (Oslo) | |
| 13.06.2022 | 16:00 | Peter Pekarík | Nations League: Kazakhstan vs. Slovakia (Nur-Sultan) | |
| 14.06.2022 | 20:45 | Dedryck Boyata | Nations League: Poland vs. Belgium (Warsaw) | |
| | 20:45 | Stevan Jovetić | Nations League: Romania vs. Montenegro (Bucharest) | |