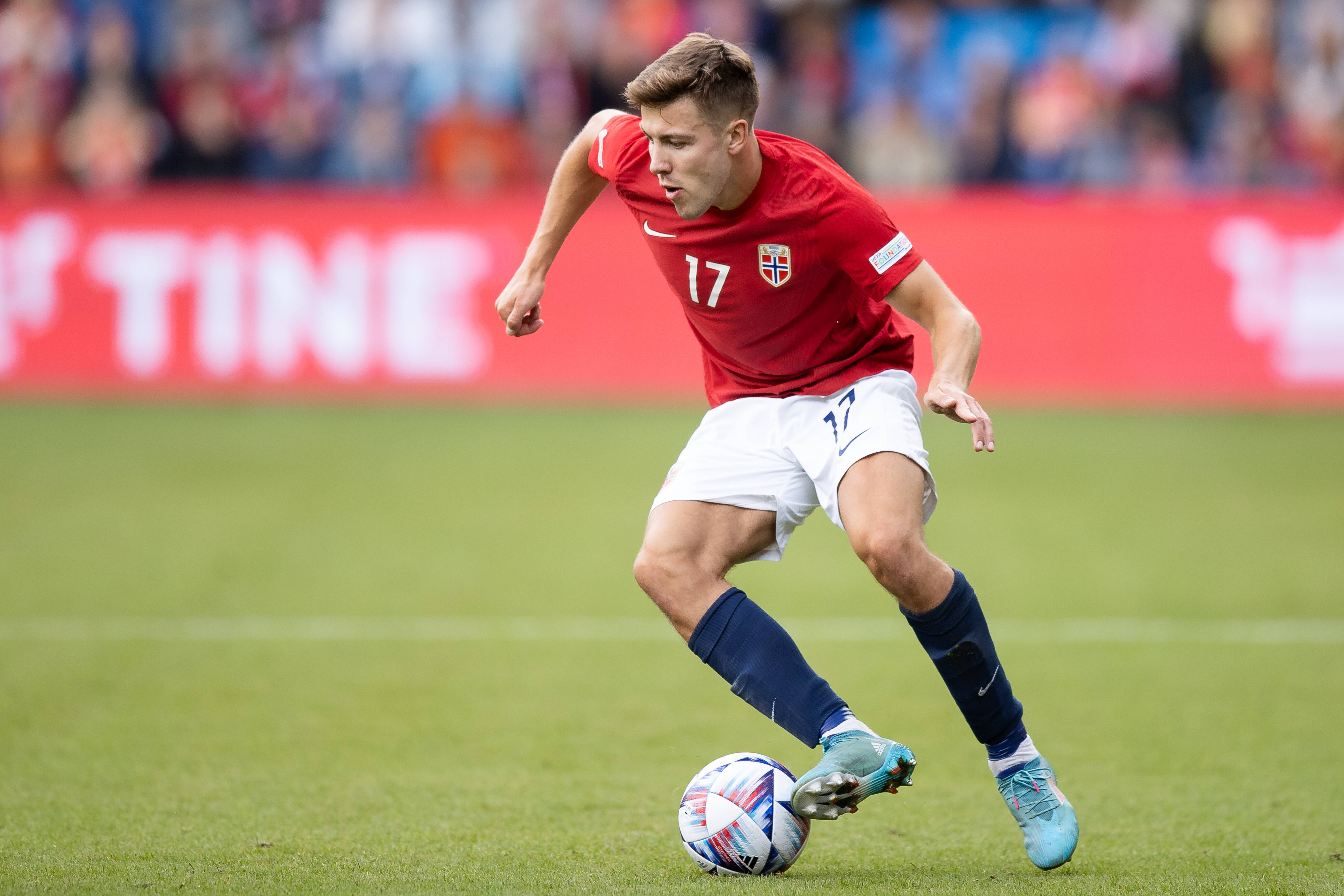 First team
|
June 14, 2022, 09:58 AM
Herthaner looking to top the group
With the current international break drawing to a close, players will be looking to end on a high and go into the summer break on the back of a strong showing with their countries. Fredrik Bjørkan and Norway did exactly that on Sunday, defeating Sweden 3-2 to defend first place in the UEFA Nations League B Group 4. It was Norway's first home win against Sweden in almost 40 years and Bjørkan played his part – our number 3 played all 90 minutes and provided the assist for the opening goal with a good cross to Erling Haaland. The next international fixtures will come at the end of September with our full back and his country sitting top of the group.
Boyata and Belgium travel to Poland
Peter Pekarík was looking to do the same in his group, but Slovakia lost 2-1 away to Kazakhstan on Monday. That puts them second in the group. Our number 2 played the full 90 minutes. Elsewhere, Dedryck Boyata and Belgium also find themselves in second place in League A Group 4. They'll take on Poland in Warsaw on Tuesday (20:45 CEST), with Boyata potentially coming up against Robert Lewandowski as well as Hertha teammate Krzysztof Piątek, who is currently out on loan. Stevan Jovetić will also be in action at the same time, as Montenegro take on Romania in Bucharest in League B Group 3.
| Date | Kick Off (CEST) | Player | Fixture (venue) | Result |
| --- | --- | --- | --- | --- |
| 02.06.2022 | 20:45 | Fredrik Bjørkan | Nations League: Serbia vs. Norway (Belgrade) | 0-1 |
| 03.06.2022 | 18:15 | Márton Dárdai | U21 EUROS Qualifier: Germany vs. Hungary (Osnabrück) | 4-0 |
| | 18:45 | Jurgen Ekkelenkamp | U21 EUROS Qualifier: Moldova vs. Netherlands (Chisinau) | 0-3 |
| | 20:45 | Dedryck Boyata | Nations League: Belgium vs. Netherlands (Brussels) | 1-4 |
| | 20:45 | Peter Pekarík | Nations League: Belarus vs. Slovakia (Novi Sad) | 0-1 |
| 04.06.2022 | 20:45 | Stevan Jovetić | Nations League: Montenegro vs. Romania (Podgorica) | 2-0 |
| 05.06.2022 | 20:45 | Fredrik Bjørkan | Nations League: Sweden vs. Norway (Solna) | 1-2 |
| 06.06.2022 | 20:45 | Peter Pekarík | Nations League: Slovakia vs. Kazakhstan (Trnava) | 0-1 |
| 07.06.2022 | 18:00 | Márton Dárdai | U21 EUROs Qualifier: Poland vs. Germany (Lodz) | 1-2 |
| | 18:00 | Stevan Jovetić | Nations League: Finland vs. Montenegro (Helsinki) | 2-0 |
| | 20:00 | Jurgen Ekkelenkamp | U21 EUROs Qualifier: Netherlands vs. Gibraltar (Almere) | 6-0 |
| 08.06.2022 | 20:45 | Dedryck Boyata | Nations League: Belgium vs. Poland (Brussels) | 6-1 |
| 09.06.2022 | 20:45 | Fredrik Bjørkan | Nations League: Norway vs. Slovenia (Oslo) | 0-0 |
| 10.06.2022 | 18:00 | Peter Pekarík | Nations League: Azerbaijan vs. Slovakia (Baku) | 0-1 |
| 11.06.2022 | 18:00 | Jurgen Ekkelenkamp | U21 EUROs Qualifier: Wales vs. Netherlands (Llanelli) | 0-1 |
| | 20:45 | Dedryck Boyata | Nations League: Wales vs. Belgium (Cardiff) | 1-1 |
| | 20:45 | Stevan Jovetić | Nations League: Montenegro vs. Bosnia & Herzegovina (Podgorica) | 1-1 |
| 12.06.2022 | 18:00 | Fredrik Bjørkan | Nations League: Norway vs. Sweden (Oslo) | 3-2 |
| 13.06.2022 | 16:00 | Peter Pekarík | Nations League: Kazakhstan vs. Slovakia (Nur-Sultan) | 2-1 |
| 14.06.2022 | 20:45 | Dedryck Boyata | Nations League: Poland vs. Belgium (Warsaw) | |
| | 20:45 | Stevan Jovetić | Nations League: Romania vs. Montenegro (Bucharest) | |