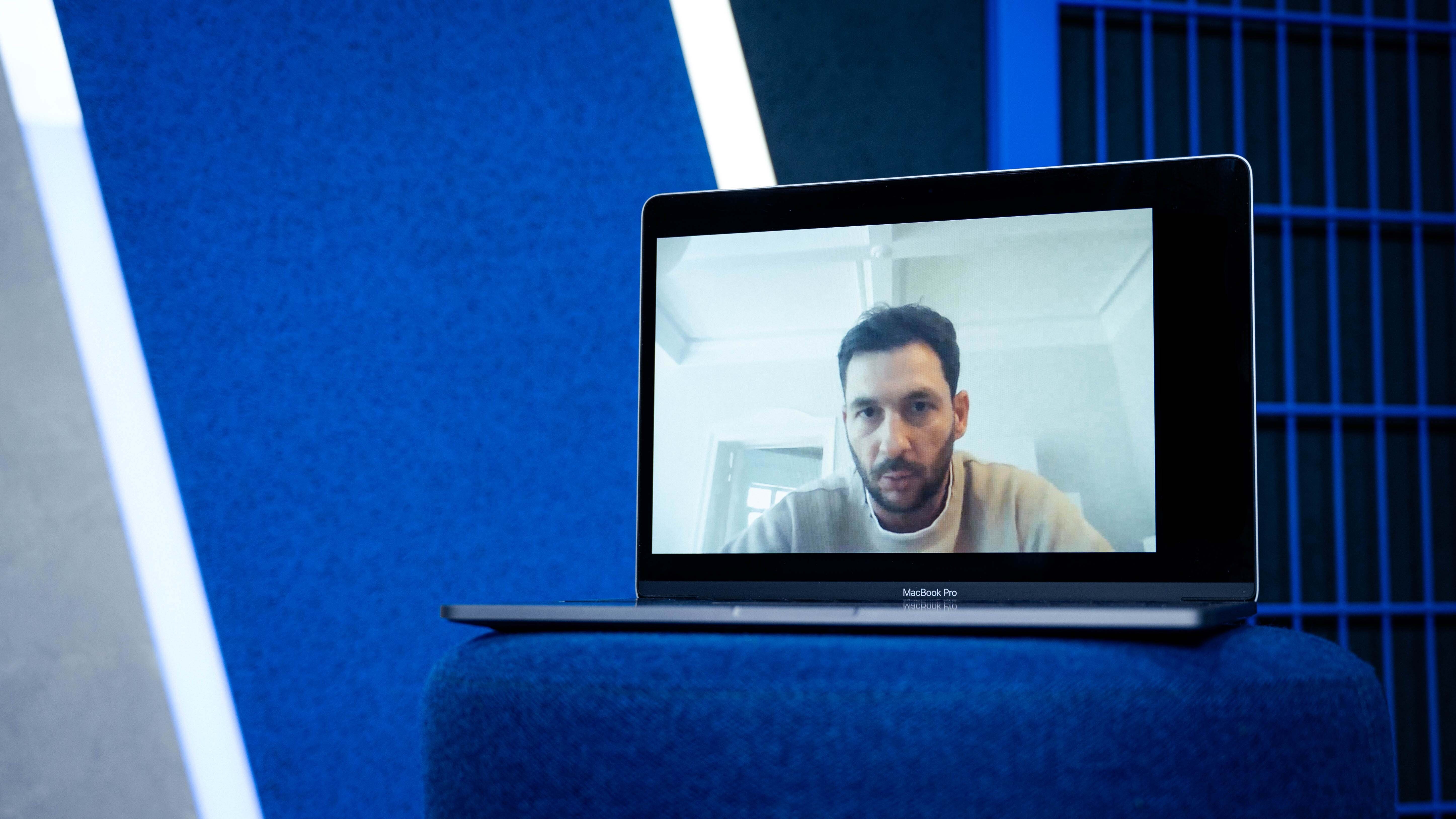 First team
|
June 3, 2022, 05:18 PM
"We want to work both with and for each other"
In the last two years, video conferences have been used more and more, even in the world of professional football. Our new head coach, Sandro Schwarz, held his first talk with the media as a Herthaner in just this way on Friday. Schwarz wanted to get to know the journalists and those who work at the club every day before his official presentation and conference on June 20th, and answered all the questions from those gathered to watch online in his first meeting. "It's important to me that we get to know each other as soon as possible, rather than on June 20th. I'm looking forward to working together respectfully and I'll go about things as transparently as I can," said the former player. Lots of different topics were discussed in the online conference, including how the coach will go about his new challenge in the capital. "Following the great discussions I had with Fredi Bobic, I'm really looking forward to the tasks at hand here and meeting the people at the club. As a group we want to be proactive, and work both with and for each other," said the 43-year-old. herthabsc.com has all the latest from the new head coach.
Sandro Schwarz on...
... his time in Moscow:
I condemn Russia's invasion and I understand the discussion around the topic. I'll speak openly and describe the things as I saw them and felt about them. What's happening in Ukraine is the worst possible event. Even before February 24th 2022, my time in Moscow was already very intense, but after that day everything changed. From that day forward, the situation was highly emotionally charged, and we had a lot of discussions, with players, staff and club executives. With all the horrible images of the invasion being shown in the media, it was important to me to find out the mood of all my colleagues, and the result of that discussion was that we decided to carry on this difficult path together. Every single person at the club knew and still knows the significance of the situation. We had countless emotional moments with both Ukrainian and Russian players, who were with me in my office – we were all crying at the end. I felt terrible, but I also knew that I had to be an anchor and someone to talk to for many people at the club in this difficult time. What I can say is that everyone in and around Dynamo Moscow are exceptionally good people who have a clear attitude to the events. My decision became clear to me then: it stopped being about sport, the titles or the financial side of things, rather it was purely about the people there, who needed me and who I wanted to be there for. As a person, I reflected on the situation every day. I made my decision for myself and for the group, always with the attitude that I was against the invasion, and that I knew the feelings of the people around me. If those people had a different attitude, the possibility that I would stay would not have been there. As a result, we dealt with so many tough moments as a group; it brought us all together at the end of the day. I believe a lot of people would have done made the same decision as me if they were in the same situation. At the end of March, however, it became clear to me that I couldn't continue – a possible new coaching position wasn't a factor in that. I felt that I could be there for that group until the summer, as they shared my condemnation of the invasion, but to return after a break and try to build a new group dynamic wasn't something I could do. I also had to make the decision to leave for my family; my two young children. I'm very relieved to be back home, following such a high-pressure situation.
... his development as a coach:
Every coaching position offers you the chance to learn something and reflect on yourself. In Mainz, we had lots of both fantastic moments and tough times which we got through well – with a clear method of how we wanted to play football. Up until February 24th, my time in Moscow was incredibly influential, being able to experience a new country. The last three months have been a very extreme situation, but it's also been a chance to develop as a person. I've gained valuable experience, but now is the time for me to fully commit to this new club, with a clear philosophy of how we want to play and how we want to act as a team.
… his approach and his goals at Hertha BSC:
After some great talks with Fredi Bobic, I am very much looking forward to the challenge here at Hertha. There is a great sense of anticipation amongst the people at the club. As a group we want to be proactive and work with and for each other. To some extent, I will exemplify what I want to see. I want us to work as a group and have a clear idea of what we want to do. I want us to be forward looking and have a clear structure. I am looking forward to changing the mood of this club with our hard work. I see this as an opportunity to right the wrongs of the past. We are tackling the challenges together and we want to move in a clear direction. That was my motivation after the very first conversation. I made the decision to come to Hertha and I would have come no matter which division. The task here is a very interesting one, which we're approaching with full respect and looking to work diligently. Those will be the first steps from June 20th. It will all be about developing an identity which makes people say: "That's a real Hertha team!" There should be a real buzz of energy and activity on the pitch from the very first training session.
… personnel decisions and his role in the squad planning:
I want to have open and personal discussions with the players and then make mutual decisions. Dialogue with the boys is important. It's important to listen to their feelings and to what they have to say so I get a full sense of what is going on. Of course I have already been involved with the squad and I have had discussions with Fredi Bobic since the successful relegation play off. I found out early on, for example, that Peter Pekarik would be extending his contract (smiles). There are many more discussions to be had and we want to make the best possible decisions in the interests of the club.
… his coaching team and staff:
Volkan Bulut and Daniel Fischer will join me in Berlin. I worked with them both at Dynamo. Tamás Bódog is someone I know from my playing days and he has experience as an assistant and as a head coach. He will also be joining me. Vedad Ibišević and Andreas Menger will remain a part of my team, as will the fitness coaches.