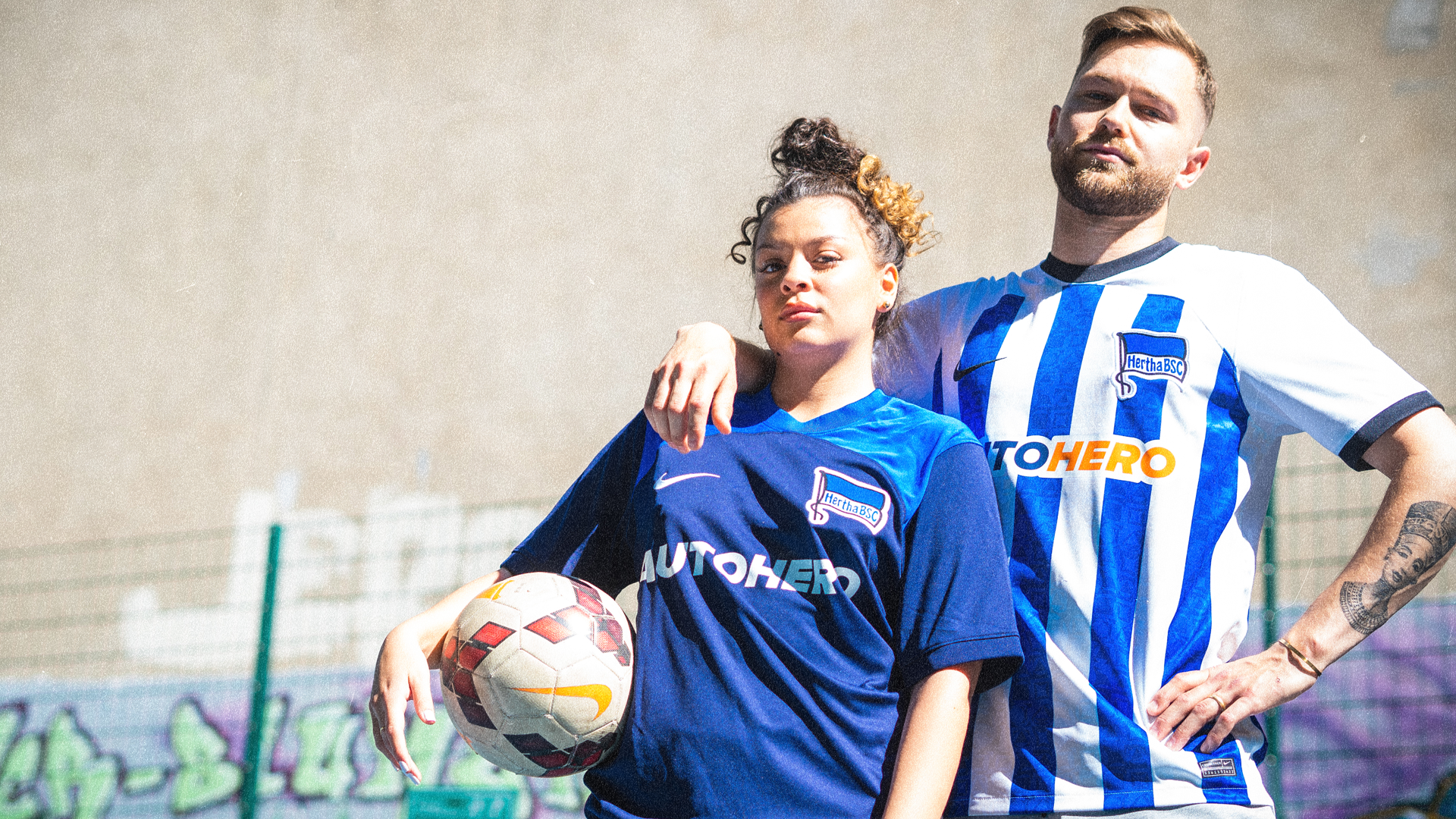 First team
|
July 2, 2022, 11:00 AM
An homage to our hometown: Our 2022/23 kits!
Berlin – a city of colours and diversity, street football, historic landmarks, and – of course – Hertha BSC. Those in and around our grand old club live for the city and love their hometown every day. With our new kits, we wear this connection to Berlin in our hearts. Our 2022/23 shirts are an homage to our hometown: the city we come from, the city we play for.
Our new home kit, in the traditional blue and white stripes, contains a geometric pattern which can be seen in several different places across our capital. Adorning the chest is, as ever, our flag, this season with a black outline, a colour reflected in the sleeve cuffs and Nike Swoosh logo. Our main sponsor, Autohero, is also displayed on the chest. Like the fully white sleeves and shoulder panels, the back of the shirt is fully white with black kit names and numbers. The new 2022/23 kit is rounded off with blue shorts and white socks.
In dark blue away from home
Like last season, Hertha will play in dark blue away from home in 2022/23. Lighter blue shoulder panels and white names and numbers complete the jersey. Our flag on the chest is joined by white Nike and Autohero logos, our main sponsor allowing their normally blue and orange logo to be completely white in order to underline the timeless design of the shirt. Sandro Schwarz's team will play in dark blue shorts and socks when using the kit, which will make its debut on July 8th (19:00 CEST) in our friendly against Energie Cottbus.
Created from recycled plastic bottles
All our new jerseys are made from 100% recycled polyester, which was created from plastic bottles. This creates a high-performance garment whilst simultaneously having a lower environmental impact. The plastic bottles were collected, cleaned and melted down to produce these high-quality garments. This is part of Nike's Move to Zero initiative, with football kits playing a leading role in the race for sustainability. No other sport has a wider global reach as football and since as early as 2010, Nike has created its football shirts from recycled polyester. Every year, Nike help to remove a billion plastic bottles from landfill sites and waterways by designing and producing products made from recycled polyester.
Hertha BSC's 2022/23 kits are unisex. Adult kits (sizes S-XXL) cost €89.95, whilst child sizes (XS-XL) cost €69.95. Shirt printing costs €12.95 for any of our players, or €17.95 for individual printing. Our new home and away kits are available now in our fan shops around Berlin, as well as our online shop.