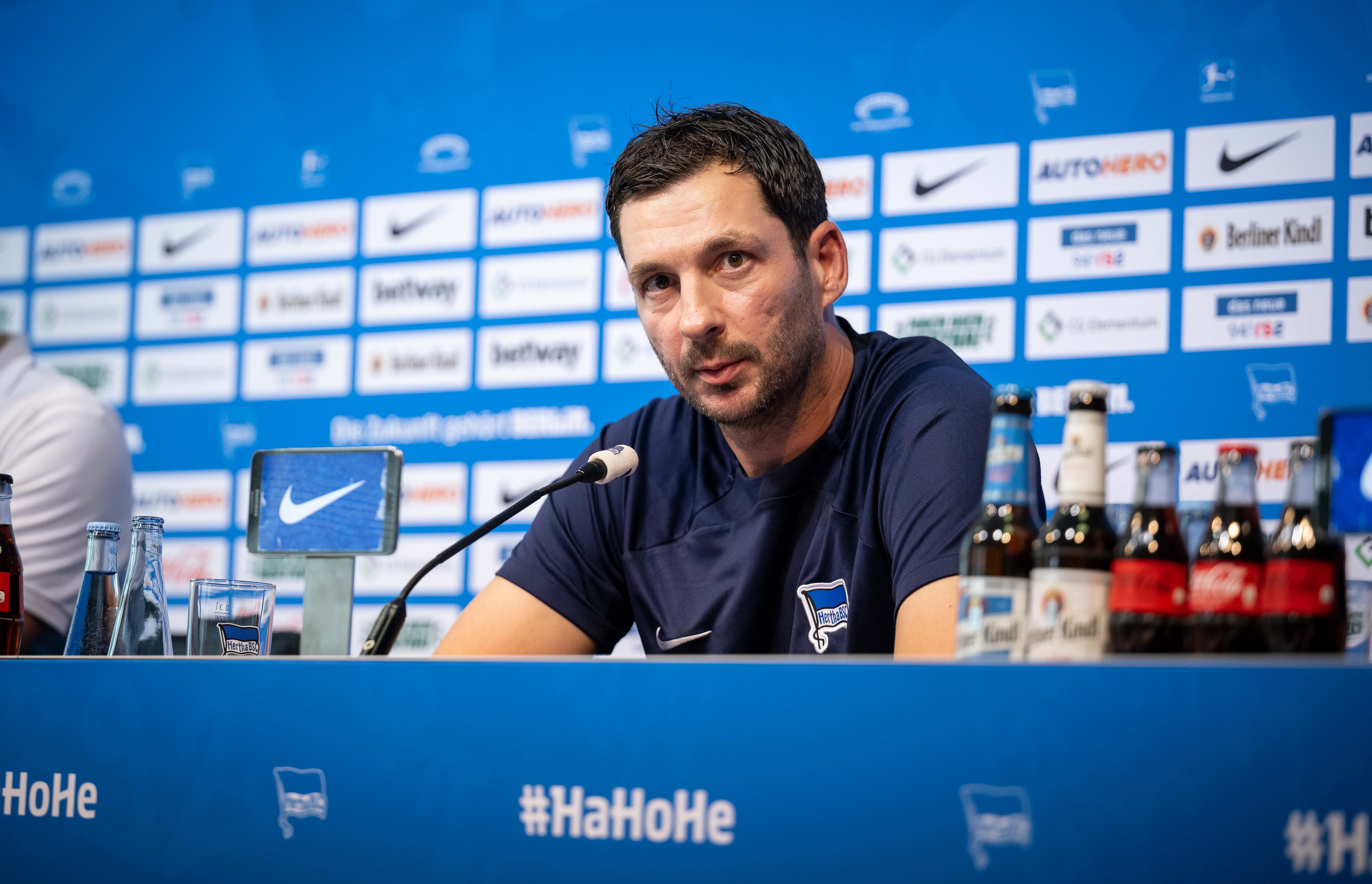 First team
|
August 4, 2022, 03:28 PM
"A clear head but lots of passion"
A packed press conference room isn't an unexpected sight ahead of the start of a new season, especially not in the lead-up to such a highly-anticipated game. On Saturday (6th August, 15:30 CEST), Hertha will make the short trip to city rivals 1. FC Union. Head coach Sandro Schwarz and sporting director Fredi Bobic spoke about the excitement ahead of the game: "It's a thrilling way to open the season against a very in-tune opponent, who know what to do in defence and attack. We want to break down Union with our style of play," commented the coach.
Ahead of the game, Bobic told the press, "We can't stand here and say that we are the favourites. We need to respect what has happened recently. Nevertheless, our aim is to work our way back up, with the help of a lot of commitment and positive results." Herthabsc.com have summed up the most important parts from today's presser. Read on to find out what Schwarz and Bobic have to say on:
…analysing the Braunschweig game:
Sandro Schwarz: We analysed the cup game on Monday and highlighted the mistakes during our video session, but also the things that we managed to do well. We were all frustrated with this result. Nevertheless, we're excited about the league getting underway and want to show what we're capable of out on the pitch on Saturday.
…the start of the 60th Bundesliga season:
Sandro Schwarz: It's the same as ever. It is a great opening fixture against Union. We're not thinking about what comes next and our focus is on this game and what we need to do. It is a tough fixture against a team who are well-drilled and have a clear way of playing both in defence and attack. We want to take the game to Union with our style of play and be active in the game.
…the Berlin derby:
Sandro Schwarz: We are fully aware that it is an important game for both the club and the fans. But regardless of that it is important to stick the task for the entire game. It will be important on Saturday to have a clear head but we also need to compete with a high level of passion and preparedness. We need to be strong in the duels and be uncompromising on the pitch, and show our quality and speed in attack. It will come down to us defending to the best of our ability, particularly in the decisive moments. That is what cost us against Braunschweig.
Fredi Bobic: We cannot kid ourselves and say we are the favourites. We have to respect what has gone before. However, our goal is to regain our position with our commitment and of course with the results. It will be process, that much is clear. But it is also a motivating factor to once again show that we are the better team in sporting terms.
…newcomer Wilfried Kanga:
Sandro Schwarz: Wilfried will be in the squad as he is fit, has made a good first impression and is already in the rhythm of playing. We want to get him used to how we do things as quickly as possible. This is because we know how much quality he has, particularly in terms of his robustness, his ball retention and his depth. We'll see how we'll use that on Saturday.