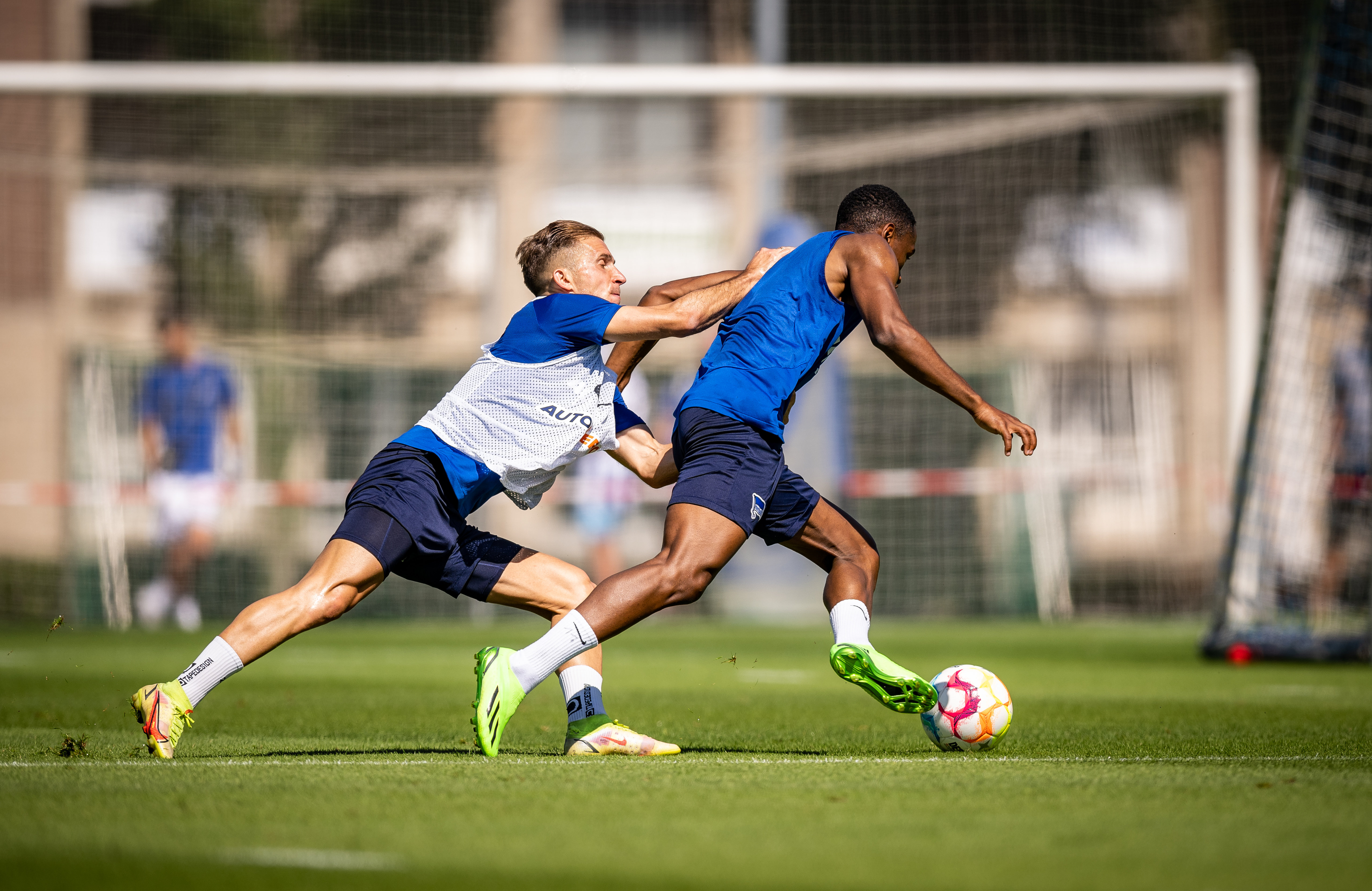 First team
|
August 3, 2022, 01:40 PM
Working hard before the derby
The sprinklers watered the grass, the 250 or so fans waited expectantly on the sidelines and the camera teams present focused their lenses. These conditions for the start of training at Tuesday lunchtime offered a small taste of what's to come at the weekend. "We have analysed the cup match and are now going into our preparation with excitement and belief in our own game plan. If we stick to it and play with confidence, we will be just fine," said head coach Sandro Schwarz.
Game plan of tempo and taking our chances
In the first training session of the week before the city derby on Saturday (06.08.22, 15:30 CEST) at 1. FC Union, it was straight down to the nitty-gritty. After a short warm-up, Schwarz and his coaching team worked on a number of different tactics. The coaches were constantly communicating with the players and made the appropriate adjustments there and then. The instructions worked seemed to work as Jonjoe Kenny, Davie Selke and fellow players sought out goalscoring opportunities with energy and scored a few goals – applauded by the spectators. "How the fans support us is sensational, as is the encouragement they gave the boys after the Braunschweig game. It's exactly what we need in our development. I have the feeling that lots of people recognise that we left it all on the pitch", expressed Schwarz, underlining the important connection with the fans.
Quintet train individually – Bobic and Thiam watch from the sidelines
Our four keepers Oliver Christensen, Rune Jarstein, Tjark Ernst and Robert Kwasigroch as well as 28 outfield players took part in the 80-minute training session in temperatures reaching 31 degrees. New arrival Wilfried Kanga was also in the thick of the action. Only the quintet of Omar Alderete, Kélian Nsona, Marco Richter, Dongjun Lee and Jessic Ngankam were missing from the session as they worked individually, which was also watched from the sidelines by managing director of sport Fredi Bobic and academy director Pablo Thiam. Until the eagerly awaited showdown in Köpenick, our blue and white boys will be training behind closed doors on Thursday and Friday before the 60th Bundesliga season gets underway for the Old Lady with a huge game on Saturday at 3:30 CEST. Ha, Ho, He – Hertha BSC!