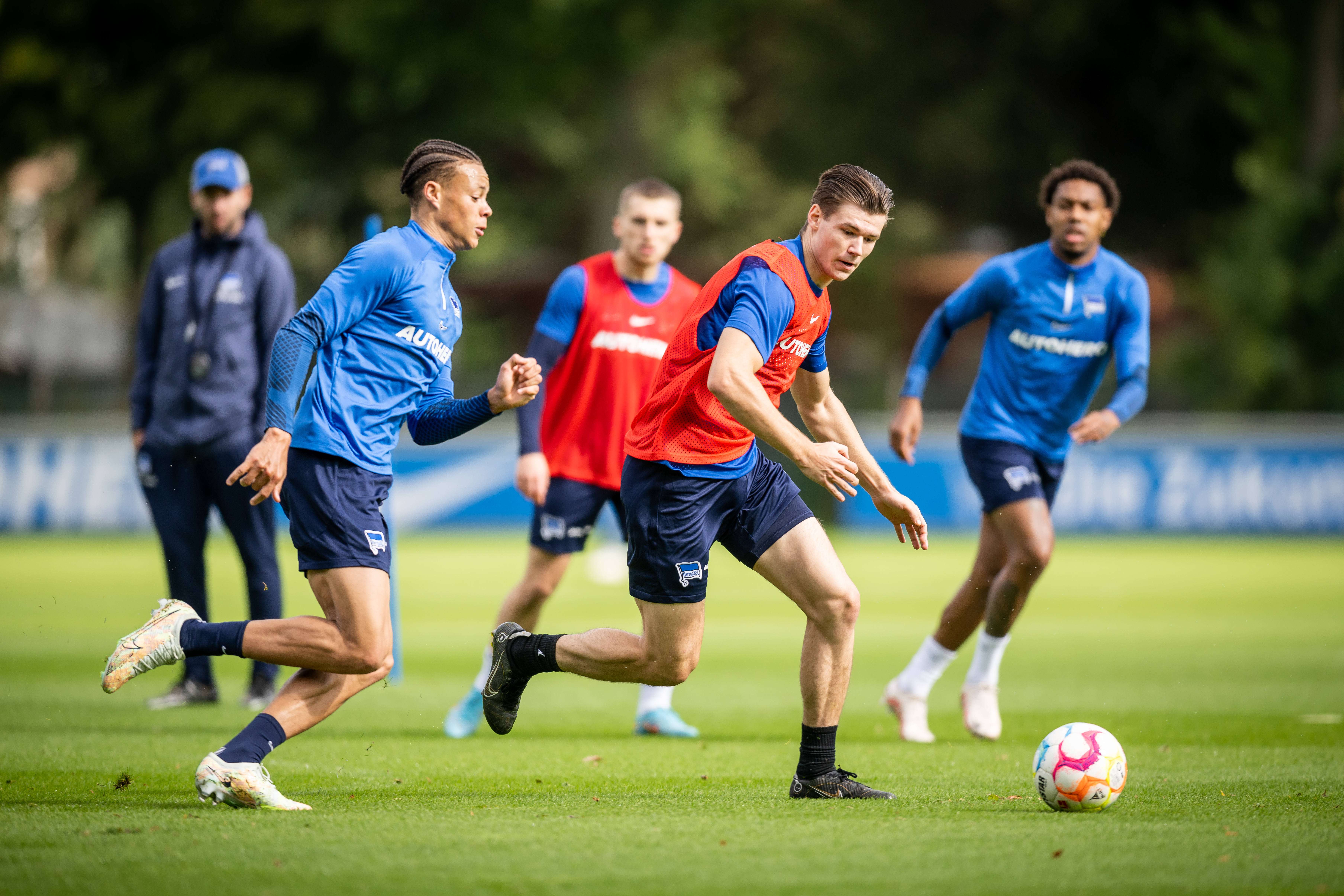 First team
|
September 19, 2022, 02:45 PM
Working hard with a smaller group
After the draw against Mainz, including a disappointing last minute equaliser, Hertha were looking forward to the start of a new week of training once again. "It is good that we can get straight back into action. The game is already in the past, at least emotionally – we will work on tactics with a smaller group over the next few days," explained head coach Sandro Schwarz, in light of the international break and the upcoming friendly against 1. FC Frankfurt on Thursday (22.09.22, 16:30 CEST).
Fitness, conditioning work & tactics
The boys worked with a high intensity to maintain the rhythm there are in. First up was a warm-up in the shape of circuit training with Henrik Kuchno. The fitness coach confirmed that the boys had shown the right attitude: "For a Monday you didn't do too badly!" The head coach emphasise the focus on conditioning in the upcoming session, "We want to use the time to work on fitness as well as other physical aspects. We will also put a key focus on individual and tactical work," said Schwarz. This was clear to see from the 70 minute long session. Like last week, there was also a focus on passing, initially in tight spaces and then afterwards in an eight-on-eight. Before the end of the session, there was also time for a quick amount of matchplay, with the aim being to take as little touches as possible before getting a shot off – several of which flew into the top corner.
Eight Herthaners on international duty, six training individually
With 18 outfield players and three goalkeepers training at Schenckendorffplatz, training took place with a somewhat smaller group. As well as those called up for international duty, a further six players were also missing training. Marc Kempf trained individually due to ankle problems, as did Linus Gechter and Kélian Nsona. Having overcome illnesses, Suat Serdar, Davie Selke and Tjark Ernst are also still training separately from the rest of their teammates for now. It was agreed in consultation with the DFB that Ernst will not join up with the Germany U20's. There were sufficient numbers at training thanks to the participation of three U23 players. Joel da Silva Kiala, Sonny Ziemer and Ensar Aksakal eagerly joined up with Prince Boateng and Co. In terms of goalkeepers, Robert Kwasigroch was joined by Philip Sprint as well as U19 keeper Max Mohwinkel.
Schwarz wants to see a competitive streak
Schwarz took a look at the youngsters not only with potential playing time in mind, but also with the possible approach for the upcoming game against Frankfurt in sight. "We want to show a competitive streak on the day of that game as well, because it is not just a friendly, it is a chance to test ourselves. Our aim is to put forward a serious, concentrated and consistent performance. It also gives an opportunity here or there for the players who have been out injured for a long time to pull on the shirt once again," said the 43-year-old.