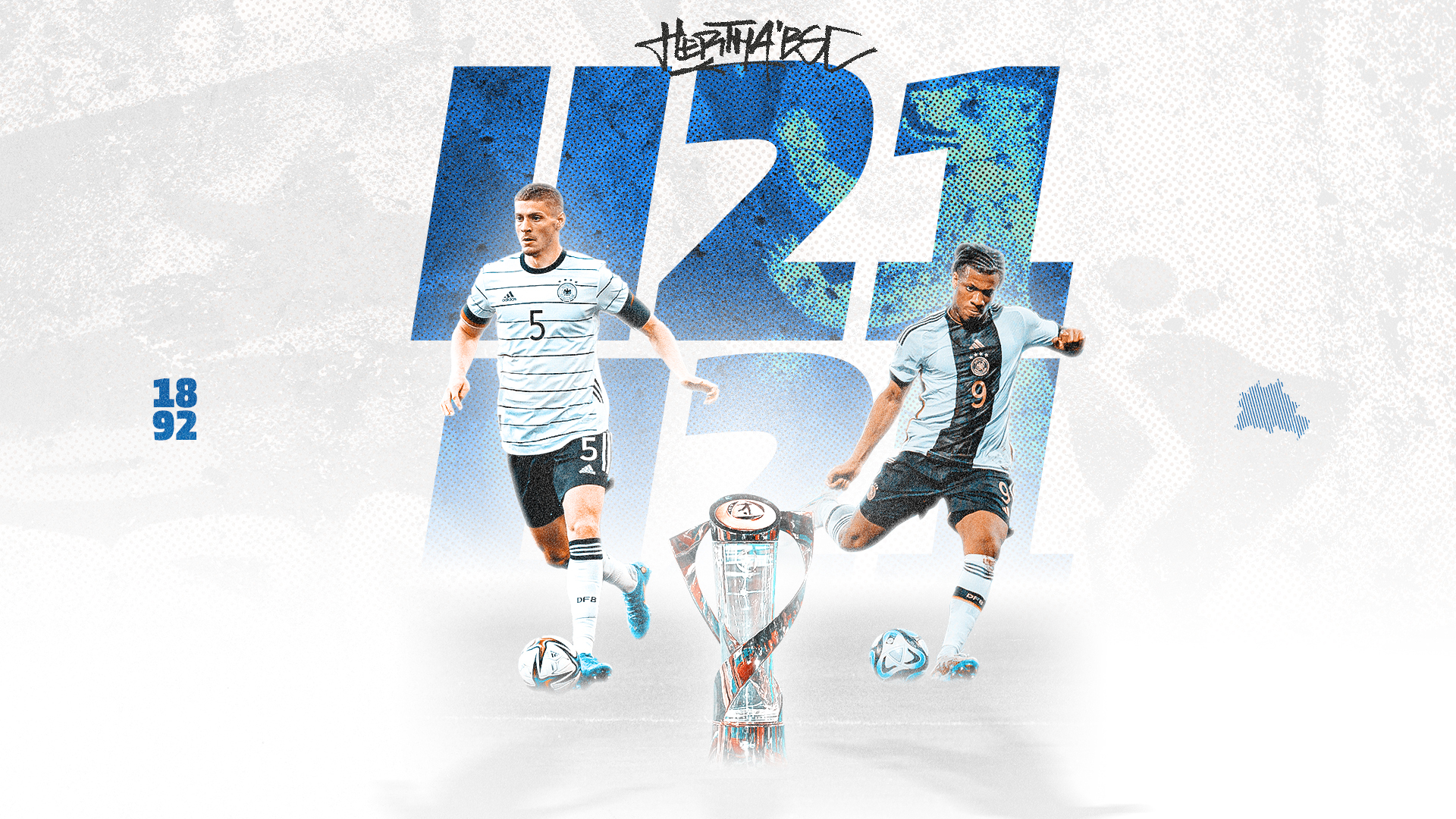 First team
|
June 2, 2023, 12:46 PM
Dárdai & Ngankam called up to provisional Germany U21s squad
In Márton Dárdai and Jessic Ngankam, Hertha have two players called up to the Germany U21s provisional squad for the U21s EUROs. Antonio Di Salvo has called up an initial 26 players, including goalkeepers, on 14th June he will the have to slim the squad down by three players. "We have worked together towards this tournament with the players, coaching staff and backroom staff for two years, the anticipation is enormous," said Di Salvo ahead of his first U21 EUROs as head coach. "Now it is about getting the team into as good condition as possible step by step and over lots of training sessions, which I am unbelievably looking forward to," explained the 43-year-old.
Two preparatory friendlies during training camp
From 10th until 18th June, Di Salvo's team have a training camp ahead of the U21s EUROs, which take place in Georgia and Romania from 21st June until 8th July. There the title holders begin their defence with a game against Israel (22nd June), before taking on Czech Republic (25th June) and England (28th June). There are two friendlies planned for the training camp, with the team playing a South Tyrol XI in Prad on 12th June before a behind closed doors friendlies against Switzerland U21s on 16th June.
Dárdai with strong record in qualification, Ngankam made his debut in March
Hertha's number 31 has played five times for Germany U21s so far, with three of them coming in qualification for this tournament, where him and his teammates managed to play three games without conceding a single goal. In March 2023, Ngankam made his debut, playing two friendlies against Japan and Romania, scoring one goal.
Pekarík called up by Slovakia
Peter Pekarík remains a stalwart for Slovakia. Hertha's right-back will take part in qualifiying for the 2024 EUROs in Germany. Francesco Calzona's side will be playing Iceland and Liechtenstein in Group J. After two games, Slovakia are in second place behind Portugal and have four points.
Overview of international games involving Hertha players:
| Date | Kick-off | Player | Game (Location) |
| --- | --- | --- | --- |
| Mon, 12.06.2023 | 18:00 CEST | Márton Dárdai & Jessic Ngankam | Friendly South Tyrol XI - Germany U21s (Prad) |
| Fri, 16.06.2023 | | Márton Dárdai & Jessic Ngankam | Friendly Germany U21s - Switzerland U21s (behind closed doors) |
| Sat, 17.06.2023 | 20:45 CEST | Peter Pekarík | European Qualifying Iceland - Slovakia (Reykjavik) |
| Tue, 20.06.2023 | 20:45 CEST | Peter Pekarík | European Qualifying Liechtenstein - Slovakia (Vaduz) |
| Thu, 22.06.2023 | 18:00 CEST | Márton Dárdai & Jessic Ngankam | U21 EUROs Germany U21s - Israel U21s (Kutaisi) |
| Sat, 25.06.2023 | 18:00 CEST | Márton Dárdai & Jessic Ngankam | U21 EUROs Czech Republic U21s - Germany U21s (Batumi) |
| Wed, 28.06.2023 | 18:00 CEST | Márton Dárdai & Jessic Ngankam | U21 EUROs England U21s - Germany U21s (Batumi) |