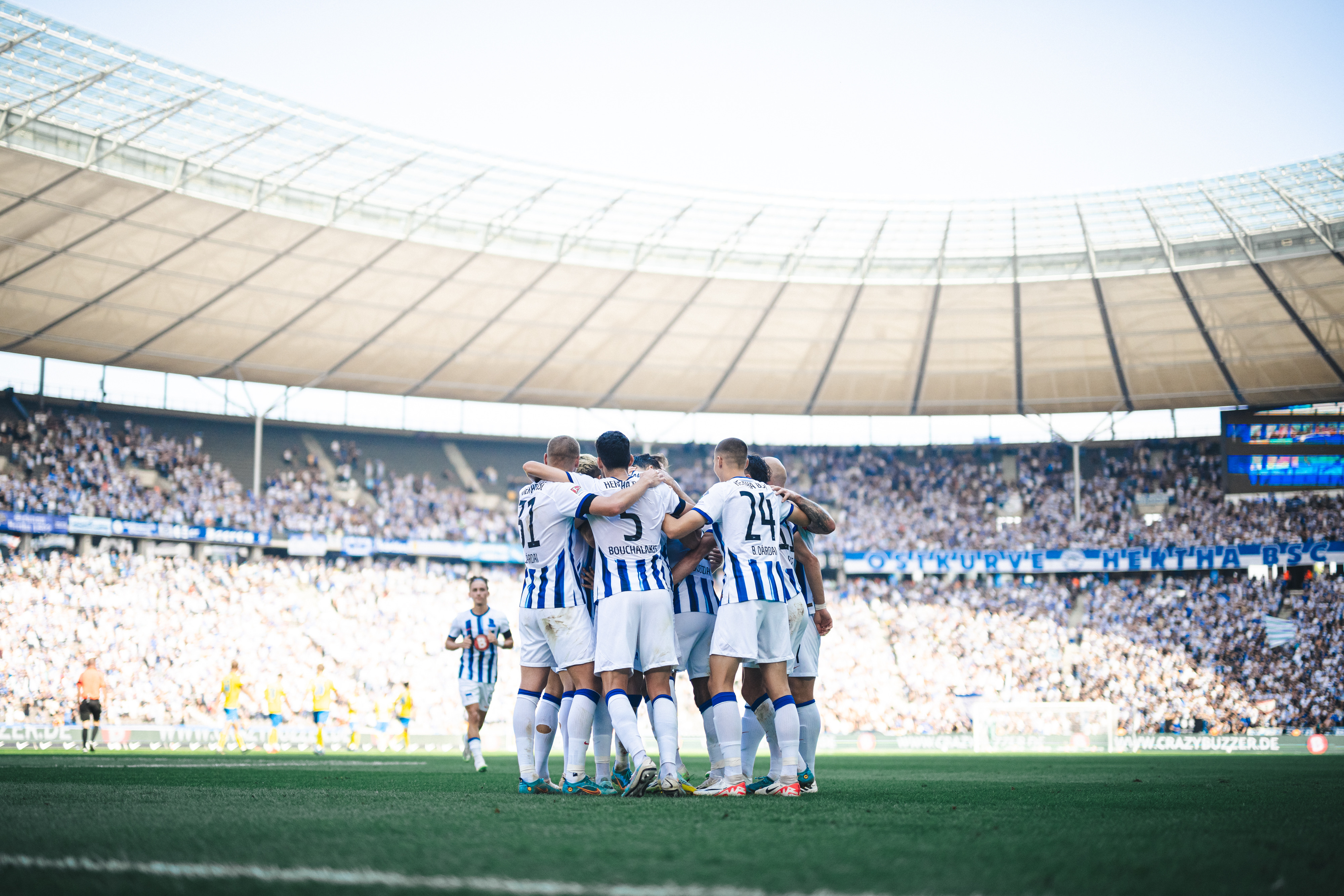 First team
|
September 17, 2023, 03:29 PM
A well-deserved home win over Braunschweig!
Pál Dárdai made two changes from the team that lost in Magdeburg, with Robert Kwasigroch coming in for Tjark Ernst (not in the squad due to illness) and Andreas Bouchalakis starting in midfield.
A dominant start to the game
There was a minute's silence before the game to pay respects to all those affected by the devastating earthquake in Morocco and the flood disaster in Libya. Hertha then started the game strongly and had a lot of joy through both Reese and Winkler on either flank. Marten Winkler probably had the best chance of the first 20 minutes, using his pace to get in behind Braunschweig on the right wing, but he failed to get a proper shot off (12').
Tabaković rewards Hertha's patience
Chances at both ends followed: Winkler's chipped shot from the edge of the box was tipped over the bar by Hoffman (25') and Kwasigroch had his first test between the sticks, parrying Robin Krauße's effort (28'). Haris Tabaković then nodded the ball into the back of the net, only for VAR to disallow the goal for offside. But our boys were not fazed by that: Reese got onto the end of a good long ball from Kempf and crossed it into Tabaković, who followed up well, after his initial header was saved, to give Hertha a well-deserved lead (38'). Bence Dárdai came on to replace his injured brother Palkó shortly after the goal. Just before half time, VAR intervened again to award Hertha a penalty for handball on Sebastian Griesbeck, which Tabaković converted with great composure (45+1').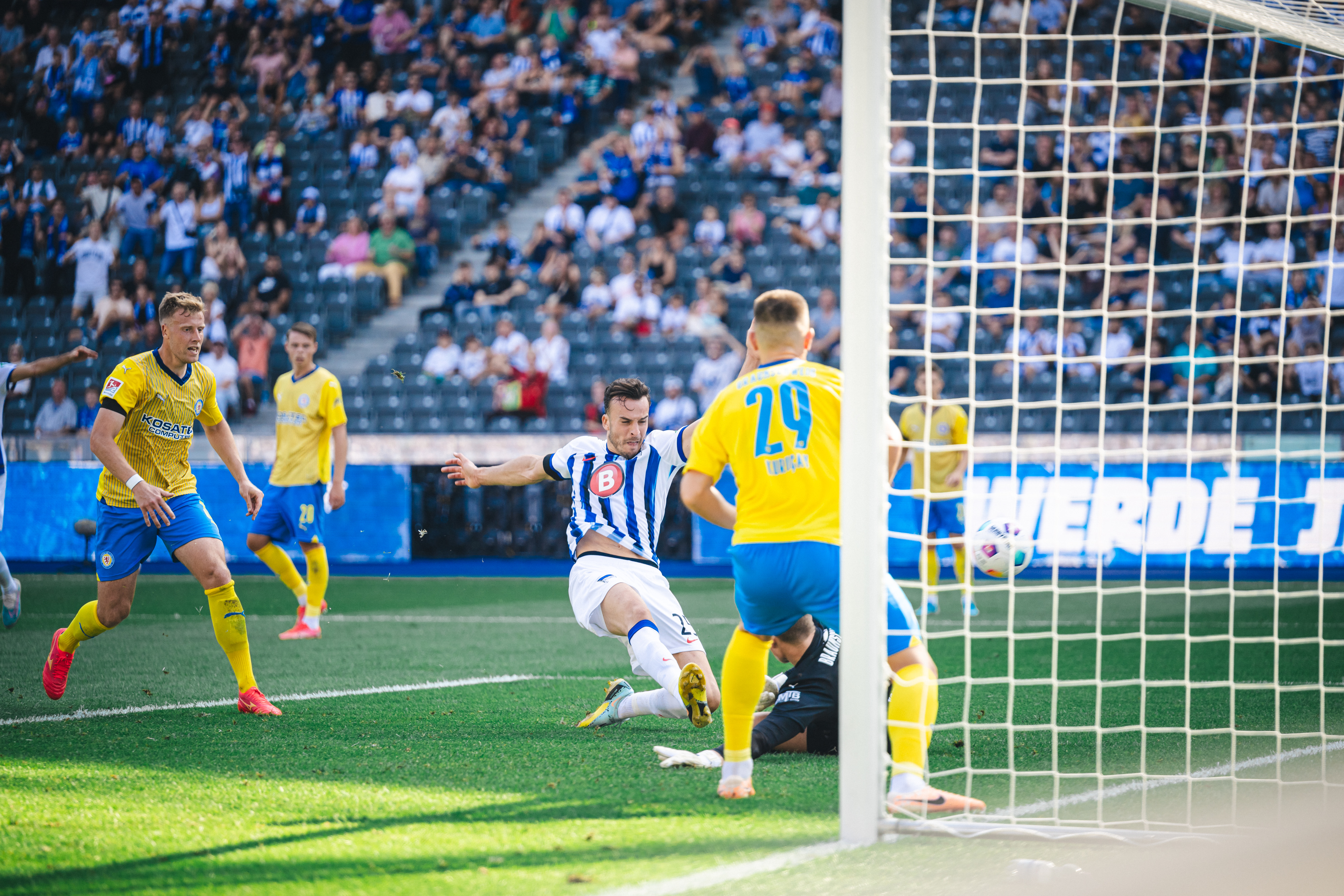 Another disallowed goal and chances at both ends
After the break, the striker netted another disallowed goal, but this time he was clearly offside (50'). The woodwork was hit at both ends in the minutes that followed through Kruger's deflected shot and Winkler's clever effort. Kwasigroch was called upon again in the 55th minute, pushing Anthony Ujah's shot around the post.
Inspired substitutions make an instant impact
Pál then made a few switches, bringing on Linus Gechter, Gustav Christensen and Bilal Hussein, which quickly paid off when Hussein set up Tabaković with a ball from the left flank for his hattrick (71'). The Old Lady then marched on to victory serenely, barely giving the visitors a chance to score a consolation goal. Next up for our boys is an away fixture against KSV Holstein in exactly a week's time (24.09.23) at 13:30 CEST.
Haris Tabaković: "I'm pleased that we carried out our plan on the pitch and got the three points. Of course, I'm also really grateful that it's going so well for me at the moment. The club signed me for my goals and I always said that I was really excited to be playing here. It was an important win for the team and we've got to build on that in the next few weeks."
Hertha BSC: Kwasigroch – Karbownik, Leistner (C), Kempf (70' Gechter), Dudziak – Bouchalakis, M. Dárdai (70' Hussein) – Winkler (70' Christensen) , P. Dárdai (40' B. Dárdai), Reese (84' Niederlechner) – Tabaković
Eintracht Braunschweig: Hoffmann – Griesbeck, Behrendt, Kurucay – Marx (46' Endo) , Helgason (46' Caliskaner) , Krauße (C), Donkor, Gomez (86' Amyn) – Ujah (80' Philippe), Krüger (64' Kaufmann)
Goals: 1-0 Tabaković (38'), 2-0 Tabaković (45'+1), 3-0 Tabaković (71')
Referee: Marco Fritz
Yellow cards: P. Dárdai, Bouchalakis
Attendance: 43,528