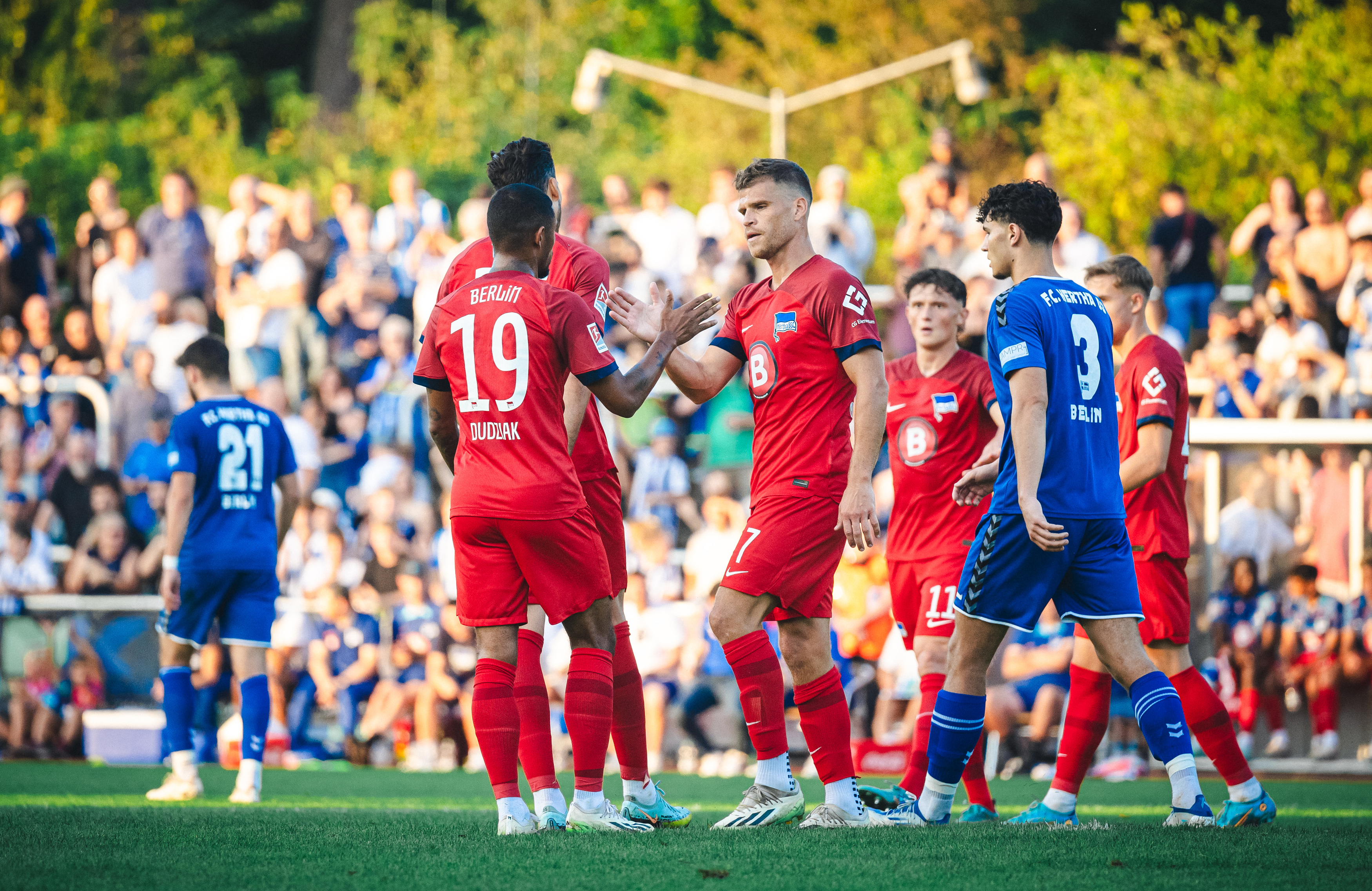 First team
|
September 8, 2023, 08:19 PM
4-1 win in Zehlendorf
Head coach Pál Dárdai made several changes for the friendly against Hertha 03 Zehlendorf. Robert Kwasigroch was in goal with Michał Karbownik, Marc Kempf, Joel Da Silva and Jonjoe Kenny ahead of him. New signing Bilal Hussein and Dudziak made up the double pivot, with Fabian Reese, Marten Winkler and Florian Niederlechner ahead of them, and Haris Tabaković as a lone striker.
Double strike after Zehlendorf equaliser
Hertha took the lead, with Dudziak converting a Niederlechner cross (21'). Shortly afterwards, the Oberliga North's current leaders found an equaliser through George Didoss (25'). Winkler and Tabaković both scored just after the hour mark to put the 'Old Lady' back ahead (30', 33').
Jindaoui scores a fourth
Dárdai made almost a complete set of changes for the second half, with only Kwasigroch remaining in goal. Anderson Lucoqui, Peter Matiebel, Veit Stange, Deyovaisio Zeefuik, Mesut Kesik, Tony Rölke, Nader El-Jindaoui, Eliyas Strasner and Derry Scherhant were all given the opportunity to impress. It was also the first appearance after a long injury lay-off for Kélian Nsona. Again Hertha maintained control of the game, and Jindaoui added to the scoreline with ten minutes remaining to give Hertha a 4-1 win.
Hertha BSC (First half): Kwasigroch – Kenny, Da Silva, Kempf (C), Karbownik – Dudziak, Hussein – Winkler, Niederlechner, Reese – Tabaković
Hertha BSC (Second half): Kwasigroch – Zeefuik (C), Stange, Matiebel, Lucoqoi - Kesik, Rölke – Strasner, Jindaoui, Nsona - Scherhant
Goals: 0-1 Dudziak (19'), 1-1 Didoss (25'), 1-2 Winkler (30'), 1-3 Tabaković (33'), 1-4 Jindaoui (80')
Referee: Kai Kaltwaßer
Attendance: 3,211