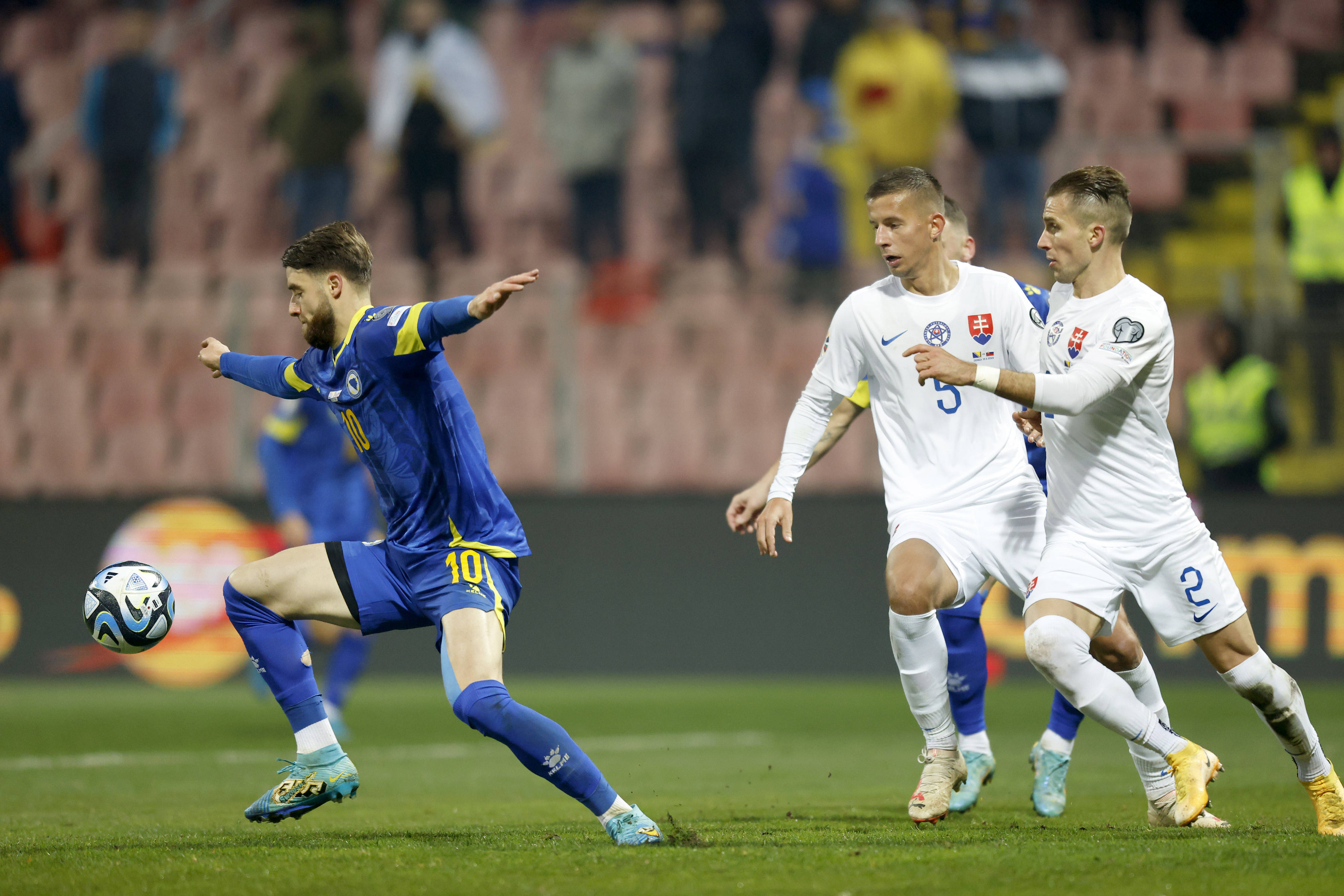 First team
|
November 20, 2023, 01:47 PM
Pekarík comes out on top as Hertha teammates clash
Slovakia and Peter Pekarík were able to defeat Bosnia-Herzegovina, who count Hertha's Smail Prevljak and Haris Tabaković among their ranks, in the penultimate qualifier in Group J on Sunday evening. Here's how the Blue-Whites who have been on international duty have been getting on:

Slovakia make the extra man count

Slovakia, who had already booked their spot at next year's Euros, defeated Bosnia-Herzegovina 2-1. Peter Pekarík, who was making his 124th international cap, played the full 90 minutes, while Smail Prevljak also started for Bosnia. Haris Tabaković was an unused substitute and watched on as his team broke the deadlock in the second half. The visitors went on to equalise before taking the lead themselves in the 71st minute to finish their qualifying campaign with a win.

Greece take on France in their final qualifying game on Monday (20:45 CET), but Andreas Bouchalakis and Co. are guaranteed to finish in third and will not be at next year's Euros as a result.

Dramatic injury-time win for two Hertha players

Tim Goller was the starting goalkeeper for the Germany U19 side as they took on Norway, while Pascal Klemens played the second half. Germany came out on top, with both of their goals in the 2-1 victory coming in stoppage time. They've now played two friendlies against the Scandinavians to prepare for next year's U19 European Championship. More of Hertha's young talent will be in action over the coming days, as Tjark Ernst amd Linus Gechter take on England U19s on Monday (18:00 CET), before Martón Dárdai and the Germany U21 side take on Poland on Tuesday (18:00 CET).
Thurs., 16.11.23
15:00 CET
Tim Goller & Pascal Klemens
Friendly U19 Germany vs. Norway (Spain)
3-1

18:00 CET
Gustav Christensen
Friendly U20 Denmark vs. Sweden (Silkeborg)
1-1
20:00 CET
Anderson Lucoqui
WCQ Angola vs. Cape Verde
0-0
20:45 CET
Peter Pekarík
EURO qualifying Slovakia vs. Iceland (Bratislava)
4-2
20:45 CET
Smail Prevljak & Haris Tabaković
EURO qualifying Luxembourg vs. Bosnia and Herzegovina (Luxembourg)
4-1
Fri., 17.11.23
14:00 CET

Myziane Maolida

WCQ Comoros vs. Central African Republic (Moroni, Comoros)
4-2
18:00 CET
Andreas Bouchalakis
Friendly Greece vs. New Zealand (Athens)
2-0

Márton Dárdai

U21 EURO qualifying Germany vs. Estonia (Paderborn)
4-1
Tjark Ernst & Linus Gechter
Friendly U20s Germany vs. Romania (Sibiu)
1-0
Sun., 19.11.23
15:00 CET
Gustav Christensen
Friendly Denmark vs. Sweden (Silkeborg)
1-2

Tim Goller & Pascal Klemens
Friendly U19s Germany vs. Norway (Spain)
2-1

20:45 CET

Peter Pekarík, Smail Prevljak & Haris Tabaković
EURO qualifying Bosnia and Herzogevnia vs. Slovakia (Zenica)
1-2
Mon., 20.11.23
18:00 CET
Tjark Ernst & Linus Gechter
Friendly U20s Germany vs. England (Regensburg)

20:45 CET

Andreas Bouchalakis
EURO qualifying Greece vs. France (Athens)
Tues., 21.11.23
17:00 CET
Anderson Lucoqui
WCQ Angola vs. DR Congo

Myziane Maolida

WCQ Comoros vs. Ghana (Moroni, Comoros)
18:00 CET
Márton Dárdai
U21 EURO qualifying Germany vs. Poland (Essen)