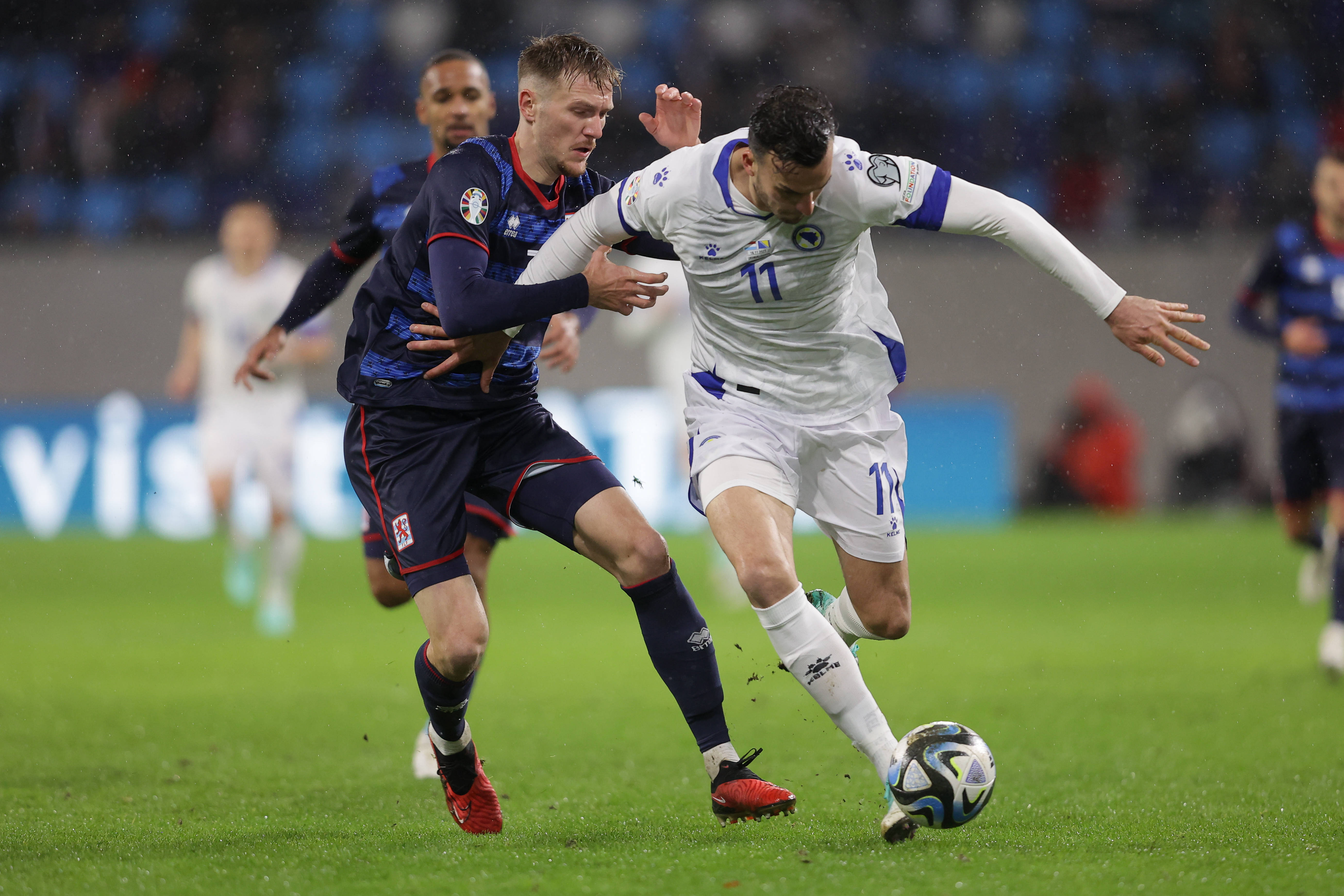 First team
|
November 17, 2023, 12:18 PM
Tabaković makes his debut, Klemens wins with Germany
A number of Hertha BSC players have been in action over the ongoing November international break, with some battling it out for either EURO 2024 qualification or a spot at the 2026 World Cup. Here's an update of the boys' fixtures so far:
Slovakia secure EURO qualification
Haris Tabaković made his debut for Bosnia and Herzegovina in their EURO qualifier against Luxembourg on Thursday, which ended in a 4-1 defeat for the visitors. Smail Prevljak replaced his Hertha teammate in the 80th minute, but was unable to impact the scoreline, leaving Bosnia sat in fifth place of Group J. Peter Pekarík and Slovakia are currently in a more comfortable position after beating Iceland 4-2 to secure their spot at EURO 2024. Our number two didn't feature.
Christensen gets a full 90 for Denmark
Anderson Lucoqui's Angola side drew 0-0 against Cape Verde, and are set to face DR Congo on Tuesday. Gustav Christensen featured for the full 90 minutes in Denmark U20s' 1-1 friendly against Sweden. Pascal Klemens also made an appearance in the second half of Germany U19s' 3-1 friendly win over Norway, with the return fixture taking place on Sunday.
| Date | Time | Player | Game (Location) | Result |
| --- | --- | --- | --- | --- |
| Thurs., 16.11.23 | 15:00 CET | Tim Goller & Pascal Klemens | Friendly U19 Germany vs. Norway (Spain) | 3-1 |
| | 18:00 CET | Gustav Christensen | Friendly U20 Denmark vs. Sweden (Silkeborg) | 1-1 |
| | 20:00 CET | Anderson Lucoqui | WCQ Angola vs. Cape Verde | 0-0 |
| | 20:45 CET | Peter Pekarík | EURO qualifying Slovakia vs. Iceland (Bratislava) | 4-2 |
| | 20:45 CET | Smail Prevljak & Haris Tabaković | EURO qualifying Luxembourg vs. Bosnia and Herzegovina (Luxembourg) | 4-1 |
| Fri., 17.11.23 | 14:00 CET | Myziane Maolida | WCQ Comoros vs. Central African Republic (Moroni, Comoros) | |
| | 18:00 CET | Andreas Bouchalakis | Friendly Greece vs. New Zealand (Athens) | |
| | | Márton Dárdai | U21 EURO qualifying Germany vs. Estonia (Paderborn) | |
| | | Tjark Ernst & Linus Gechter | Friendly U20s Germany vs. Romania (Sibiu) | |
| Sun., 19.11.23 | 15:00 CET | Gustav Christensen | Friendly Denmark vs. Sweden (Silkeborg) | |
| | | Tim Goller & Pascal Klemens | Friendly U19s Germany vs. Norway (Spain) | |
| | 20:45 CET | Peter Pekarík, Smail Prevljak & Haris Tabaković | EURO qualifying Bosnia and Herzogevnia vs. Slovakia (Zenica) | |
| Mon., 20.11.23 | 18:00 CET | Tjark Ernst & Linus Gechter | Friendly U20s Germany vs. England (Regensburg) | |
| | 20:45 CET | Andreas Bouchalakis | EURO qualifying Greece vs. France (Athens) | |
| Tues., 21.11.23 | 17:00 CET | Anderson Lucoqui | WCQ Angola vs. DR Congo | |
| | | Myziane Maolida | WCQ Comoros vs. Ghana (Moroni, Comoros) | |
| | 18:00 CET | Márton Dárdai | U21 EURO qualifying Germany vs. Poland (Essen) | |