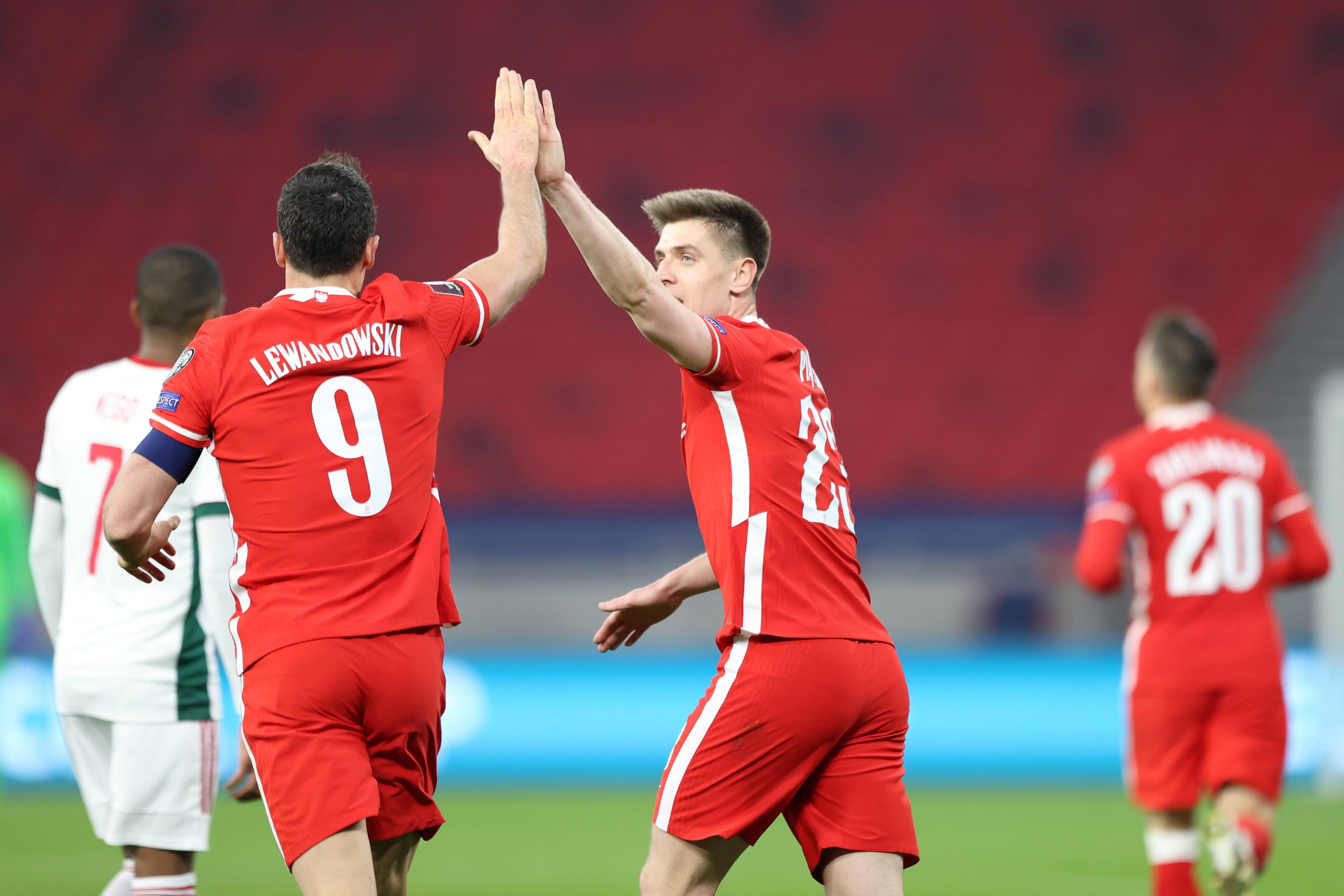 First team
|
March 26, 2021, 09:06 AM
Piątek scores from the bench, big win for Darida
While some players are busy training at Schenckendorffplatz, other blue-and-whites are representing their national teams around the world for the fourth time of the current season. Ten of our pros are on duty, with nine having already been in action - herthabsc.com provides a compact overview.
Victorires for Darida and Jarstein
Vladimír Darida got off to an excellent start in World Cup qualifying with the Czech Republic on Wednesday evening (24/03/21) in Estonia. In the 6-2 win, our midfield engine provided assists for two goals and was involved in two more. "For us, the good start to qualification was very important. We scored some nice goals and I got a good feeling from the game," said our number 6 after the convincing win. Meanwhile, Peter Pekarík and Slovakia were held to a goalless draw in Cyprus. Like Darida, our right-back played the full 90 minutes. Elsewhere, Rune Jarstein kept a clean sheet in Gibraltar, as his Norway side enjoyed a 3-0 win.
Piątek on the scoresheet
Dedryck Boyata's Belgium (3-1 against Wales) and Nemanja Radonjić's Serbia (3-2 against Ireland) also picked up wins, but neither Hertha player featured. Javairô Dirosun was an unnamed substitute in Netherlands U21s' opener at the European Championship in Hungary and Slovenia, with teammate Deyovaisio Zeefuik featuring. Our number 42 completed the full 90 minutes as 'Jong Oranje' were held to a 1-1 draw against Romania. On Thursday (25/03/21), Krzysztof Piątek and Mattéo Guendouzi were in action, Piątek scoring for Poland against Hungary, the Hertha number 9 scoring just a minute after coming on as a substitute at 2-0 down in the 59th minute, the game going on to finish 3-3. Guendouzi captained France U21s against Denmark but was substituted by coach Sylvain Ripoll after 62 minutes and saw his side fall to a 1-0 defeat in the opening game of the U21 Euros.
On Friday morning (26/03/21) German time, Santiago Ascacíbar and Argentina U23 will take on Japan U24 in a friendly. On Saturday (27/03/21). Rune Jarstein and Norway will face Turkey from 18:00 CET, while Nemanja Radonjić and Serbia will take on European champions Portugal in the evening in Belgrade at 20:45 CET. Fifteen minutes later, Netherlands will meet Germany in the U21 European Championship. Deyo' Zeefuik and Javairô Dilrosun could line up against Arne Maier, who is currently on loan at Arminia Bielefeld.
Date
Kick off
Player
Fixture (Location)
Result (half-time)
24.03.21
20:45 CET
Vladimír Darida
WCQ Estonia - Czech Republic (Tallinn)
2-6 (1-4)
24.03.21
20:45 CET
Peter Pekarík
WCQ Cyprus - Slovakia (Strovolos)
0-0
24.03.21
20:45 CET
Dedryck Boyata
WCQ Belgium - Wales (Heverlee)
3-1 (2-1)
24.03.21
20:45 CET
Nemanja Radonjić
WCQ Serbia - Ireland (Belgrad)
3-2 (1-1)
24.03.21
20:45 CET
Rune Jarstein
WCQ Gibraltar - Norway (Gibraltar)
0-3 (0-2)
24.03.21
21:00 CET
Javairô Dilrosun, Deyovaisio Zeefuik
U21Euro Romania - Netherlands (Budapest)
1-1 (1-1)
25.03.21
20:45 CET
Krzysztof Piątek
WCQ Hungary - Poland (Budapest)
3-3 (1-0)
25.03.21
21:00 CET
Mattéo Guendouzi
U21Euro France - Denmark (Györ)
0-1 (0-0)
26.03.21
11:00 CET
Santiago Ascacíbar
FR Japan U24 - Argentina U23 (Chōfu)
27.03.21
18:00 CET
Rune Jarstein
WCQ Norway - Turkey (Málaga)
27.03.21
20:45 CET
Nemanja Radonjić
WCQ Serbien - Portugal (Belgrad)
27.03.21
21:00 CET
Javairô Dilrosun, Deyovaisio Zeefuik
U21Euro Germany - Netherlands (Székesfehérvár)
28.03.21
20:45 CEST
Krzysztof Piątek
WCQ Poland - Andorra (Warschau)
28.03.21
21:00 CEST
Mattéo Guendouzi
U21Euro Russia - France (Szombathely)
29.03.21
11:45 CEST
Santiago Ascacíbar
FSP Japan U24 - Argentina U23 (Kitakyushu)
30.03.21
18:00 CEST
Javairô Dilrosun, Deyovaisio Zeefuik
U21Euro Hungary - Netherlands (Székesfehérvár)
30.03.21
18:00 CEST
Nemanja Radonjić

WCQ Azerbaijan - Serbia (Baku)

30.03.21
20:45 CEST
Dedryck Boyata
WCQ Belgium - Belarus (Leuven)
30.03.21
20:45 CEST
Rune Jarstein
WCQ Montenegro - Norway (Podgorica)
30.03.21
20:45 CEST
Vladimír Darida
WCQ Wales - Czech Republic (Cardiff)
31.03.21
18:00 CEST
Mattéo Guendouzi
U21Euro Iceland - France (Györ)
31.03.21
20:45 CEST
Krzysztof Piątek
WCQ England - Poland (London)