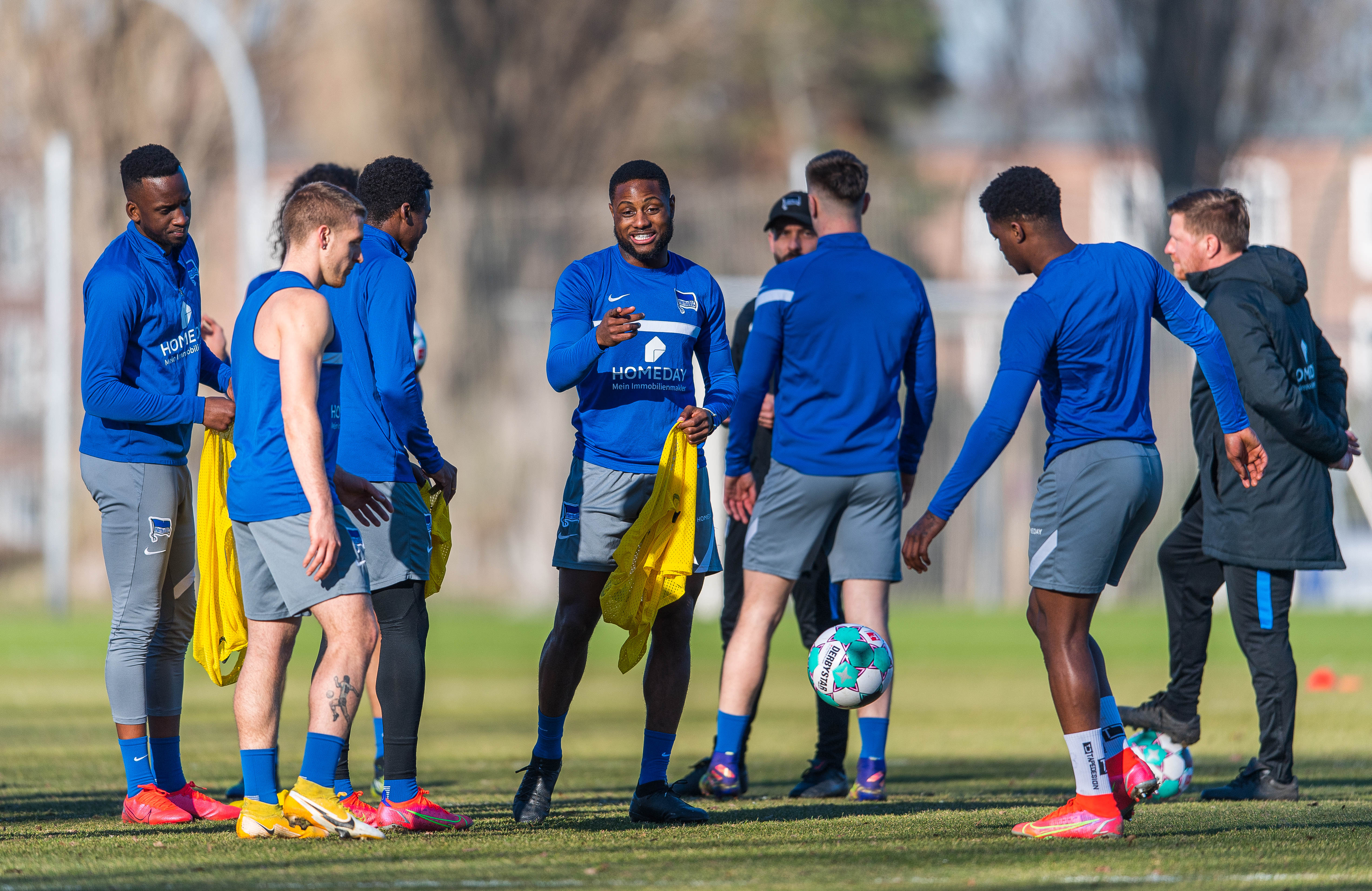 First team
|
March 2, 2021, 06:05 PM
Pulling together
Just before training began at Schenckendorffplatz on Tuesday (March 2), Pál Dárdai summoned his troops and marched them towards the gate, to where Hertha fans had hung a banner in plain sight on Sunday. The message, written in blue on a white background, read: "Let's take on this relegation battle together with raw passion!" As a sign of gratitude for the fans' extraordinary support during difficult times for the club, the Hertha players lined up in front of the banner, demonstrating a symbol of togetherness. "We are aware of the situation we are in, which is why we're really happy to see the message from our fans, who are always there for us. It's great for the Hertha family," said Dárdai, giving reassurance that his players would do absolutely everything to ensure Bundesliga football for the club next season. "Everyone at the club is working hard. We cannot allow ourselves to tire on the pitch, we need to keep at it, keep working, working, working. Then we will earn our luck and the balls will start finding their way into the back of the opposition nets again. It's no coincidence."
The lads were able to practice what their head coach preached during the 90-minute session at the Olympiapark. "The lads are working hard. We did some fitness training to start things off. Over the next few days we'll be doing a lot of work on fifty-fifty challenges, heading and especially on our reactions and reflexes," said the boss, before going on to praise his players: "Our backline did really well in the last two games, also in the way they communicated. Niklas Stark was like Daddy Bear. He was giving off really good energy. And when I see Lucas Tousart fighting like a lion it makes me really happy."
Fighting spirit, togetherness, and pulling even closer together – those will be the deciding factors during Saturday's game against FC Augsburg (6 March, 15:30 CET). "We've done a lot in recent weeks, a sort of preseason in the middle of a campaign. We've done a lot of tactical work, that took a lot of brain energy. But now everyone knows what I expect from a back four or a back five, and how I expect the midfield and forwards to press," said the coach, reiterating that "the focus is on us ahead of our game against Augsburg, not on the opposition. We want to put our ideas into practice and win the game."
The focus is on us ahead of our game against Augsburg, not on the opposition. We want to put our ideas into practice and win the game.
Aside from Dedryk Boyata (foot injury) and Mathew Leckie (thigh), the boys in blue will have to take on Augsburg without Sami Khedira (calf), Nemanja Radonjić (adductor) and Matheus Cunha (thigh), who all picked up injuries against Wolfsburg. "I'm not a fortune teller, or a doctor for that matter. When it comes to muscle injuries we have to take it one week at a time," said Dárdai, whose plans for the 'Fuggerstädter' (FC Augsburg) will need adjusting without the aforementioned trio. Leckie has been working individually with Hendrik Vieth and will ideally be returning to team training next week. He and Khedria did not let their absence stop them turning up to watch their teammates train from the sidelines on Tuesday. "The injured players stay close to the team, which is great for the team spirit," said Dárdai, praising his players. While the Australian forward and the 2014 World Cup winner watched, a teammate of theirs made a return to action: Javairô Dilrosun, who has been increasing his workload step by step in recent weeks, completed the full session.
The head coach did not reveal whether the Dutch winger, who scored in the last home game against Augsburg, or the fully recovered Jordan Torunarigha and Marvin Plattenhardt would be part of Saturday's matchday squad. "I had a good feeling after today's session, but the important thing is that they can fully take part in the next two or three days," said the 44-year-old, who will be hoping his good feeling turns into a very good one at around 17:20 CET on Saturday.