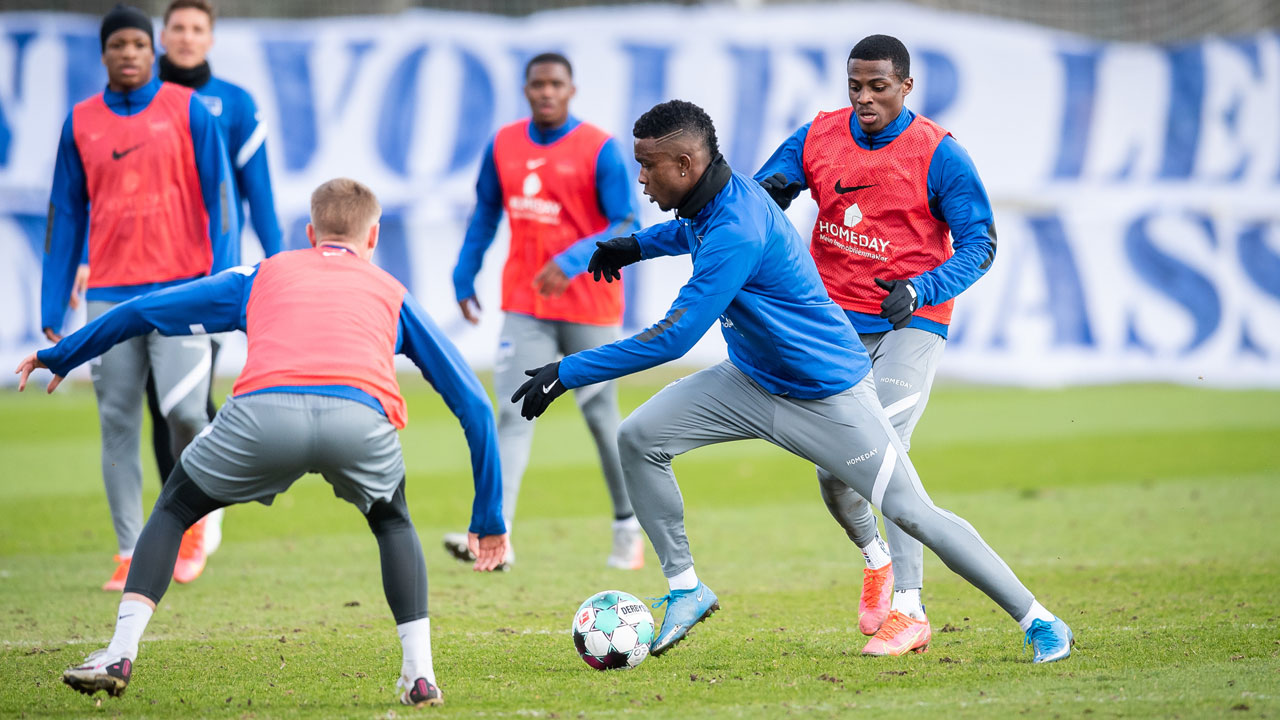 First team
|
March 16, 2021, 06:00 PM
"We need to be greedy and committed in front of goal"
The birthday boy Pál Dárdai arrived at Schenckendorffplatz for training on Tuesday and together with Admir Hamzagic, gathered the team around in a circle. "The boys all wished me a happy birthday of course, but I stopped them before they could sing to me!" said Dárdai with a grin. Instead, the head coach made his aims clear for the players and staff as they face the challenges ahead. "The whole club needs to give it everything they've got. We have to stay on track. Our destiny is in our own hands. If we can stick together and withstand the pressure, we can triumph in our battle against relegation."
We need to be braver and play more freely.
Working on the attack
The beginning of the week saw Hertha intensively analysing the BVB game, with findings incorporated into the work on the training pitch. "We were very clear that the boys were great in the first half, but it all fell apart in the second," summed up the Hungarian. "We were not aggressive enough in terms of offence after the break. In terms of defence, discipline and focus we were there and we showed good desire. Offensively though, we can't be afraid to make mistakes. We need to be braver and play more freely."
This is what Dárdai had the boys working on in the session that lasted almost 80 minutes. "We tried to adapt the training towards practising our finishing, but so that everyone is involved," continued Hertha's coach. Dárdai praised his team's attitude alongside fitness coach Henrik Kuchno. "We cannot be static in attack. We need to be greedy and committed in front of goal."
Cunha returns
This is something that is a strength of Matheus Cunha. The Brazilian has been sidelined with injury following the Wolfsburg game, but has now returned to team training. His coach will be counting on him for the upcoming game against Bayer 04 Leverkusen on Sunday (15:30 CET). "Matheus is an important player in attack for us. We're introducing him again over the course of this week and he should be an option against Leverkusen." Dárdai was clear that scoring is the absolute focus against the 'Werkself'. "It's a home game and we have to be winning our home games." The coach will be without Sami Khedira for the clash, however. "I can't say for sure when he'll be back, but he won't make it for this weekend." Meanwhile, Santiago Ascacíbar and Mattéo Guendouzi were back involved in the session with their teammates, with Eduard Löwen and Dedryck Boyata training individually.
Dárdai was lucky enough to receive a special gift from the club to mark his birthday – a French red wine from his birth year of 1976. "I intend to have a glass of wine to mark my birthday tonight with my family, but it'll be a different one. I'll save this red wine for a special occasion." For example, when the 'Old Lady' beat the drop and secure Bundesliga football for next season.