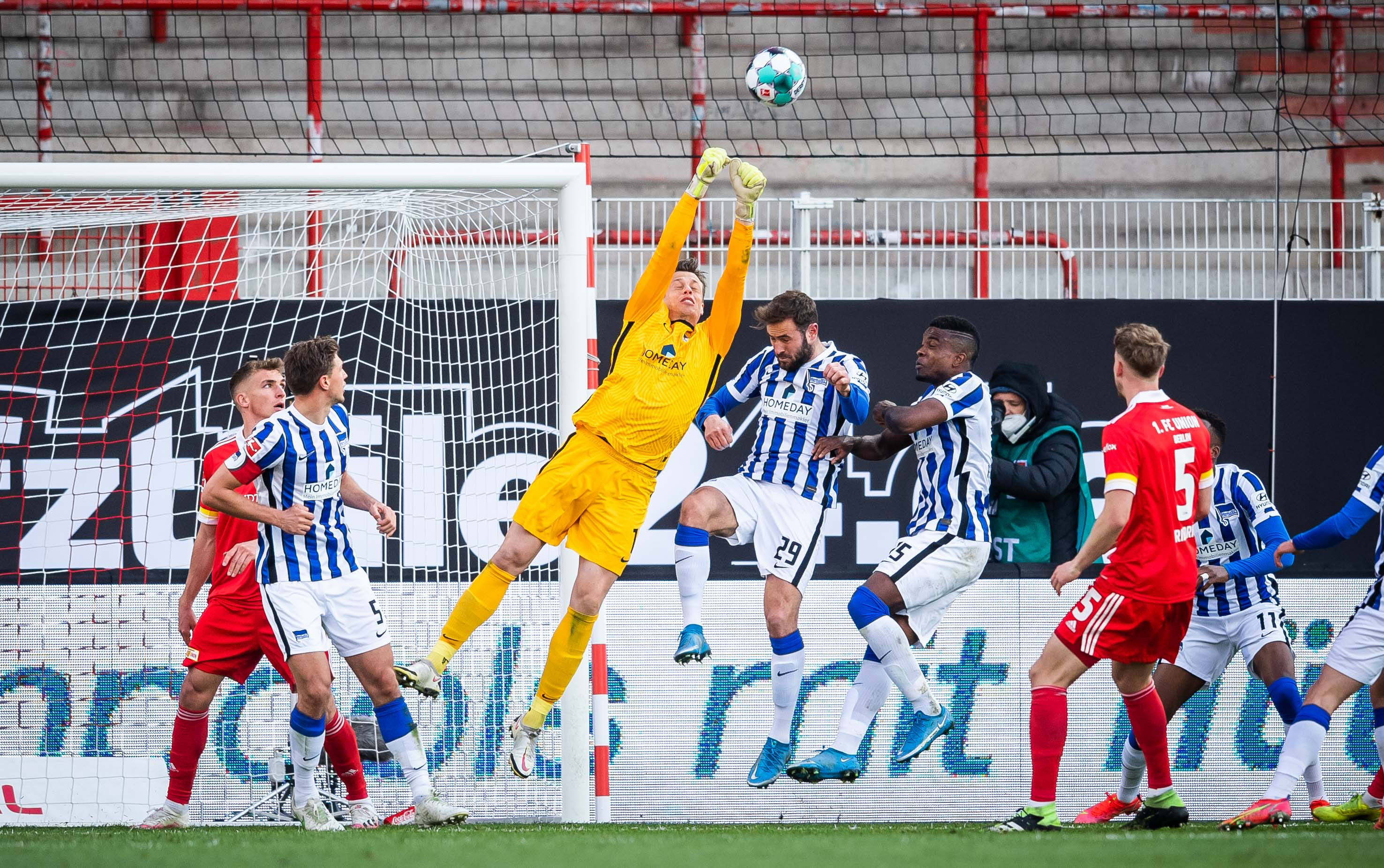 First team
|
April 4, 2021, 08:42 PM
"We fought back!"
An early setback meant Hertha had to fight their way back inSunday's Berlin Derby. The first 45 minutes was everything that spectators had hoped for from a clash between Hertha and Union, although the second half was much quieter, with most of the action taking place in the midfield. herthabsc.com sums up the match reaction.
Dodi Lukébakio: There was a lot of itnensity from both sides, lots of battles and challenges. It was an emotional game throughout. We found an answer well after the setback and picked up some momentum. With the penalty I just focused on scoring for the team, everything else got zoned out. Obviousyl a derby is a special game but every game is important for us so I hope that we can get a good result against Mönchengladbach!
Alexander Schwolow: It was nice for me to play again, but of course it's tough for Rune to have to miss out. I settled in well and was able to help the team out a couple of times. Now, we need to all be on board with the relegation fight, which is the only thing that matters. It's irrelevant in this case who plays. We reacted well after conceding, and fought back to earn a penalty. However, we were too quiet in the second half, and lacked courage. Given Union's current position in the table, they can afford to relax a bit, which is what they did. We also lost possession several times, which is why we were often chasing after them in the second half and looked tired at the end. Overall, we can be happy with the point.
Niklas Stark: It definitely wasn't a good game from us, but we held them off well. We would have liked to take three points for our fans, which we unfortunately didn't manage. We tried to give it our all and fought for this point, which we're happy to have given the way the table currently looks. We maybe didn't overthink things as much against Leverkusen as we did against Union. We will have to analyse this and try to avoid it in the next games. If we're able to play the way we did in our last home game, and if everyone is prepared to go the extra mile in order to achieve something special, then we'll be a good team.
Deyovaisio Zeefuik: It's good that we fought back after falling behind. It wasn't our game on the whole. We wanted to give it everything but not everything came off like we'd hoped. Obviously we wanted the derby win but at the very least we had to not lose the game, we had to take a point. We managed that and in this case it's OK.