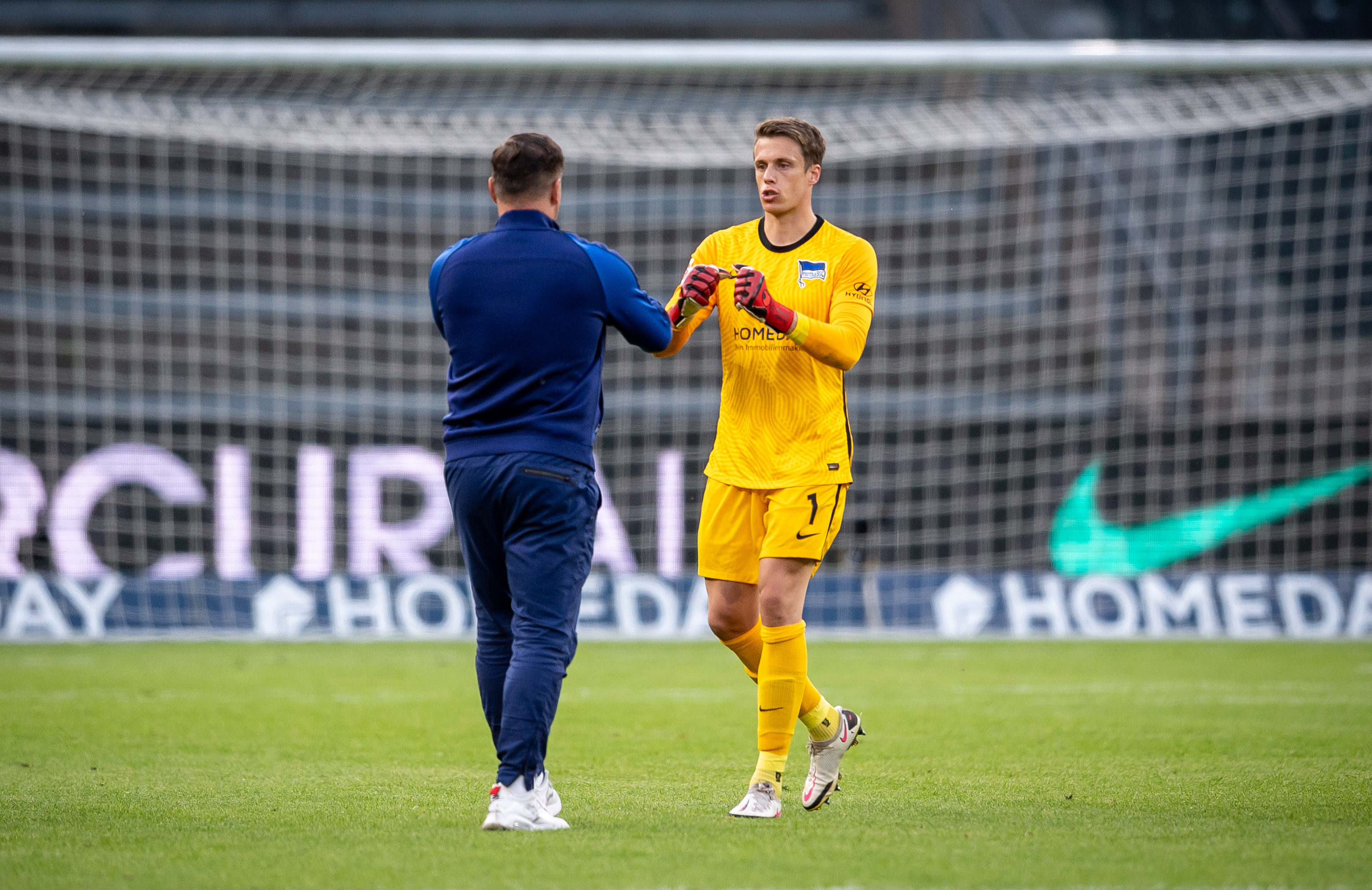 First team
|
May 9, 2021, 08:42 PM
"Now more than ever!"
Lots of fight, not a lot of football. The battle with Arminia Bielefeld, a direct clash with relegation rivals, showed what will be needed to be successful in the fight for survival. It's all about desire, passion and the right mindset. Hertha showed plenty of that en route to a sixth consecutive game unbeaten. "It's not the three points we'd hoped for, but we'll take it. We're on an unbeaten run right now, which we wanted to continue and we managed to do that," said Niklas Stark at full-time. herthabsc.com sums up the reaction to the game.
Alexander Schwolow: In the first half it was an erratic game all round. We didn't have the energy that we usually have and that is our hallmark going forward. In the second half we were solid and stood firm against Arminia even if it wasn't our day. We will take the point, although it's with gritted teeth because three would have been great for our position. A point isn't bad, though. The draw was our minimum aim. We've done the best we can after quarantine, we've pushed one another and built on our points tally. The whole club has this feeling of "now more than ever." If we keep on this path then I am convinced that we will stay in the league.
Niklas Stark: We gifted them a bit too much space during the first half and didn't do a good job. There were too many gaps. We made some changes in the second half and were able to close some of those gaps, which allowed us to find our way into the game. If we had managed to do that from the start then it would have been a different game. We have to accept that, but a point at home is a good thing. It's not the three that we'd hoped for, but we'll take it. We're on an unbeaten run right now, which we wanted to continue and we managed to do that. Now, we need to recover quickly and analyse the game in order to be ready to tackle the next challenge. We definitely want to beat Schalke.
Lukas Klünter: We already knew that things would be intense after the two-week quarantine. It was tough in the first half. The distance between defence and attack was too large and so it was hard to break through regularly. We wanted to use a back five with a high line and build from there. We managed that well at times but we didn't have that link with the attack. In the second half we switched things up and did a bit better. Now it's important to recover because we have another huge game on Wednesday. Our team has arrived; we know what it's all about now and you've seen that in recent matches. We will take the point - it could still be vital come the end.
Arne Maier (Arminia Bielefeld): We had several good chances in the first half, but Hertha also had some of their own. In the end, a point is enough for both teams. For me, it was nice to be able to play here again but I was giving it my all for Bielefeld. My loan spell is over in the summer and then I'll be back playing for Hertha BSC. Right now, I'm focused on our next game. We've kept a clean sheet today, but we also need to score.