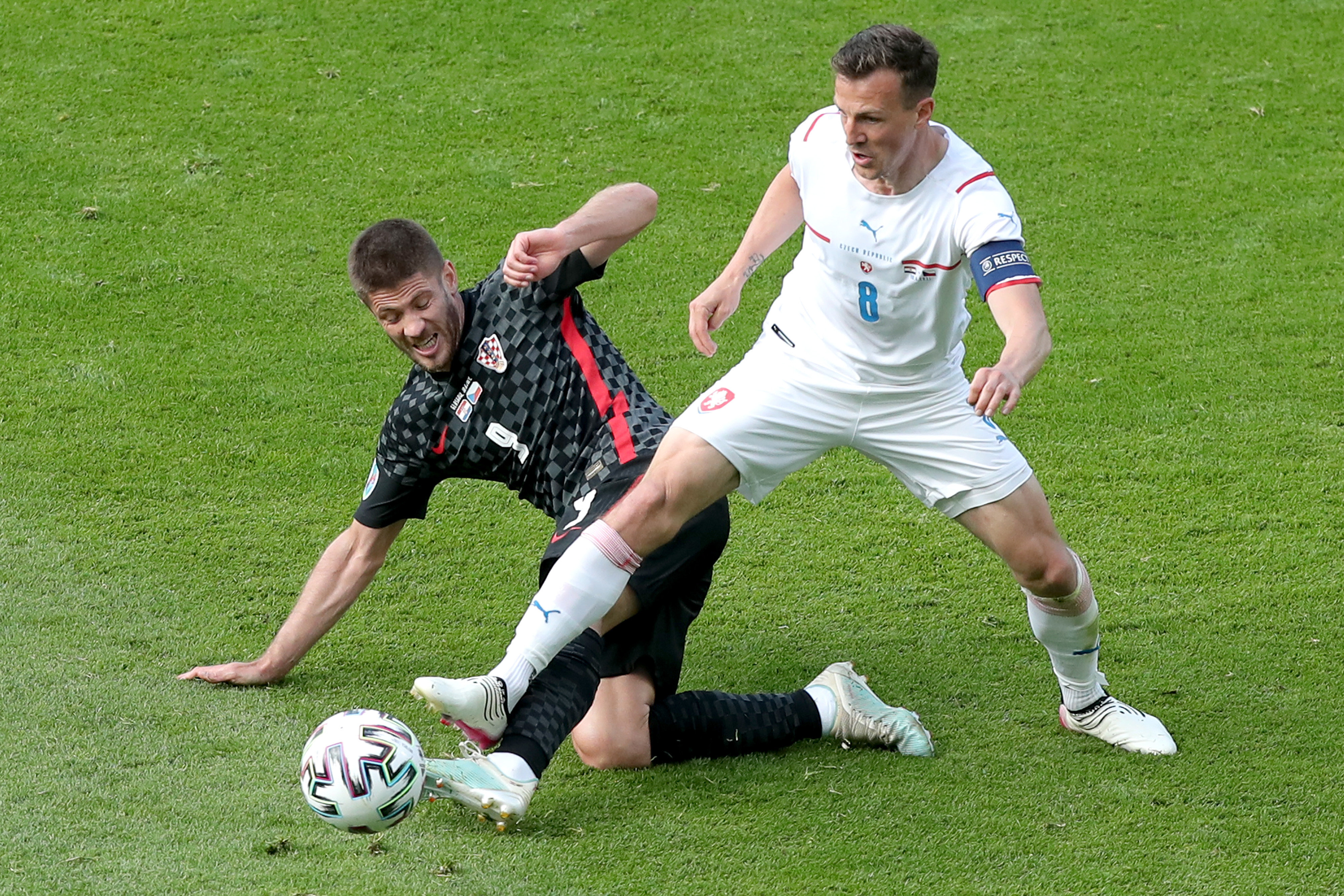 First team
|
June 19, 2021, 10:16 AM
Win, draw, defeat
Our Herthaner at EURO 2020 were in action on the second matchday of the group stages. After Dedryck Boyata's Belgium won again on Thursday, Peter Pekarík and Slovakia and Vladimír Darida and Czech Republic wanted to record their second wins of the tournament too.
Slovakia faced Sweden on Friday afternoon in Group E looking to back up their win against Poland. Pekarík started for Slovakia, but the first half was one of few chances. After the break, Sweden put more pressure on, particularly through Alexander Isak. Peka came off in the 64th minute and his nation went on to concede a penalty after 77 minutes, which Leipzig's Emil Forsberg buried. Slovakia failed to find a late equaliser and therefore lost out in St. Petersburg. "Obviously we're dissapointed about the narrow defeat. We wanted to win again after starting the group so well," said Pekarík after the game. "Nevertheless, we can still go through. We are positive about Wednesday. We want to challenge Spain and give our absolute all – then we will see what's possible!" Slovakia will now travel to Seville to face Spain on Wednesday at 18:00 CEST.
Czech Republic on course for the knockouts
In the subsequent match, Darida led Czech Republic onto the pitch as captain against Croatia. Despite Croatia dominating the first half, Darida's side had the lead at the break thanks to a Patrik Schick penalty (37'). Croatia, who lost their first game against England, came out of the blocks quickly and a stunning Perisic strike earned them a point (47'). "It was a hard-fought draw and we're happy with the result. Four points from two games is a great return," summed up Darida, who played 87 minutes in Glasgow. "We've now got a top team in England, but we are desperate to qualify for the last 16." That match against the English will take place on Tuesday at 21:00 CEST in London.
Belgium and Denmark faced off in Group B on Thursday. Belgium, with Hertha captain Dedryck Boyata not in the starting XI this time, went into the game as favourites having beaten Russia 3-0. Denmark, meanwhile, lost 1-0 to Finland in a game which was overshadowed by Christian Eriksen collapsing. The home side went ahead after just two minutes in Copenhagen through Leipzig's Yussuf Poulsen. The game stopped in the 10th minute for a minute's applause for Eriksen. Denmark continued to control the first half, with Belgium struggling to get a grip on the game. However, things changed after the break. Substitute Kevin De Bruyne set up Thorgan Hazard for the equaliser in the 55th minute, before scoring the winner himself with 20 minutes left to play.
Overview of all Hertha players' fixtures:
| | | | | |
| --- | --- | --- | --- | --- |
| Date | Time | Player | Game (Venue) | Result |
| Fri, 12/06/21 | 21:00 CEST | Dedryck Boyata | EURO 2020: Belgium - Russia (St. Petersburg) | 3-0 |
| Mon, 14/06/21 | 15:00 CEST | Vladimír Darida | EURO 2020: Scotland -Czech Republic (Glasgow) | 0-2 |
| Mon, 14/06/21 | 18:00 CEST | Peter Pekarík | EURO 2020: Poland - Slovakia (St. Petersburg) | 1-2 |
| Tue, 15/06/21 | 02:00 CEST | Omar Alderete | CA: Paraguay - Bolivia (Goiania) | 3-1 |
| Thu, 17/06/21 | 18:00 CEST | Dedryck Boyata | EURO 2020: Denmark - Belgium (Copenhagen) | 1-2 |
| Fri, 18/06/21 | 15:00 CEST | Peter Pekarík | EURO 2020: Sweden - Slovakia (St. Petersburg) | 1-0 |
| Fri, 18/06/21 | 18:00 CEST | Vladimír Darida | EURO 2020: Croatia -Czech Republic (Glasgow) | 1-1 |
| Mon, 21/06/21 | 21:00 CEST | Dedryck Boyata | EURO 2020: Finland - Belgium (St. Petersburg) | |
| Tue, 22/06/21 | 02:00 CEST | Omar Alderete | CA: Argentina - Paraguay (Brasilia) | |
| Tue, 22/06/21 | 21:00 CEST | Vladimír Darida | EURO 2020: Czech Republic - England (London) | |
| Wed, 23/06/21 | 18:00 CEST | Peter Pekarík | EURO 2020: Slovakia - Spain (Seville) | |
| Fri, 25/06/21 | 02:00 CEST | Omar Alderete | CA: Chile - Paraguay (Brasilia) | |
| Tue, 29/06/21 | 02:00 CEST | Omar Alderete | CA: Uruguay - Paraguay (Rio de Janeiro) | |