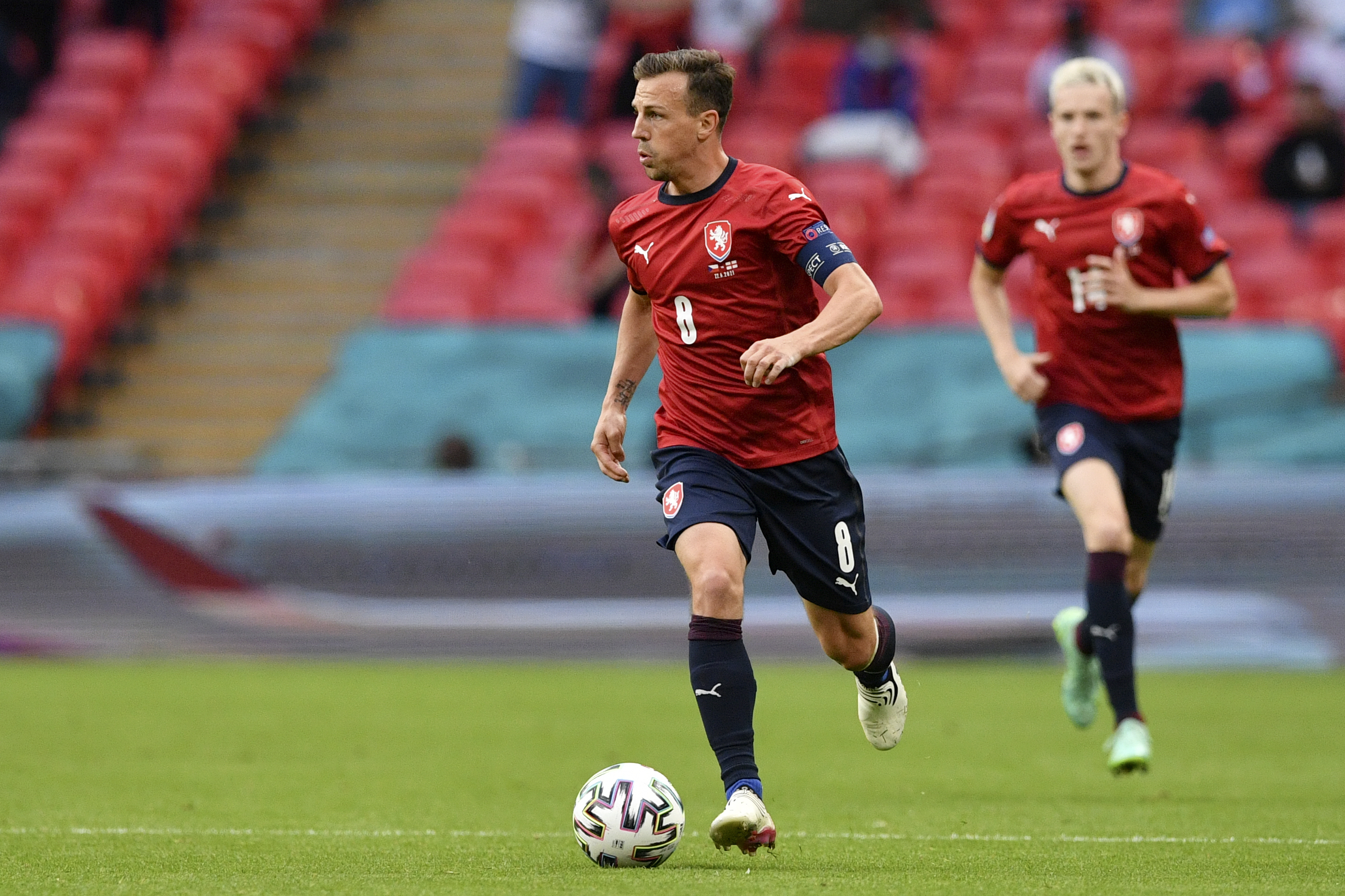 First team
|
June 23, 2021, 12:45 PM
Two Herthaner in the round of 16
Following the final matches in Groups B and C on Monday (21/06/21), Vladimír Darida and the Czech Republic have also advanced to the round of 16 of the EUROs, joining Hertha teammate Dedryck Boyata and Belgium in the next round. Despite still having one game left to play, the Czechs were assured of qualification due to results from the other groups.
On Tuesday evening (22/06/21), Darida faced second-placed England in their final Group D game in London. The Three Lions started strong, and were denied by the post in early on (2'). Ten minutes later, Raheem Sterling headed his side into the lead (12'). After a back and forth first half, neither side managed to add to the scoreline after the change of ends. Darida was taken off in the 64th minute, as the Czech Republic finished third in Group D (four points). Croatia's 3-1 win over Scotland ensured them of a second place finish.
Peter Pekarík hoping to advance
Peter Pekarík also has the round of 16 in his sights, as Slovakia close out the group stage against Spain on Wednesday (23/06/21, 18:00 CEST). After starting with a win against Poland (2-1) followed by a narrow defeat to Sweden (1-0), Slovakia need only a point to be assured of a spot in the next round. A win would move them to the top of the table, if current group leaders Sweden fail to pick up points against Poland.
Boyata through to next round
Dedryck Boyata and Belgium finished top of Group B and advanced to the round of 16 on Monday (21/06/21). They ended the group stage against Finland. Despite a strong first half, Belgium only opened the scoring in the final 15 minutes after an own goal from Finnish keeper Lukas Hradecky. Romelu Lukaku had put the ball in the back of the net minutes earlier, but it was disallowed for offside. Lukaku would then make it 2-0 in the 81st minute. Boyata played the full 90 minutes, keeping his second clean sheet of the tournament. "We're very happy to have gone unbeaten in the group stage and to have topped our group. Now, we will need to recover and are already looking forward to the round of 16," said Boyata. Belgium will face one of the best third-placed sides from Groups A/D/E/F on 27th June.
Paraguay narrowly lose to Argentina
After opening with a win against Bolivia (3-1), Paraguay fell to a 1-0 defeat against two-time world champions Argentina on Tuesday (22/06/21). Omar Alderete was an unused substitute. On Friday, Paraguay will face Chile in their third group stage game (25/06/21).
Overview of all Hertha players' fixtures:
| | | | | |
| --- | --- | --- | --- | --- |
| Date | Time | Player | Fixture (location) | Result |
| Fri., 12.06.21 | 21:00 CEST | Dedryck Boyata | EUROs: Belgium - Russia (St. Petersburg) | 3-0 |
| Mon., 14.06.21 | 15:00 CEST | Vladimír Darida | EUROs: Scotland - Czech Republic (Glasgow) | 0-2 |
| Mon., 14.06.21 | 18:00 CEST | Peter Pekarík | EUROs: Poland - Slovakia (St. Petersburg) | 1-2 |
| Tue., 15.06.21 | 02:00 CEST | Omar Alderete | EUROs: Paraguay - Bolivia (Goiania) | 3-1 |
| Thu., 17.06.21 | 18:00 CEST | Dedryck Boyata | EUROs: Denmark - Belgium (Copenhagen) | 1-2 |
| Fri., 18.06.21 | 15:00 CEST | Peter Pekarík | EUROs: Sweden - Slovakia(St. Petersburg) | 1-0 |
| Fri., 18.06.21 | 18:00 CEST | Vladimír Darida | EUROs: Croatia - Czech Republic (Glasgow) | 1-1 |
| Mon., 21.06.21 | 21:00 CEST | Dedryck Boyata | EUROs Finland - Belgium (St. Petersburg) | 0-2 |
| Tue., 22.06.21 | 02:00 CEST | Omar Alderete | CA: Argentina - Paraguay (Brasilia) | 1-0 |
| Tue., 22.06.21 | 21:00 CEST | Vladimír Darida | EUROs: Czech Republic - England (London) | 0-1 |
| Wed., 23.06.21 | 18:00 CEST | Peter Pekarík | EUROs: Slovakia - Spain (Seville) | |
| Fri., 25.06.21 | 02:00 CEST | Omar Alderete | CA: Chile - Paraguay (Brasilia) | |
| Tue., 29.06.21 | 02:00 CEST | Omar Alderete | CA: Uruguay - Paraguay (Rio de Janeiro) | |