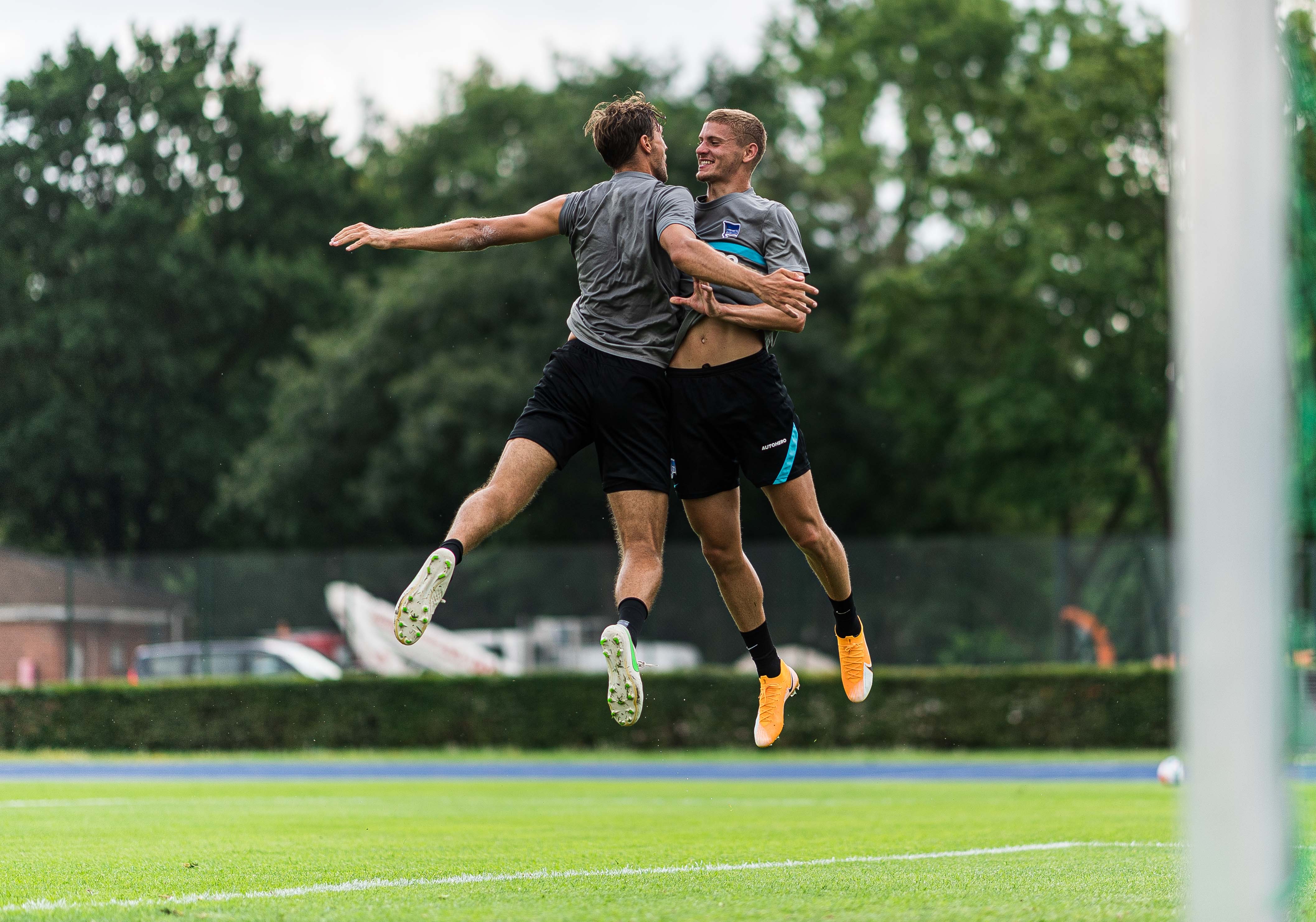 First team
|
July 12, 2021, 05:35 PM
Two Monday shifts to start the week
Pál Dárdai led his players out for another two training sessions on Monday (12th July) to kickstart Hertha's third week of preseason training. The afternoon session especially might have resulted in some mixed feelings – carefully worded. Under Henrik Kuchno's supervision, Prince Boateng and Co. completed a number of demanding strength and fitness drills. With some four weeks to go before the start of the season, Pál Dárdai is satisfied with the team's progress and overall performance at training so far. "The lads have my respect, they are working really hard and are keeping up with our training programme. There is a good feeling developing. After all, we always start the new season well together."

On Monday morning, Hertha's training plan consisted of various ball drills, with the players working particularly hard on their short passing, long passes and quick transition play in the final third. "It's only natural for legs to start getting tired at this stage of preseason, but we have regular exercises using the ball and are enjoying it," said Maximilian Mittelstädt. That the players were enjoying themselves was not only noticeable in the exchanges taking place during the water breaks, but also in the way players motivated each other during the drills. The enjoyment by no means came at the expense of a competitive element, as Admir Hamzagic and 'Zecke' Neuendorf kept score of which of the two groups scored more goals from the passing or crossing drills. Niklas Stark and Márton Dárdai were particularly impressive in front of goal, but the attacking department also had their shooting boots on. "It's always good for strikers to score goals, even at training," said the boss. In the end, a penalty shootout had to settle the score – Dodi Lukébakio stepped up to convert the deciding kick.
Jordan Torunarigha and Arne Maier were not on the pitch with their teammates today – both have joined up with Germany's Olympic football team and will travel to Japan on Tuesday. "We're wishing them all the best!" said Dárdai.