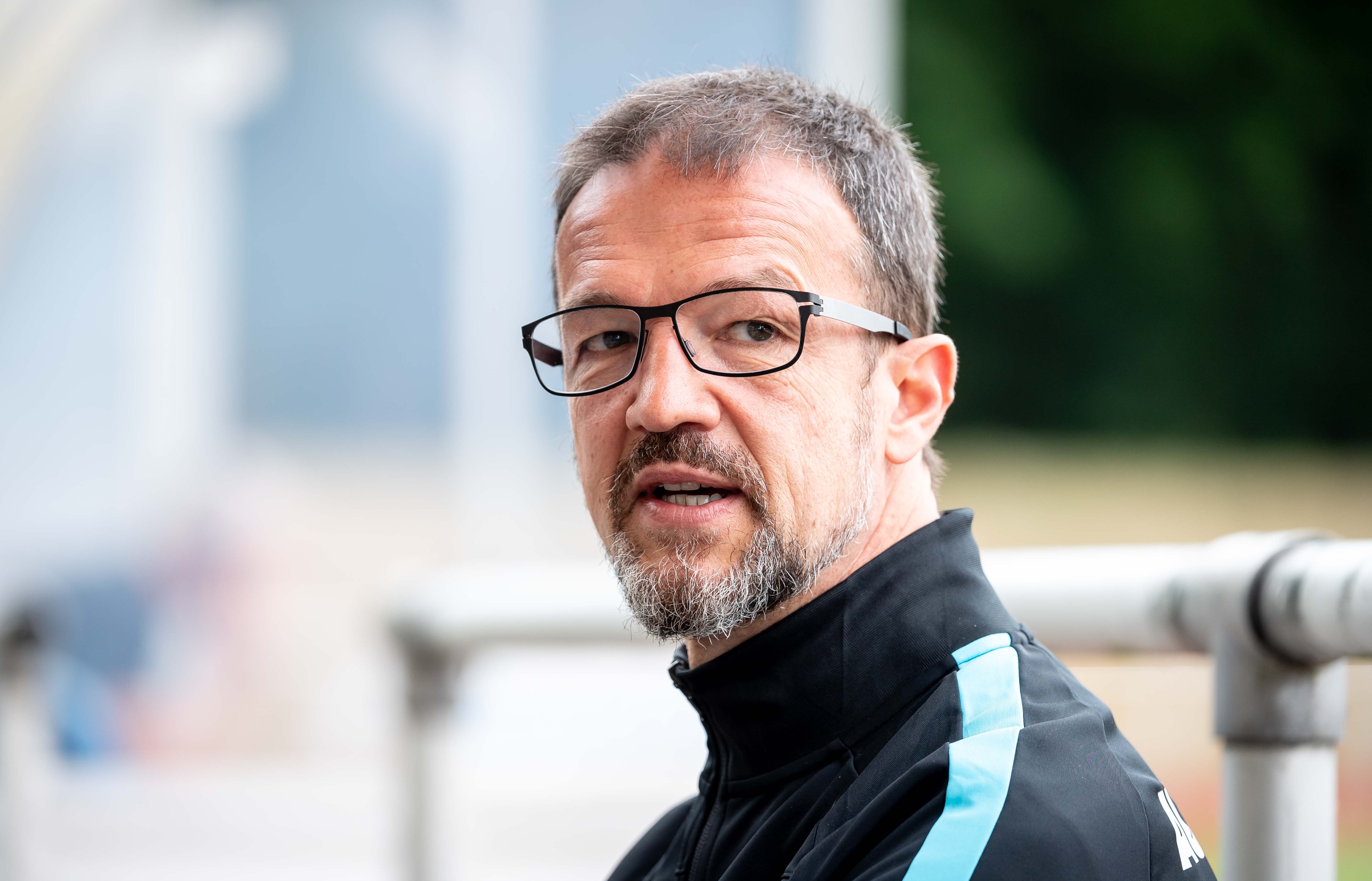 First team
|
July 5, 2021, 04:35 PM
"Like a chameleon"
While Fredi Bobic spoke to the press, our team were busy putting in the hard yards on the grounds of the Neuruppin Volksparkstadion behind him. Bobic took the time to speak to members of the media from the stadium stands about the beautiful game. He began by speaking about the team. "I see the team spirit that's there and the positive mindset that exists," he said, before touching on the topic of squad planning: "When you're putting together a team, you have to be like a chameleon and adjust to every possible situation." Herthabsc.de have put together all the important quotes from today's press conference. Hear from our managing director for sport on...
…his agenda in Neuruppin and over the coming weeks: I'm trying to fill the days by spending time with the players and coaches, leading discussions and getting to know both the lads and the staff. I can see the team spirit and the positive mindset that Pál Dárdai, 'Zecke' Neuendorf and Admir Hamzagić have been able to create. The team behind the team is also growing and we are working on having a clear distribution of responsibilities. Things like that are crucial in the beginning. It's also about observing the players that are here and speaking to them and their agents.
...his leadership style: I don't see myself as someone who manages from the outside, but rather from the inside out. Being a leader means getting everyone at the club on board and to lead by example. It's normal for me to talk a lot and to include everyone. Each individual person needs to feel as though I will protect them from any outside chatter and that I give them the tools they need to focus on their jobs.
I don't see myself as someone who manages from the outside, but rather from the inside out. Being a leader means getting everyone at the club on board and to lead by example.
...the transfers that have been completed so far and the status of the squad: Due to Mattéo Guendouzi's loan spell ending and Sami Khedira announcing his retirement, it was clear that we needed to fill those positions. We managed to bring in Suat and Prince relatively quickly and fill those holes. Currently, every position is filled which is why we are now focusing on the players that we have with us. There will likely be a few more changes to the squad, but the transfer market is a bit slow at the moment - it's as though it's hibernating (grins). That will change, but we don't need to act in haste. When you're putting together a team, you have to be like a chameleon and adjust to every possible situation. It doesn't make sense to have a huge squad. I'm expecting August to be quite exciting. There's a right time for every transfer.
…planning with the transfer market: One good thing is that I've had a four-week head start and we've been able to get plenty done in that time already. I'm surrounded by a very professional team. We always have ideas and know exactly what we can and should do. There's a lot of discussions ongoing, but it's also clear that it will take some time until things are completed. The business side is also always a factor. I'm working with the budget that's there and am not one to spend money unnecessarily. We will be dealing with the impacts of the pandemic for a while still. Looking at how even some of the big clubs are mainly signing players on a free, shows you exactly what's happened.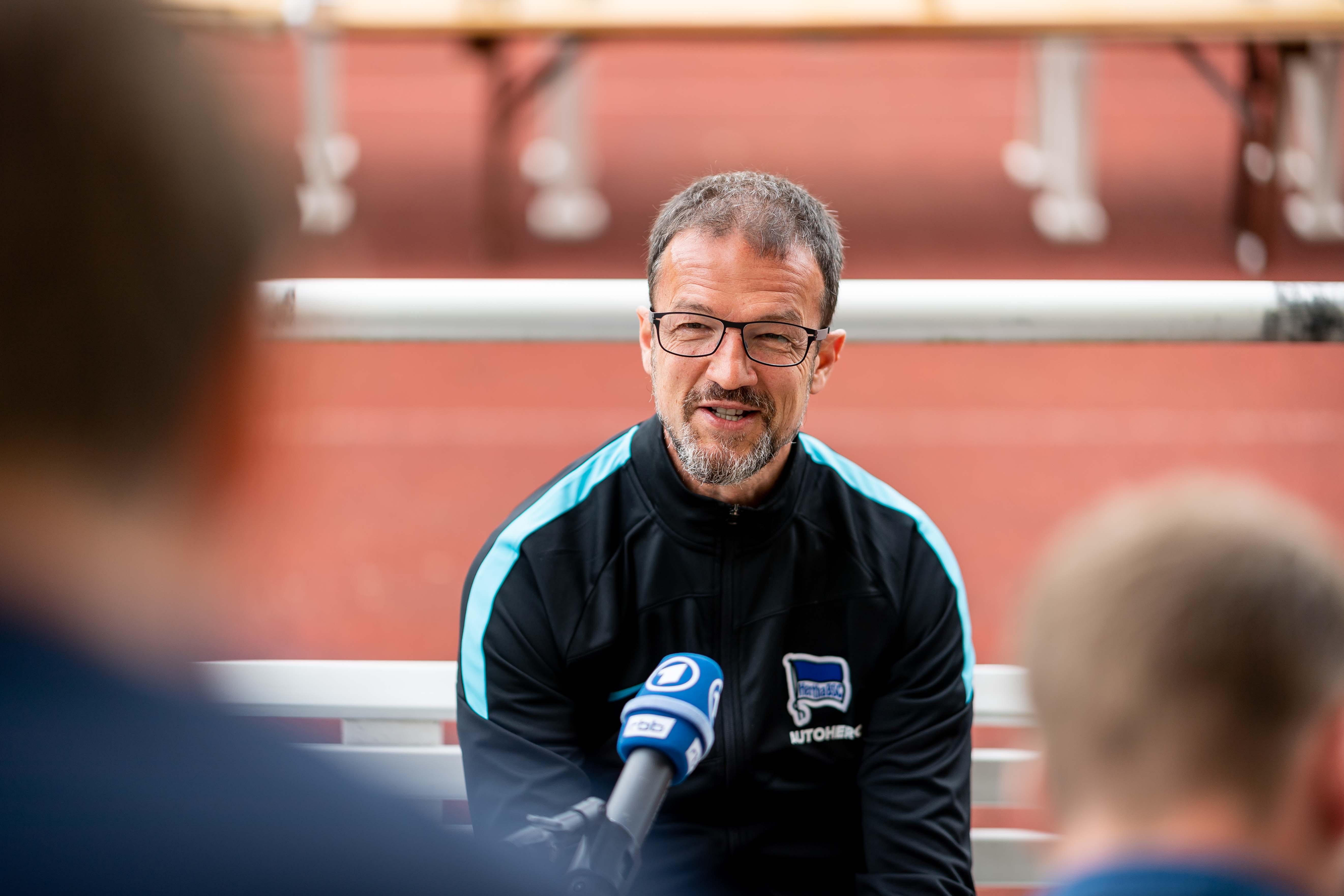 ...his impressions of our current squad: The team we have is decent, and there's a lot of quality there. After having had five different coaches in the last two years, the players aren't completely to blame. They didn't perform well, but there's several reasons for that. When you have players and coaches constantly leaving, then it's hard to develop as a team. I have first-hand experience with what that's like: when one coach tells the team to go left, and the next one comes in and tells the players to go right, then it's not easy. Consistency and continuity are the keys to success for any club, especially in terms of your head coach. Success isn't defined only by winning trophies, but also by making the most of your potential.
…the decision to keep Pál Dárdai as head coach: Pál did a great job in the midst of a difficult situation. He came in with a positive approach and made some courageous decisions, like the changes he made for the game in Freiburg, and is a living example of what defines this club. He also brings stability, which is the basis for the development that we need. I'm confident that he's the right man for the job.
…the importance of a strong team spirit: At the end of last season, the team showed real spirit and mental strength. Being a strong unit can sometimes help you against teams that are of a higher quality. That's also been the case at this year's EUROs. Teams like Italy have some exceptional players, but they don't have 11 superstars on the pitch. Instead, it's the team that's the star which is what makes them so strong. You have to play as one in the Bundesliga, and I'm confident that Pál and his team will manage to do this.
…our four Herthaner heading to the Olympics: We are pleased that the lads will be representing their countries at the Olympics. It's a great platform for the players and a dream come true for them. They will also be able to pick up self-confidence during the games, which will be of benefit to us as a club. We know that each of our players are in the best possible hands with their teams, especially at the DFB.
...the value of data and data analysis: I enjoy looking at it and have been able to learn a lot over the last years. You can draw a lot from this kind of information if you're looking at the right kinds of data and use it appropriately. For example, the current generation of players receive a lot of visual data that they have to draw conclusions from and use. We want to and will expand our own capabilities in this area, as it isn't only important for the first team but for our academy and the club as a whole as well.