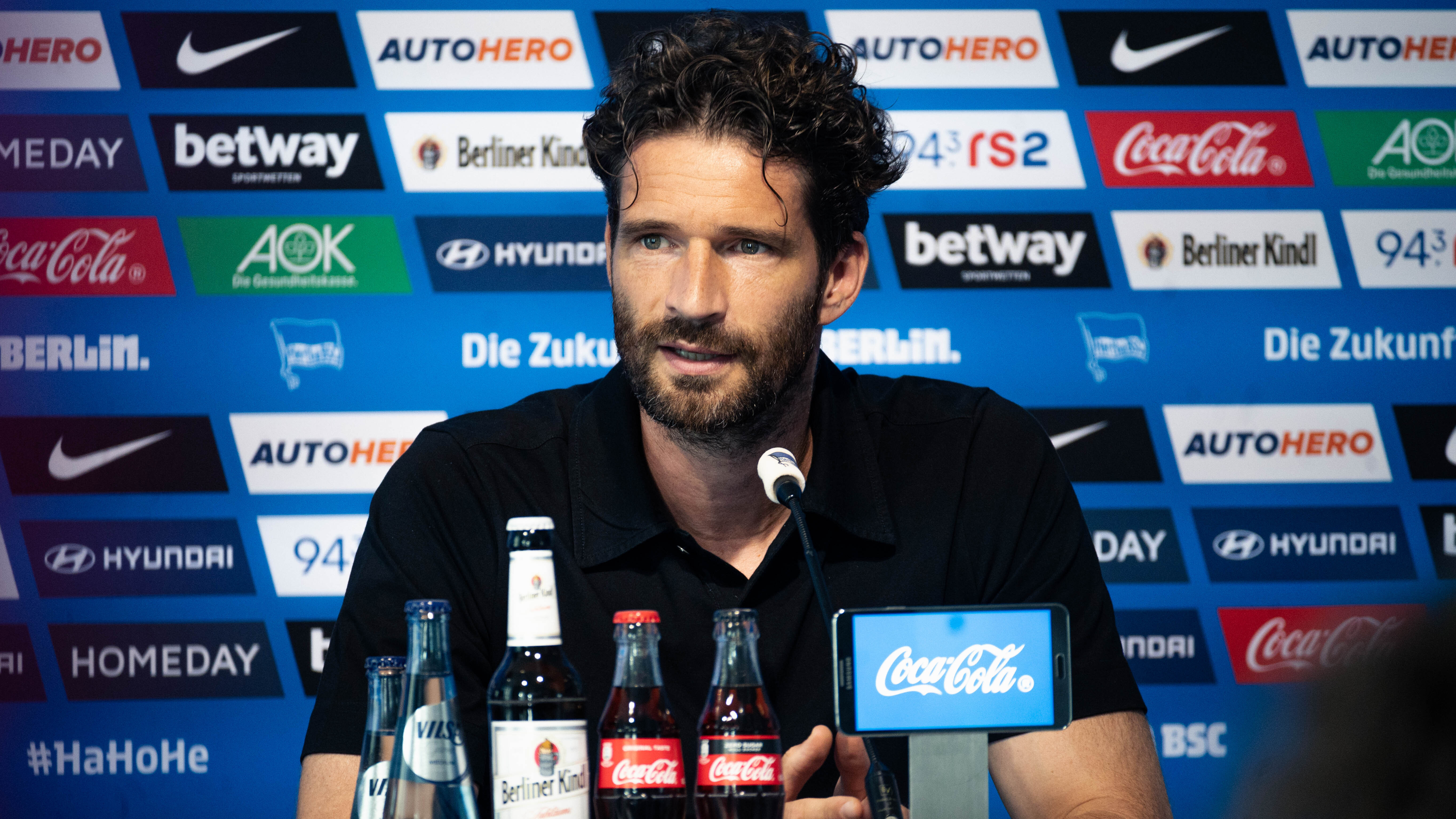 First team
|
September 10, 2021, 01:44 PM
"... Our first and most important task!"
When the referee blows his whistle for kick-off on Sunday in Bochum, it will be the first time the teams have faced each other in 3,251 days. From a Berlin point of view though, the most important number is three – the points that will come with a win, a first away win of the season and the goal of all Herthaners. "We are looking at this season game by game. We want to win every game we can and this is the ambition we have travelling to Bochum," said head coach Pál Dárdai. In their pre-match press conference, Dárdai and sporting director Arne Friedrich spoke about...
... the integration of new signings:
Pál Dárdai: It's not easy for new players to integrate quite so quickly. I can see them in the starting XI in the future, but it's a process and they have to get used to each other. We want to see a team spirit on the pitch and be united. Everyone has to speak up and help their colleagues.
Arne Friedrich: We have done a lot of work in the transfer market this summer, and worked hard to bring in players who actually want to wear the Hertha stripes – that's very important. On that front, I'm optimistic that we can get some points. Everything becomes easier when you're winning games, and that is our first and most important task on Sunday.
... last week's training:
Pál Dárdai: I am happy with what I saw in our varying approaches to games. It was a very intense week, as we tested and practised lots of different things. We're going into the game with a positive mindset – in training we were effective with our final passes and the defensive work was good. Everything looks to be in a good place.
... our opponents:
Pál Dárdai: Bochum are very confident and have started well, but we're prepared for them and we want to play our own game there. It won't be easy, but if we work well together we can do it.
Arne Friedrich: I like that Bochum are back in the top division. They're a traditional club and I remember seeing them often as a youngster. A game in the Ruhrpott area, not far from where I grew up, is always a special experience.
... tactical possibilities:
Pál Dárdai: A five-at-the-back setup will help us in defensive situations, but it also means we can defend higher. A good aspect from training was that the number of mistakes was very low. You (journalists in the conference room) know me though – I haven't made my final decision on the team just yet.
... goals and expectations for Sunday:
Pál Dárdai: We haven't got a point on the board so far this season, but we are working game by game. It's easier to do that when you've had a difficult previous year and given the current situation. We want to win every game we can and this is the ambition we have travelling to Bochum.